Oct. 21, 2015
By DARREN MILLER
hawkeyesports.com
IOWA CITY, Iowa — The University of Iowa defense is putting F-U-N into fundamentals during an undefeated first seven weeks of the 2015 season.
The Hawkeyes (7-0 overall, 3-0 Big Ten Conference) are in the West Division driver's seat and a salty defense has a lot to do with getting there. Iowa is fourth in the nation in Football Bowl Subdivision in rushing defense (74.1 yards per game), 10th in scoring defense (15.3 points per game), and 12th in total defense (294.3 yards per game).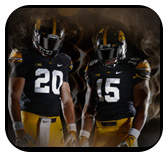 Those are impressive (and improved) numbers compared to 2014 when the Hawkeyes allowed 168.3 rushing yards, 25.6 points, and 344.2 total yards a game.
"It pertains to everybody playing and stepping up at the next level," UI defensive coordinator Phil Parker said Wednesday at a bye week news conference in the Stew and LeNore Hansen Football Performance Center. "We're back to fundamental football."
The Hawkeyes have continued their stingy ways, despite losing one of their finest defenders for the season. Senior end Drew Ott went down with an ACL injury during a 29-20 victory over Illinois on Oct. 10. Ott is fourth in the nation in forced fumbles and 22nd in sacks per game.
As offensive coordinator Greg Davis said moments before Parker met media, "If you survive injuries, you end up with more depth." Redshirt freshmen ends Parker Hesse (16 tackles) and Matt Nelson (five tackles) are among those who have stepped up.
"There are a lot of guys out there playing well," Parker said.
There have been plenty more success stories on defense. One is leading tackler Cole Fisher, a senior linebacker, who is making the most of his first season as a starter.
| | |
| --- | --- |
| | "It pertains to everybody playing and stepping up at the next level. We're back to fundamental football." |
"He is a great athlete, a tough kid, and smart," Parker said. "He is probably the most improved player that we have on defense."
Or junior cornerback Desmond King, whose six interceptions are tops in the Big Ten and second in the country.
"It's his third year starting and he has a feel for the game," Parker said. "He has a natural instinct of what's going on."
Or the defensive tackles on the interior of the line — sophomore Nathan Bazata and junior Jaleel Johnson — who have combined for 46 tackles, six tackles for loss, and four sacks.
"It starts up front with those guys," Parker said. "We want to be strong up the middle and Jaleel and Nate have done a great job of playing fundamentally sound. Jaleel has been disruptive and Bazata is consistent in what he does in his technique."
Or an improved batch of sophomore linebackers consisting of Josey Jewell, Ben Niemann, and Bo Bower, along with senior Travis Perry.
"They had an extra year together," Parker said. "They all have the ability to run; they're physical and they work together."
Chemistry and togetherness have impressed Parker about this defense, allowing big plays has not. Parker noted that the Hawkeyes have given up five runs of 15 yards or more yards and 22 passes of more than 20 yards.
"Any time that we've been a really good football team, we're usually about 35 to 38 big plays a year," Parker said. "We're seven games in and we're averaging right around 3.9 big plays a game. We want to be two big plays a game or less. So we're a little bit high on that number right now."
The Hawkeyes return to action Oct. 31, hosting Maryland at 2:30 p.m. (CT) inside Kinnick Stadium. To purchase tickets, click HERE.