Nov. 2, 2015
Game Notes in PDF Format

THE RECORDS
Iowa is 8-0, 4-0, with wins over Illinois State (31-14), at Iowa State (31-17), Pittsburgh (27-24), North Texas (62-16), at Wisconsin (10-6), Illinois (29-20), at Northwestern (40-10) and Maryland (31-15). Indiana (4-4, 0-4) won its first four games of the season over Southern Illinois (48-47), Florida International (36-22), Western Kentucky (38-35) and Wake Forest (31-24). The Hoosiers have lost to Ohio State (34-27), Penn State (29-7), Rutgers (55-52) and Michigan State (52-26).
THE SERIES
Iowa holds a 43-28-4 advantage in the series that began with a 13-6 Iowa victory in 1912. Iowa has won five of the last six meetings. The Hawkeyes are 19-18-1 all-time against the Hoosiers in Bloomington. Indiana won, 24-21, the last time the Hawkeyes visited Bloomington in 2012, while Iowa won at Indiana in 2010 (18-13).
COACHING RECORDS
Kirk Ferentz is in his 20th year as a college head coach and his 17th year as Iowa's head coach. His career record is 135-106 and he is 123-85 at Iowa. He ranks eighth in the Big Ten Conference in coaching victories. Kevin Wilson is in his fifth season as a college head coach, all at Indiana. His record is 18-38.
IOWA/INDIANA NOTES
• Iowa averages 32.6 points per game, fifth best in the Big Ten. Indiana allows 37.2 points per game, more than any other Big Ten team.
• Indiana leads the Big Ten in total offense (467.6 yards per game). Iowa ranks third in total defense, allowing 287.6 yards per game.
• Indiana leads the Big Ten with 287 yards passing per game. Iowa leads the Big Ten with 12 interceptions.
• The Hawkeyes have 24 sacks, fifth best in the conference. Indiana has allowed the fewest sacks in the Big Ten (10).
• Indiana Coach Kevin Wilson was on the staff at Northwestern for three years (1999-2001), with Iowa winning 2-of-3 meetings with the Wildcats in those seasons.
• Indiana co-defensive coordinator William Inge played DE for the Hawkeyes from 1993-96.
POWER OF 3
Three different Hawkeyes have rushed for over 100 yards in a game this season: Jordan Canzeri (4x), and LeShun Daniels and Akrum Wadley once each. The last time the Hawkeyes had three different players rush for over 100 yards in a game in the same season was 2005: Albert Young (8x), and Shonn Greene and Damian Sims once each. The Hawkeyes had three different running backs (Daniels, Wadley, Mitchell) score their first half touchdowns in the win over Maryland. The Hawkeyes also have three receivers with 100-yard receiving games: Matt VandeBerg (1), Tevaun Smith (1), and Jerminic Smith (1). It is the first time since 1995 three different Hawkeyes recorded 100-yard receiving games: Tim Dwight (2x), Demo Odems (1), Scott Slutzker (1).
FERENTZ MOVES UP IN VICTORIES
Head coach Kirk Ferentz has 123 wins as a member of the Big Ten Conference, eighth all-time. Ferentz has 72 Big Ten wins, tying Duffy Daugherty (Michigan State) for eighth all-time. Only eight coaches rank in the top 10 in both categories: overall wins as a member of the Big Ten, and conference wins. The others include Woody Hayes (OSU), Amos Alonzo Stagg (CHI), Bo Schembechler (MICH), Hayden Fry (IOWA), Robert Zuppke (ILL), Lloyd Carr (MICH), and Barry Alvarez (WIS). Ferentz also has six bowl wins as a member of the Big Ten, tying Fry and Carr for No. 2 all-time. Only Alvarez has more (9).
WE'LL GO FIRST
Iowa received the opening kickoff in seven of eight games this season, and has outscored its opponents 43-13 in the first quarter. In 17 seasons as Iowa's head coach, Kirk Ferentz and the Hawkeyes received the opening kickoff in 169-of-208 games (102-67). Iowa has started the game on defense in 39-of-208 games under Ferentz (21-18).
THE FOURTH QUARTER
QB C.J. Beathard and the Hawkeyes' rush defense have dominated the fourth quarter in 2015. Iowa's rush defense, the No. 2 defense in the conference, has yielded 148 total rushing yards in the fourth quarter this season.
Beathard is 19-of-27 passing for 250 yards and one touchdown. He has also rushed 11 times for 28 yards and one touchdown in the fourth quarter this season. He has engineered game-winning drives in the fourth quarter two times this season (Iowa State and Pitt). He was 4-of-4 for 46 yards and a touchdown against Iowa State, and he rushed for 27 yards on three carries to set up K Marshall Koehn's 57-yard game winning field goal against Pitt.
In Iowa's last nine games, including the 2015 TaxSlayer Bowl, Beathard's fourth quarter numbers include 26-of-34 passing for 345 yards and three touchdowns, and 13 carries for 66 yards and one touchdown. Beathard did not play in the fourth quarter against North Texas.
IT'S IOWA AND EVERYONE ELSE
The Hawkeyes are the only team in the country to allow just one rushing touchdown. Iowa yields an average of 85.8 rushing yards per game, second best in the Big Ten and fifth nationally.
• Iowa limits its opponents to 2.8 yards per carry — fifth best in the country.
• Iowa has held six of eight opponents to under 100 yards rushing.
6 THE OTHER WAY
Iowa leads the Big Ten and with 12 interceptions. The Hawkeyes have returned three interceptions for touchdowns (Josey Jewell, 34; Bo Bower, 88; Desmond King, 88). The 88-yard interception returns by Bower and King tie for the seventh longest interception returns in school history. Iowa ranks seventh in the country with three defensive scores this season. Iowa has at least one interception return for a touchdown in each of the last eight seasons, and 13 of the last 15 seasons.
MAKING HISTORY
For the first time in school history, Iowa had a different running back rush for 200 yards in consecutive games (Akrum Wadley at Northwestern and Jordan Canzeri vs. Illinois). Wadley recorded career highs in carries (26), rushing yards (204), and touchdowns (4) against the Wildcats on Oct. 17. Canzeri amassed 256 yards rushing on a school-record 43 attempts against the Fighting Illini on Oct. 10. The feat is the first time an FBS school had two different running backs eclipse 200 yards rushing in a game since 1996.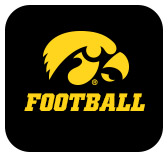 SHINING AT AWARDS SEASON
Iowa has been honored with five Big Ten weekly awards this season. QB C.J. Beathard earned the offensive award following Iowa's win at Iowa State, PK Marshall Koehn was the special teams winner following Iowa's last-second victory over Pittsburgh, DB Desmond King earned co-defensive honors for his play in Iowa's win at Wisconsin, RB Jordan Canzeri earned the offensive honor for his play in a win over Illinois, and RB Akrum Wadley earned the offensive honor following Iowa's road win at Northwestern. Iowa's three offensive award winners are the most for the program since 2002, when QB Brad Banks was recognized three times and TE Dallas Clark was honored once. The last time three different offensive players earned weekly conference honors was 1997 (Tavian Banks, Tim Dwight, and Rob Thein).
FIRST TIME STARTERS
The Hawkeyes have used 14 first time starters: RB LeShun Daniels, Jr., LT Boone Myers, DT Nathan Bazata, DT Jaleel Johnson, LB Cole Fisher, LB Ben Niemann, SS Miles Taylor, TE Jameer Outsey, DE Parker Hesse, WR Riley McCarron, LT Cole Croston, WR Jerminic Smith, LG James Daniels, and RB Akrum Wadley.
REMOVE THE REDSHIRT
Four true freshmen have played in 2015. OL James Daniels, WR Jerminic Smith, and WR Adrian Falconer all saw action in the season opener. LB Jack Hockaday saw his first action Week 7 at Northwestern. Smith started at Wisconsin, becoming the first Iowa freshman to start at wide receiver since Matt VandeBerg started two games in 2013. Daniels made his first career start at Northwestern, becoming the first true freshman to start on the offensive line since Bryan Bulaga in 2007. Daniels joined the Iowa program last spring and participated in spring practice.
2017 IOWA SCHEDULE CHANGE
Iowa's football schedule for 2017 has a change in a home date. The Hawkeyes will host Penn State on Saturday, Sept. 23. That game was previously scheduled for Oct. 14, which will now serve as an open date for the Hawkeyes.
NEXT GAME
Iowa returns home to host Minnesota on Nov. 14 (7 p.m., BTN), and Purdue (Nov. 21, TBA). Indiana hosts Michigan (3:30 p.m. ET, TBA).