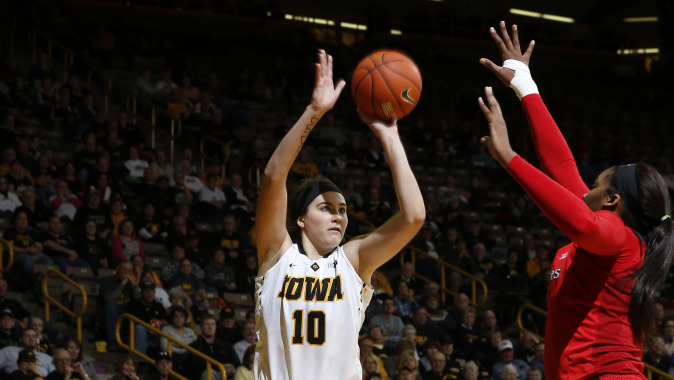 Jan. 11, 2016
Game Notes – at Wisconsin

THE SETTING
The University of Iowa women's basketball program continues Big Ten Conference play at Wisconsin on Wednesday, Jan. 13. The 7 p.m. (CT) contest will take place in the Kohl Center in Madison, Wisconsin.
GAME COVERAGE
? Fans can watch Wednesday's game live online on BTN Plus available at btn2go.com.
? Live audio of the game can be heard on select Hawkeye Radio Network affiliate stations and on Hawkeye All-Access available at hawkeyesports.com. Brent Balbinot and Kathryn Reynolds will call the action.
? Balbinot is in his 12th year as Iowa's play-by-play voice, while Reynolds is in her first providing analysis.
? Reynolds, a member of the infamous Core Four and team captain for the Hawkeyes in 2014-15, is pursuing a law degree at the University of Iowa.
? Links to video, audio, and live stats are available on the women's basketball schedule page at hawkeyesports.com.
SERIES RUNDOWN
? Iowa leads Wisconsin, 45-20, in the all-time series.
? The Hawkeyes have won 15 consecutive games against the Badgers, dating back to 2006-07.
? In the Lisa Bluder era, Iowa is 21-3 against Wisconsin.
? Iowa has not dropped a contest at Wisconsin since Feb. 11, 2007, 84-73. That is also the most recent loss to the Badgers home or away.
? The Hawkeyes defeated the Badgers, 87-75, on the road and, 78-74, at home in 2014-15.
? Wednesday's game is the lone meeting between the two teams in the Big Ten regular season.
SCOUTING THE BADGERS
? Wisconsin enters the midweek matchup with a 6-8 record overall and a 2-2 mark in Big Ten play (tied for fifth).
? The Badgers opened conference action with a win over Indiana, 73-69, before falling in a pair of road games at Michigan State, 77-66, and at Rutgers, 61-41. They rebounded with a home victory over Penn State, 82-62, on Sunday.
? As a team, Wisconsin averages 66.7 points and 35.8 rebounds per game.
? Nicole Bauman (15.1), Dakota Whyte (13.2), and Michala Johnson (10.4) average double figures in scoring. Johnson leads the way with a 6.4 rebound per game average, followed by Avyanna Young (6.0 per game).
? The roster, comprised of five seniors, three juniors, two sophomores, and four freshmen, is guided by fifth-year head coach Bobbie Kelsey.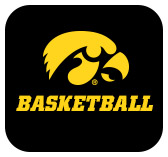 PLAYING IOWA BASKETBALL = SUCCESS
? The Hawkeyes are at their best when playing Iowa basketball, which involves high assists, low turnovers, and equal distribution of the ball.
? When Iowa has four or more players reach double figures in scoring, the squad is 6-0. It also owns a scoring margin of +11.0, rebounding margin of +3.5, an assist to turnover ratio of 1.1, and averages 80.3 points per game.
? When three players or less score in double figures, Iowa is 6-4 on the season. It also has a +3.9 scoring margin, +2.9 rebounding margin, 0.8 assist to turnover ratio, and averages 70.6 points per game.
? In the six games with four or more in double figures, Iowa averages 18.0 assists per game and 16.0 turnovers per game.
? In the other 10 games, Iowa averages 14.3 assists per game and 17.0 turnovers per game.
CONSISTENT FORCE
? Junior forward Ally Disterhoft has been a consistent offensive weapon for the Hawkeyes this season.
? She has scored in double figures in all 16 games this season and in 61 of her 67 career starts.
? The Iowa City, Iowa, native leads the team in scoring, averaging 16.7 points per game. She is shooting .534 from field goal range and .362 from three-point land.
? Disterhoft has led Iowa in scoring in eight of 16 games this season, scoring 20 points or more in three contests.
? She is currently 21st on Iowa's all-time scoring list with 1,244 career points and 22nd all-time in rebounding with 518 career rebounds. Disterhoft is the 34th player in program history to surpass the 1,000 career point threshold.
? Disterhoft is also tied for the team lead with Kali Peschel, averaging 5.6 rebounds per game, and is second in assists per game, averaging 3.1 per contest.
INSIDE IMPACT
? The inside game has been a productive piece of the puzzle in the conference season for the Hawkeyes.
? Centers Chase Coley (11.3) and Megan Gustafson (10.0), who are both averaging double figures in scoring in Big Ten games, have accounted for 31 percent (85 of 274 points) of Iowa's offensive production.
? Both players own field goal percentages above .500 in the four game stretch (Coley – .581; Gustafson – .533).
? Gustafson averages 5.3 rebounds per conference contest, trailing only Ally Disterhoft who averages 6.5 rebounds per game.
? Matched up against one of the most talented centers in the conference in Maryland's Brionna Jones, Gustafson scored 14 points and matched her career-high with nine rebounds in 30 minutes. She also posted a block.
? Coley led the Hawkeyes with 18 points at Michigan, adding two blocks, an assist, and a steal to her line. She made 7-of-10 field goals and 4-of-4 free throws attempted in the contest.
? Against Rutgers, Gustafson led the team with six rebounds and three blocks in her 20 minutes, while Coley reached double figures with 10 points.
? In conference-opening action at Nebraska, Coley scored 16 points and added six rebounds. Gustafson compiled three blocks, six points, and three rebounds.
MOVING UP THE CHARTS
? Junior Ally Disterhoft is 21st on Iowa's all-time scoring list with 1,244 career points and is also 22nd all-time with 518 career rebounds.
? She has played in every game of her Hawkeye career with 67 consecutive starts.
? Disterhoft has scored in double figures in every game this season, and in 61 of her 67 career starts.
? The co-captain leads Iowa in points per game (16.7).
? Freshman Megan Gustafson has compiled 26 blocks through 16 games played this season, which is fourth on the all-time freshman list at Iowa. The record at Iowa in a freshman season is 79 blocks, set by Morgan Johnson in 2009-10.
CHALLENGING B1G BEGINNING
? Iowa plays its first six conference games within a 17 day stretch.
? Three of Iowa's first six conference games are against teams who made the 2015 NCAA Tournament (at Nebraska, vs. Rutgers, vs. Maryland).
? Michigan, a team Iowa will face on the road during the six-game stretch, accepted an invitation to compete in the WNIT last season.
? Four of the games in this stretch are on the road, as the Hawkeyes play at Nebraska, at Michigan, at Wisconsin, and at Michigan State.
A QUALITY NONCONFERENCE START
? Iowa compiled a 10-2 record in nonconference action, facing challenging opponents at home and on the road to prepare for Big Ten play.
? The Hawkeyes won seven of 12 nonconference games by 10 or more points.
? In the first 12 games, Iowa outscored, outrebounded, outassisted, and outblocked its opponents.
? The Hawkeyes own a .440 field goal percentage, .771 free throw percentage, and.309 three-point field goal percentage in nonconference action.
? Iowa had four or more players score in double figures in seven of the 12 nonconference games played. A season-high six scored in double figures for the Hawkeyes against Drake on Dec. 22, including Ally Disterhoft (20), Megan Gustafson (16), Whitney Jennings (15), Alexa Kastanek (15), Chase Coley (11), and Tania Davis (10).
NCAA STREAK ATOP THE BIG TEN
Iowa is the only Big Ten team, and one of only 10 teams in the country, to appear in the last eight NCAA Tournaments. There are 349 Division I teams.
The Hawkeyes advanced to the program's first Sweet Sixteen since 1996, and the sixth overall, a season ago. It was the first Sweet Sixteen appearance for Iowa under head coach Lisa Bluder. Iowa, a No. 3 seed in the 2015 NCAA Tournament, defeated 14th-seeded American in the First Round, 75-67, and 11th-seeded Miami in the Second Round, 88-77, inside Carver-Hawkeye Arena to advance.
HAWKEYES IN BIG TEN PLAY
Iowa head coach Lisa Bluder is a three-time Big Ten Coach of the Year (2001, 2008 and 2010). She has guided Iowa to 11 upper-division finishes in the Big Ten in 15 seasons. Iowa won a share of the Big Ten regular season championship in 2008 and finished in a three-way tie for second in 2009. The Hawkeyes clinched a share of the title in 2008 with a win at Wisconsin in the regular season finale (March 2, 2008). In conference games alone, Bluder owns a 154-97 (.614) record at Iowa.
Since the 2008 season, Iowa has finished first once, second three times, third twice, fourth once, and seventh once. Iowa finished second in the inaugural 14-team league in 2015.
UP NEXT
Iowa faces Michigan State at 3:30 p.m. (CT) on Saturday, Jan. 16 in East Lansing, Michigan, before returning to Carver-Hawkeye Arena to host Penn State on Wednesday, Jan. 20 at 7 p.m.