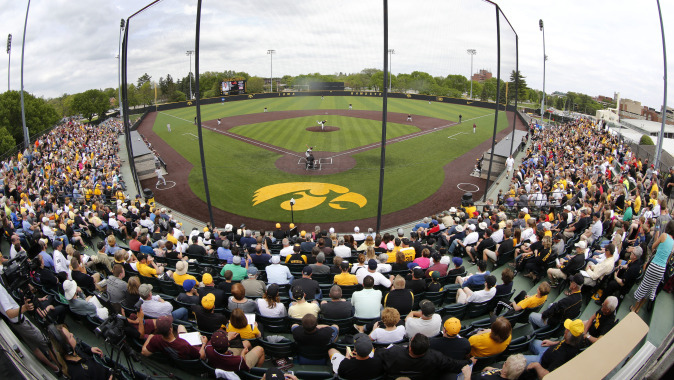 Jan. 27, 2016
IOWA CITY, Iowa — Season tickets for the University of Iowa baseball team's 24-game 2016 home schedule are available on hawkeyesports.com.
Reserved and general admission adult tickets are priced at $75, while general admission youth tickets are $40. Back for a second season is the "30-block" season ticket, priced at $99, where tickets can be used at any game or combination of games throughout the season.
Single-game tickets, which go on sale March 1, will be $7 for adults and $3 for youth, and children ages 5 and under will be admitted free to all games at Duane Banks Field.
Click HERE to purchase your season tickets.
The Hawkeyes home schedule begins March 8, hosting Northwestern (Iowa) College at 3 p.m. (CT). Iowa will host Big Ten Conference foes Maryland, Illinois, Michigan, and Michigan State, and Kansas State for weekend series. The Hawkeyes also welcome Bradley, Northern Illinois, Milwaukee, Air Force, Grand View, Omaha, and Western Illinois for midweek contests.
Single-session and all-tournament passes for the 2016 Big Ten Tournament, to be held May 25-29 at TD Ameritrade Park in Omaha, Nebraska, are also on sale at Ticketmaster.com, by calling (800) 745-3000 or by visiting the Century Link Center Box Office.
All-tournament passes, which feature at least 13 games over five days, are $50 each, while single-session tickets are $11. Club level seating is also available with all-tournament passes for $55 and single-session tickets for $13.50. Prices for youth attendees, all-tournament passes cost $25, while single-session tickets are $6.
UI head coach Rick Heller returns 20 letterwinners, including four positional starters, 2/3 of his starting rotation, and 10 pitchers from a 41-win, NCAA Regional-qualifying team. Among the returnees is All-American Tyler Peyton, second-team All-Big Ten starter Calvin Mathews, and third-team All-Big Ten shortstop Nick Roscetti.
The 2016 season gets underway Feb. 19-21, facing Dallas Baptist in a three-game series.