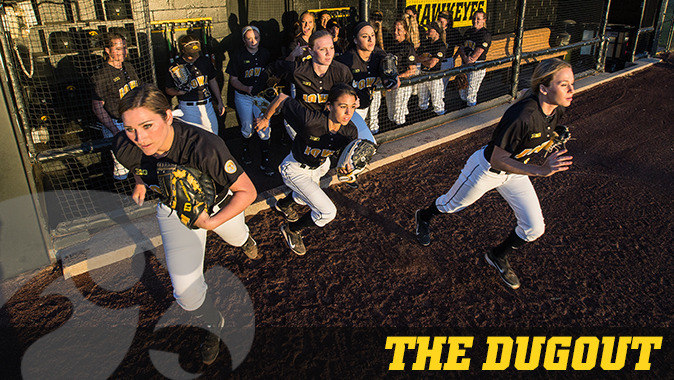 Welcome to The Dugout. Iowa Softball's blog will reach out to fans and provide them with the opportunity to connect with the student-athletes, coaches and staff who work hard every day to make the Hawkeye softball program a success. The Dugout aims to deliver unique insight into the lives of the Iowa Softball team. Each Thursday, The Dugout will feature a different softball student-athlete.
Feb. 4, 2015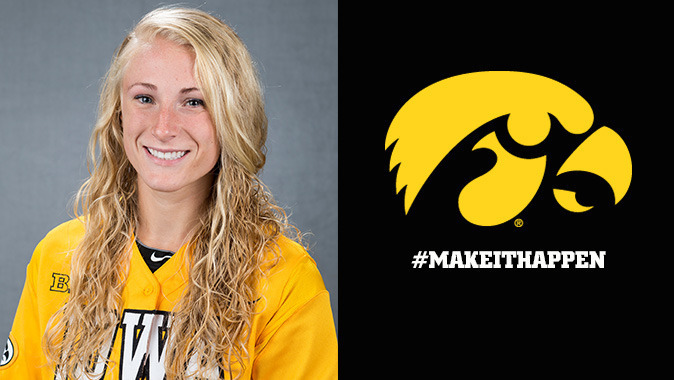 As members of Iowa Softball, we all strive to live by our five team pillars: respect, teamwork, integrity, loyalty and discipline. One way we put these pillars into action is through our volunteer work. The Iowa Softball program serves as a platform for all 22 of us to become more involved with our community and serve those around us. Our team volunteers in numerous ways throughout the year, mainly focusing on our respective organizations: The Iowa City Hope Lodge, the VA Hospital, the Boys and Girls Club, the Iowa City Animal Care and Adoption Center, and the University of Iowa Reach Program.
I have had the honor of volunteering with the Reach Program for almost two years now. This program is unlike any other in the country. It offers students with multiple intellectual, cognitive, and learning disabilities the opportunity to have a true college experience and learn to become more independent. Being a part of Reach, I have been able to meet some incredible people. I have also gained leadership skills and helped introduce these students to the game of softball.
My teammates and I are involved with Reach in many ways; whether we get dinner with the students, play a game of kickball at Pearl or dodgeball, it is always a rewarding experience. Each Thursday my teammates and I challenge the students of Reach during our infamous games of dodgeball; we laugh, we dodge, and we sweat (a lot). The relationships and time we spend together are mutually beneficial and have expanded further than our weekly meetings.
Serving our community is of huge importance to our team and our program as a whole. It is a part of who we are and is something we pride ourselves on. We would not be able to do what we do every day without the support of those around us, and for that we are honored to give our time to help leave this place a little better than how we found it.
Go Hawks!
#9 Sarah Kurtz
Sophomore, IF/OF
Jan. 28, 2015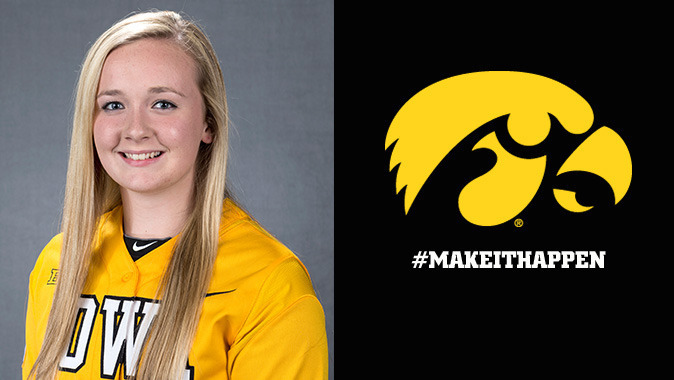 Tuesday night (1/26) the team had the honor of hosting our season ticket holders and donors for dinner. As a freshman, it was an amazing opportunity to get to know all of our supporters. The amount of pride our guests had for our university was overwhelming. There wasn't a single person in the room who wasn't bleeding black and gold. I sat at a table with two men and two women who have held season tickets for over thirty years. It was inspiring to listen to them tell stories about games they've attended, and share memories of those games that they'll never forget.
It was awesome to see the interaction our team had with our guests. A few of our players got the chance to stand up and speak about how they have grown within the Hawkeye community. The game is much bigger than ourselves. It takes more than just the team to build the program we are so blessed to be a part of. Everyone in the room, plus hundreds more, are the reasons why our team is able to be here today. Thank you to all of our supporters who continue to cheer for us year in and year out. We are excited to see everyone at the field this season. Go Hawks!
#16 Brooke Rozier
Freshman, catcher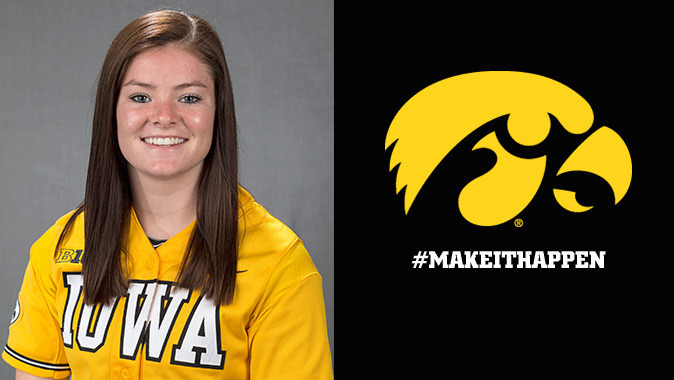 I had a great experience talking with season ticket holders and huge supporters of Iowa softball on Tuesday night. It was a privilege to sit down and have dinner with some of our fans. Some of them have been fans since day one. I enjoyed the time that I had with every single one of them. As a Hawkeye, I would love to meet many more fans while I'm here. I think it's great that the fans want to get to know us, but it's just as great for us as student-athletes.
Part of the night included Iowa softball trivia. It really opened my eyes as to how passionate our fan base is. They know so much about the history of Iowa softball! I didn't know many of the answers, but I plan to start looking up some of the history in my free time to get to know the players who were here before me.
I haven't been at Iowa for very long, but I've learned how well-known the Iowa softball team is for participating in the community, and I enjoy spending time with everyone involved. Spending time with the season ticket holders was so exciting, and I really enjoyed it. The experience made me appreciate not only being a part of the softball program, but the University of Iowa as well.
Thank you to all of our supporters for all that you do. I can't wait to see you in the stands cheering us on! Go Hawks!
#10 Katy Taylor
Sophomore, shortstop
Jan. 21, 2015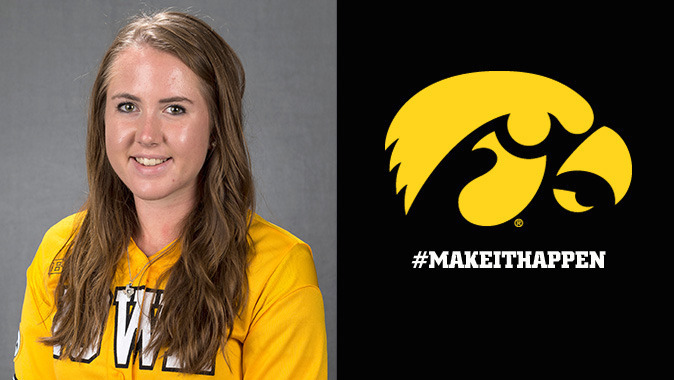 My first semester at The University of Iowa was definitely full of learning experiences to say the least. However, I think the biggest thing that I learned last was how important it is to get to know my professors and the other students in my classes. Introducing yourself to a professor may be an intimidating experience for some, but it has proved to be so beneficial.
The professors that I reached out to more than others were much more willing to extend a helping hand. In addition to introducing myself to professors and instructors, it was also beneficial to my learning experience last semester to know some of my fellow students, particularly in my larger lecture halls. When I was having difficulty understanding a subject the professor was lecturing about, I was always able to meet up with another student in my class or an entire study group for extra tutoring and explanations.
I'm not the most outgoing person on the first day of class, but I had to get outside of my comfort zone — I'm glad I did because I gained new study habits, study strategies, and some new friends.
#6 Erin Riding
Freshman, pitcher
Jan. 14, 2015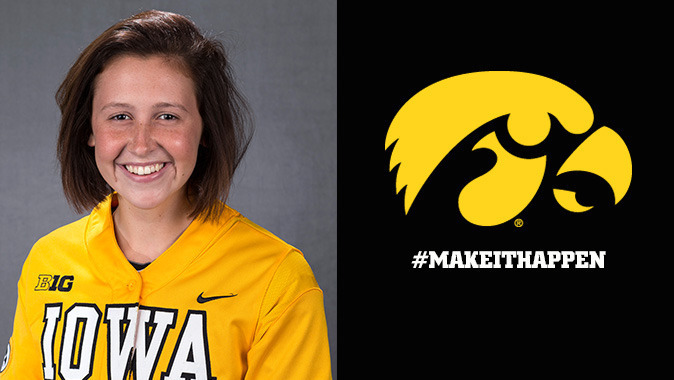 Throughout this week of preseason camp, I've enjoyed coming alongside a group of girls who are all eagerly awaiting a new season. I now have a different outlook when I prepare myself for each day. I've always known the person that I strive to be, but I've never realized how easy it is to question myself in a game where failure is more common than success. This week has allowed me to focus on myself as an individual and not just as a softball player. Obstacles may get in my way, but I know how to fight to stay true to myself. My values as a person have pushed me so far, and they will continue to push me throughout the season.
After this week, I cannot wait to take each practice and each game one by one with my teammates. We are focused on perfecting the little things. It's an exciting time of year, and I'm ready to see where all the hard work we are putting in now is going to take us!
#11 Mallory Kilian
Freshman, pitcher/utility