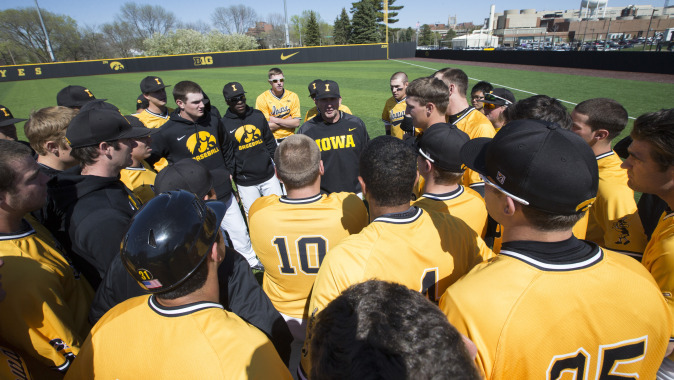 Feb. 10, 2016
IOWA CITY, Iowa — The University of Iowa baseball team has been picked to finish fourth in the Big Ten Conference preseason poll in a vote of the league's 13 head coaches, it was announced Wednesday by the conference office.
Michigan was voted as the preseason favorite, followed by Maryland, Indiana, Iowa, Illinois, and Michigan State. Only the top six teams were released.
Seniors Calvin Mathews, Tyler Peyton, and Nick Roscetti represented the Hawkeyes on the team's Players to Watch List.
Mathews was a second-team All-Big Ten selection in 2015 as a starting pitcher, going 5-3 with a 2.35 ERA over 73 1/3 innings. Peyton was a third-team All-American by two publications after going 7-4 with a 3.03 ERA as Iowa's Friday night starter, and hitting a team-best .337 with 31 RBIs. Roscetti was a third-team All-Big Ten honoree after hitting .303 with 27 runs and 27 RBIs in 56 games. He hit .391 in league play and his 36 hits were second-most in the conference.
The Hawkeyes open the 2016 season in the Lone Star State, squaring off against Dallas Baptist from Feb. 19-21 in Dallas.