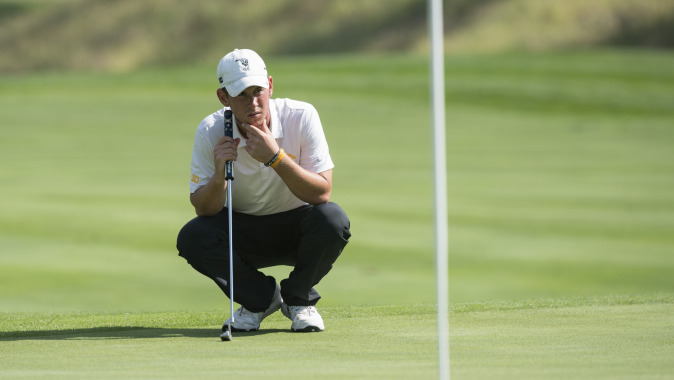 Feb. 10, 2016
THIS WEEK
After nearly three-and-a-half months off from competition, the University of Iowa men's golf team begins its 2016 spring campaign at the eighth annual Big Ten Match Play Championships in Palm Coast, Florida, this weekend. Held at the Hammock Beach Resort, the two-day event begins on Friday, Feb. 12 and will be played on the Tom Watson designed Conservatory Course.
FORMATTING CHANGE
This year, all matches will be split into divisional play and each team will have six members competing in each match. The first three rounds of the championship will be round robin, with each team collecting points for Saturday's final round.
B1G Match Play Schedule
Friday, Feb. 12 — Round 1 Match vs. Nebraska, 8 a.m. (shotgun)
Friday, Feb. 12 — Round 2 Match vs. Purdue, 1:15 p.m. (shotgun)
Saturday, Feb. 13 — Round 3 Match vs. Michigan, 8 a.m. (shotgun)
Saturday, Feb. 13 — Round 4 Matches vs. TBD, 1:15 p.m. (shotgun)
**all times are central**
FOLLOW THE ACTION
Fans can follow this weekend's action by visiting BirdieFire.com for live scoring. Fans can also follow @B1GMatchPlay on Twitter for exclusive coverage of the two-day event.
LINK UP WITH THE HAWKEYES
For an inside look at the Iowa men's golf program and to access exclusive coverage, "like" Hawkeye men's golf on Facebook and follow @IowaHawkeyeGolf on Twitter and Instagram.
THE FIELD
Ten of the Big Ten's 14 conference members make up the field. Three teams are currently ranked in the top 50 in the Golfweek/Sagarin rankings. The West Division includes Iowa (63), Minnesota (87), Nebraska (220), Northwestern (59), and Purdue (18), while the East Division will be represented by Indiana (125), Michigan (52), Michigan State (43), Penn State (19), and Rutgers (171).
THE COURSE
All four rounds of the Big Ten Match Play Championships will be played on Tom Watson's Signature design Conservatory Course, which is currently ranked the longest and toughest course in the state of Florida. The Conservatory plays as a 7,776 yard, par 72, and is highlighted by waterfalls and veneered field stone work.
LAST YEAR AT THE BIG TEN MATCH PLAY CHAMPIONSHIPS
In 2015, the Hawkeyes earned their second third place finish in three years. As the No. 3 seed, the Hawkeyes swept Nebraska, 5-0, in the first round and topped Minnesota, 3-1-1, in the second to advance to the semifinals against Michigan. Iowa fell to the Wolverines, 4-1-0, but would go on to defeat fourth-seeded Maryland in a battle for third place via tiebreaker. Ian Vandersee led Iowa with a 3-0-1 record at the two-day event.
THE LINEUP
With six players competing in each match, Iowa will rotate its lineup throughout the event. Traveling for the Hawkeyes will be seniors Voramate Aussarassakorn and Nate Yankovich, juniors Raymond Knoll and Carson Schaake, sophomore Sam Meuret, and freshmen Aaron DeNucci and Matthew Walker.
CAREER MATCH PLAY RECORDS
Voramate Aussarassakorn — (0-2-0)
Aaron DeNucci — (0-0-0)
Raymond Knoll — (5-2-2)
Sam Meuret — (1-1-0)
Carson Schaake — (3-1-0)
Nate Yankovich — (6-2-0)
Matthew Walker — (0-0-0)
WALKER, THE FRESHMAN
Walker became the first true freshman to compete in every fall tournament for the Hawkeyes since Cole Peevler in 2005. The Ottumwa, Iowa, native competed in four events, averaging 73.67 strokes per round. He carded an even par 72, his lowest 18-hole score of the year, at the GolfWeek Conference Challenge. Walker's best finish came at the David Toms Intercollegiate where he fired a three-round 228 (+12) to tie for 28th.
A TEAM WITH DEPTH
This fall, four Hawkeyes combined for five top-10 individual finishes. Junior Carson Schaake leads the team with two after tying for seventh at the GolfWeek Conference Challenge (Sept. 14-16) and finishing fourth at the David Toms Intercollegiate (Oct. 10-11). Senior Nate Yankovich, junior Raymond Knoll — the GolfWeek Conference Challenge co-medalist — and sophomore Sam Meuret each notched one top-10 finish in the fall.
FALL RECAP
The Hawkeyes ended the fall season only competing in four events after the Royal Oaks Intercollegiate was canceled due to unplayable course conditions and potential flooding resulting from effects of Hurricane Patricia. The highlight of the fall came at Iowa's own GolfWeek Conference Challenge, in which the Hawkeyes claimed the team title and junior Raymond Knoll earned co-medalist honors. As a team, the Hawkeyes averaged 75.25 strokes per round in the fall and tallied 15 rounds of at or below par golf. Junior Carson Schaake led the team with five, including a fourth place finish at the David Toms Intercollegiate.
A HISTORIC WEEKEND
The Hawkeyes claimed the team title at the 2015 GolfWeek Conference Challenge (Sept. 25-27), carding a 54-hole total of 842 (-22) — the fifth-best 54-hole score in program history. The title was the first for Iowa under the guidance of second-year head coach Tyler Stith, and first since winning the Hawkeye-GRE Invitational on April 13, 2014.
Junior Raymond Knoll claimed co-medalist honors with a 54-hole total of 205 (-11; 66, 67, 72) — the lowest three-round total in program history. The title was the first of Knoll's collegiate career. Knoll's performance at the GolfWeek Conference Challenge earned him Big Ten Co-Golfer of the Week honors on Sept. 30.
Senior Nate Yankovich and junior Carson Schaake each finished within the top 10. Yankovich tied for fifth place with a three-round 209 (-7; 73, 66, 70). His second-round 66 was the best 18-hole performance of his career. Schaake tied for seventh, finishing the weekend with a three-round 210 (-6; 73, 66, 71).
7 STRAIGHT NCAA APPEARANCES
Iowa has advanced to NCAA competition in each of the last seven seasons, joining Illinois as the only Big Ten teams selected to NCAA Regional competition in each of the last seven seasons. Iowa has advanced to the NCAA Championship finals three times in the last seven years (2009, 2011, 2012).
A PROGRAM ON THE RISE
Iowa has won 12 tournaments since 2008 and has had 15 individual medalists since 2009, including Carson Schaake, who was crowned individual co-champion at last year's Big Ten Championships and Raymond Knoll who won this year's GolfWeek Conference Challenge. The Hawkeyes have also had three All-Americans since 2008. Nineteen Iowa players have been named to the all-region team since 2009. Last season, Brian Bullington, Knoll, and Schaake each earned Division I PING All-Midwest Regional honors.