Box Score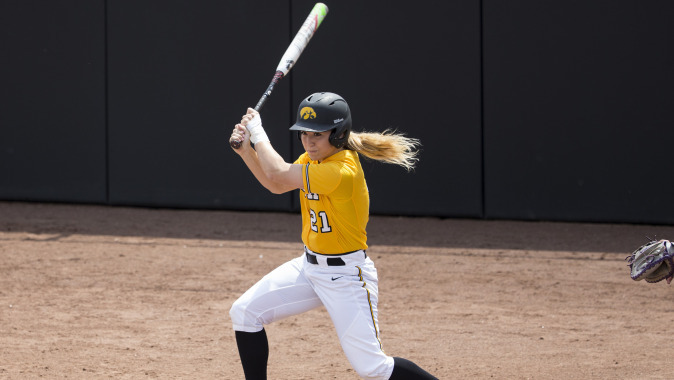 Feb. 19, 2016
IOWA06

ROSEMONT, Ill. — A five run first inning helped the University of Iowa softball team to a 7-1 victory over IUPUI on Friday afternoon in Total Control Sports Invitational action. The Hawkeyes improve to 3-3 on the season with the win, while the Jaguars fall to 1-5.
The Hawkeyes responded to an unearned Jaguar run in the top of the first with five runs of their own in the bottom of the inning. Juniors Kaitlyn Mullarkey and Claire Fritsch, redshirt junior Sammi Gyerman, and senior Erin Erickson all registered singles for the Hawkeyes, while senior Holly Hoffman and sophomores Cheyenne Pratt and Sarah Kurtz walked. Iowa sent 11 batters to the plate in the inning to take a 5-1 lead.
"It was nice to see them come back after we gave up a run in the first inning," said UI head coach Marla Looper. "IUPUI came out firing, and you tip your hat to them for coming out and putting the pressure on us early. We turned around and put a five spot up. It was nice to see us come back and take it over."
Iowa tacked on another run in the bottom of the second. Gyerman led off the inning with a double to right center. Hoffman moved her to third on a fly ball to right, before Fritsch plated her on a groundout to the pitcher — her second RBI of the game — to extend the Iowa lead to 6-1.
After three scoreless innings, Mullarkey gave the Hawkeyes an insurance run in the bottom of the sixth. The Park Ridge, Illinois, native sent her first home run of the season over the center field wall to give Iowa a 7-1 advantage.
Elizabeth Wiegand (2-1) was credited with the complete-game win in the circle. The junior did not allow an earned run on seven hits and a walk. She struck out four.
"Liz threw a really good ball game after that first inning,"" said Looper. "It wasn't a bad inning. She just got the ball elevated and they were aggressive early. She settled in just fine after that and we were able to play great behind her. It's nice to get that first win of the day."
Gyerman, Mullarkey, and Fritsch each registered multiple-hit games for the Hawkeyes. Gyerman went 3-for-4 with a pair of singles and a double, while Mullarkey (single, home run) and Fritsch (2 singles) recorded two hits apiece.
"We have to keep building on the offensive piece," Looper said. "We have to carry this momentum into game two. We have a game break, so we have to keep our minds right to be able to do that."
The Hawkeyes return to action this afternoon with a 4:30 p.m. (CT) contest against UIC.
Iowa 7, IUPUI 1
1
2
3
4
5
6
7
R
H
E
IUPUI (1-5)
1
0
0
0
0
0
0
1
7
1
Iowa (3-3)
5
1
0
0
0
1
0
7
10
1
Game Decision
W: Wiegand (IOWA) 2-1
L: Moody (IUPUI) 0-2