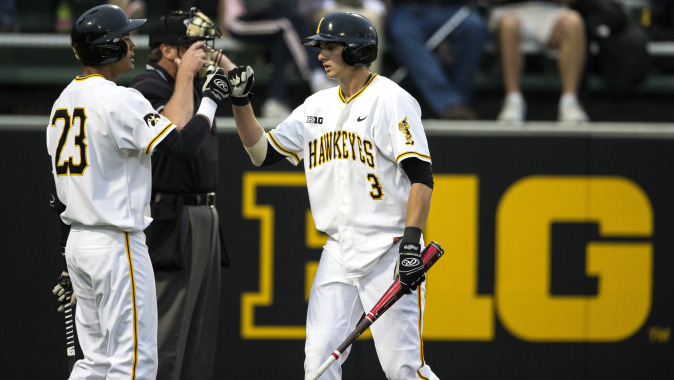 March 2, 2016
Editor's Note: The following first appeared in the University of Iowa's Hawk Talk Daily, an e-newsletter that offers a daily look at the Iowa Hawkeyes, delivered free each morning to thousands of fans of the Hawkeyes worldwide. To receive daily news from the Iowa Hawkeyes, sign up HERE.
By JAMES ALLAN
hawkeyesports.com
IOWA CITY, Iowa — Baseball's axiom that 'hitting is contagious' held true for the University of Iowa baseball team last weekend in the Snowbird Baseball Classic.
After finishing with 13 hits during the three-game series at Dallas Baptist to open the season and collecting 16 hits in their first two games in Port Charlotte, Florida, the Hawkeyes' offense came to life against Chicago State.
Iowa finished with 19 hits (it had 29 in its first five games) in a 15-3 victory over the Cougars. The team's batting average climbed 60 points in the contest.
"Things happened exactly how we needed them to," said UI head coach Rick Heller. "We caught a team short on pitching and we took advantage of that. We had hits up and down the lineup.
"Early in the year, that's what it takes to have a breakout day and then you start to get your confidence back. It enables you to stick to your plan more so than if you're struggling. Hopefully we'll be able to build off that performance."
Iowa's offense came from everybody. Eleven different players had at least one hit, nine players scored a run and nine tallied an RBI. Four Hawkeyes posted multi-hit games.
Seniors Nick Roscetti and Joel Booker had career days, finishing with a career-high four hits apiece. Roscetti had two doubles, scored three times, and drove in a pair. Booker was 4-for-5 with two RBIs. Freshman Luke Farley finished 2-for-3 with three RBIs and two runs in his first career start.
"We started to simplify our approach and went back to the roots of hitting; seeing the pitch and getting our best swings off," said Roscetti, who is tied for the team lead with a .333 average. "Everyone is starting to get their confidence back and the new guys are starting to get a feel for the game. We're seeing the ball well, and it took off from there."
When the hits start coming, Roscetti says it's easier to jump on the hit train to keep it rolling.
"It helps when you see other people get the job done and get the hit in front of and behind you. It gives you a confidence boost, saying if this guy can do it, so can I. It raises your game to play better and execute what you're supposed to do."
Heller saw signs of a breakout in Iowa's 4-1 victory over Dartmouth. The Hawkeyes had only seven hits in the game, but he saw the at-bats start to improve.
"When things aren't going well, and you start off as slow as we did, everybody tries to do more instead of doing what you can to help the team win," said Heller. "It seemed like (against Dartmouth) after a couple of guys came through, the at-bats got better and it carried over against Chicago State.
"We had good at-bats up and down the lineup and then guys started to be themselves. Hopefully that will be the trend."
The Hawkeyes (2-4) travel to Carbondale, Illinois, for a three-game series against Southern Illinois from March 4-6. The Salukis swept Western Illinois last weekend — 4-1, 9-0, and 9-0.
"We have to stick to our same approach," said Roscetti. "Everyone is starting to feel better and have more confidence. Playing the game was fun and we had a little swag in our steps. Having that confidence will help us to keep the sticks going and keep our pitching going well as we get a few more games under our belts."