Box Score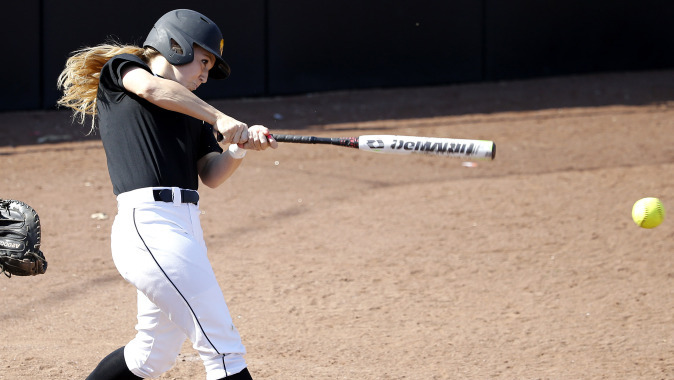 March 5, 2016
TULSA, Okla. — The University of Iowa softball team split a doubleheader with Tulsa (12-4) and Lamar (10-5) on Saturday afternoon at Collins Softball Complex. The Hawkeyes (5-12) fell to Tulsa, 2-1, in game one, before coming back with a, 4-3, walk-off win against Lamar.
"It was nice to be able to finish that second ball game," said UI head coach Marla Looper. "It's a simple game, and we made it look simple that last inning. That's what we have to do more often. It feels good to finally get that one-run victory."
Sammi Gyerman plated all four runs, including a walk-off sacrifice fly, in Iowa's come-from-behind win over Lamar. The redshirt junior went 2-for-4 at the plate with a career-high two doubles and a sacrifice fly. Redshirt senior Holly Hoffman (triple) and junior Claire Fritsch (double) also registered hits for the Hawkeyes. Hoffman's triple was the first of her career.
"I was swinging way too hard in my first at bat," said Gyerman. "Coach Schumann talked to me and told me to slow it down. That's what I started doing. I just focused on seeing the ball and driving it."
The Cardinals found the scoreboard first, plating a run on four straight singles to take a 1-0 lead in the top of the second. Lamar plated two more in the top of the fifth on a walk and back-to-back singles to extend its lead to 3-0.
The Hawkeyes fought back in the bottom of the fifth. Pratt reached first on an error by the Lamar first baseman to lead off the inning. After two quick outs, Fritsch and junior Kaitlyn Mullarkey each got hit by a pitch to load the bases. Gyerman came through with a bases-clearing double through the right side to knot the game, 3-3.
Redshirt junior starting pitcher Shayla Starkenburg and the Hawkeye defense sent the Cardinals down in order in the sixth and seventh to keep the momentum in Iowa's favor.
Junior Claire Fritsch reached second on an error by the Lamar center fielder to lead off the seventh, and junior Kaitlyn Mullarkey moved her to third on a grounder to first. With a runner on third and one out, Gyerman sent a sacrifice fly to center to give the Hawkeyes the 4-3 walk-off victory.
"In that last at-bat I was just trying to get it through the infield," Gyerman said. "It was a change-up so I waited back on it. I got under it a little bit, but it was what we needed. I was just happy Claire was on third."
"Sammi has been in those situations a lot this year, and today she did a nice job with her approach at the plate," said Looper. "She was seeing the ball well, she put it in play, and she helped her team win today."
Starkenburg (1-2) registered the complete-game win in the circle. The Ankeny, Iowa, native allowed three earned runs on eight hits and one walk. She struck out nine.
"The fact that we were down by three and came back was really good to see," said Looper. "Shayla came back and threw really sharp after we scored those three runs. She gave us a chance to do something offensively."
Iowa 4, Lamar 3
1
2
3
4
5
6
7
R
H
E
Lamar (10-5)
0
1
0
0
2
0
0
3
8
2
Iowa (5-12)
0
0
0
0
3
0
1
4
4
0
Game Decision
W: Starkenburg (IOWA) 1-2
L: Dannelley (TULSA) 1-2
The Hawkeyes struck first in game one, plating a run in the top of the second. Sophomores Allie Wood and Sarah Kurtz drew a pair of walks before sophomore Katy Taylor sent an RBI single up the middle to give the Hawkeyes a 1-0 lead.
A Hurricane home run tied the game in the bottom of the second. After two scoreless innings, the Hurricane plated the game-winning run in the bottom of the fifth. Tulsa used a walk and an RBI double to left center to secure the 2-1 win.
"Unfortunately, we couldn't make the adjustments we needed to make in game one," said Looper. "The second run that they scored was off of a leadoff walk. Those come back to haunt you. For the most part, we had a good defensive day. We just didn't do what we needed to do offensively."
Fritsch led the Hawkeyes at the plate with a 2-for-3 effort. Gyerman, Pratt, and Taylor also registered hits in the contest.
Elizabeth Wiegand (3-3) suffered the loss in the circle. The junior allowed two earned runs on four hits and three walks. She struck out four.
The Hawkeyes return to action tomorrow with rematches against Tulsa and Lamar. Iowa takes on the Hurricane at 10 a.m. (CT) before concluding weekend action against Lamar at 12 p.m.
Tulsa 2, Iowa 1
1
2
3
4
5
6
7
R
H
E
Iowa (4-12)
0
1
0
0
0
0
0
1
5
1
Tulsa (12-4)
0
1
0
0
1
0
X
2
4
0
Game Decision
W: Sill (TULSA) 6-1
L: Wiegand (IOWA) 3-3