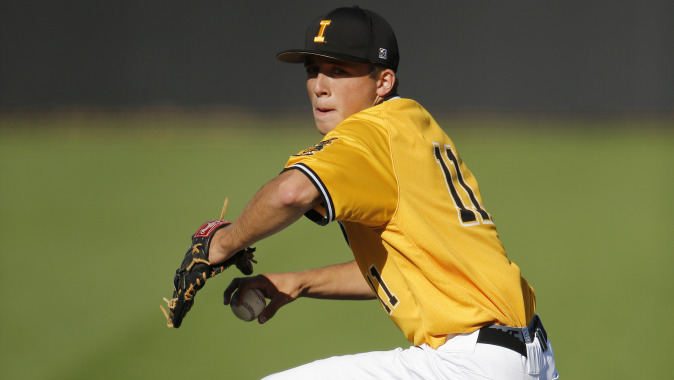 March 7, 2016
Northwestern College (4-4) at Iowa (3-6)
Dates
March 8, 2016
Location
Iowa City, Iowa | Duane Banks Field
Statistics
Northwestern College | IOWA
Game 1
Date | Time
Tuesday, March 8 | 3 p.m. (CT)
Pitching Matchup
IOWA:Fr., RHP Cole McDonald (0-1, 9.00 ERA) vs.
NWC: So., RHP Raphael Dehoyos (1-1, 3.00 ERA)
IOWA CITY, Iowa — The University of Iowa baseball team hosts Northwestern College in its 2016 home opener Tuesday at 3 p.m. (CT) at Duane Banks Field.
The Hawkeyes are 3-6 overall, dropping 2-of-3 games last weekend at Southern Illinois. The Red Raiders are 4-4 overall, splitting their first two weekend series. Northwestern College hasn't played since Feb. 27 — a 14-3 win over Ashford University.
Iowa will start freshman right-handed pitcher Cole McDonald (0-1, 9.00). The New Hampton, Iowa, native was tagged with the loss in his only appearance at Dallas Baptist on Feb. 21, despite not allowing a hit. He walked and hit a batter in one inning of relief.
The Red Raiders will counter with sophomore Raphael DeHoyos (1-1, 3.00 ERA). The right-hander has allowed four runs on seven hits over 12 innings in two starts. He has 11 strikeouts, but has walked eight. DeHoyos threw a seven inning shutout Feb. 19 against College of the Ozarks, giving up two hits, striking out three, and issuing three walks.
Northwestern College is hitting .342 as a team and is averaging 6.1 runs per contest. Zach Cortese leads the Red Raiders with a .556 average with 15 hits, 10 runs, and three doubles. Six players are hitting .300 or above.
The Hawkeyes have gotten off to a cool start offensively, hitting just .238 as a team. Seniors Nick Roscetti and Joel Booker have a team-best .333 average, and Roscetti paces the squad in hits (13), runs (seven), and RBIs (6). Booker has a team-best five doubles and four steals.
Tuesday's game can be heard on 800-AM KXIC. Brent Balbinot and Zach Mackey will be on the call. The game can also be seen live on Hawkeye All-Access on hawkeyesports.com.
Following Tuesday's midweek contest, Iowa will travel to Emerson, Georgia, for four games at the Spring Swing at LakePointe.