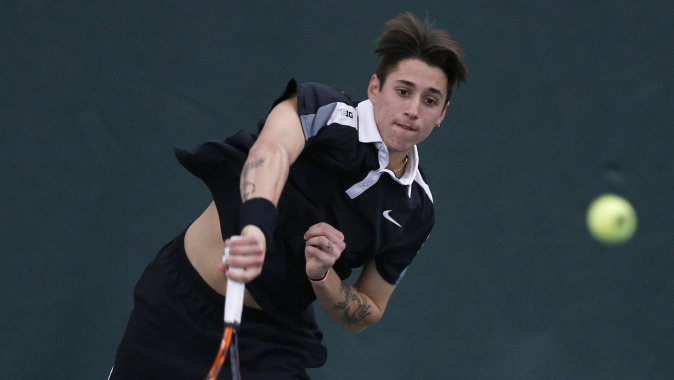 March 13, 2016
STILLWATER, Okla. — The No. 47 University of Iowa men's tennis team fell in two tough matches to No. 5 Oklahoma State and Lamar Sunday at the Greenwood Tennis Center. The Hawkeyes lost, 4-1, and 4-2, respectively.
Iowa's Lefteris Theodorou was a standout for the Hawkeyes. He played in the No. 1 spot for the second time this season and defeated 49th-ranked Julian Cash of Oklahoma State (OSU), 6-3, 6-2. The Athens, Greece, native took the court at No. 1 again against Lamar and won the match, 6-7(1), 6-3, 6-2.
The Hawkeyes' 78th-ranked doubles team of Theodorou and classmate Jake Jacoby took on No. 9 Arjun Kadhe/Cash. The match was left unfinished after OSU clinched the doubles point. The Cowboys were leading, 5-4.
Junior Robin Haden had a strong showing against Lamar on court five. Haden defeated Jeandre Hoogenboezem, 6-4, 6-2. His match at No. 5 against Lukas Finzelberg of OSU was left unfinished.
Iowa is on the road for a Spring Break trip to the West Coast and will compete against Cal Poly on Friday. The Hawkeyes are back in Big Ten action, March 25, in Madison, Wisconsin. Iowa will return home, March 27, against Minnesota.
NO. 5 OKLAHOMA STATE 4, NO. 47 IOWA 1
Singles
1. Lefteris Theodorou (UI) def. #49 Julian Cash (OSU): 6-3, 6-2
2. #115 Arjun Kadhe (OSU) def. Dominic Patrick (UI): 6-3, 7-5
3. Lucas Gerch (OSU) def. Josh Silverstein (UI): 6-0, 6-0
4. Tristan Meraut (OSU) vs. Jonas Larsen (UI): unfinished
5. Lukas Finzelberg (OSU) vs. Robin Haden (UI): unfinished
6. Jurence Mendoza (OSU) def. Jake Jacoby (UI): 6-2, 6-2
Order of Finish: 3, 1, 6, 2
Doubles
1. #9 Kadhe/Cash (OSU) vs. #78 Theodorou/Jacoby (UI): unfinished
2. Meraut/Gerch (OSU) def. Silverstein/Patrick (UI): 6-1
3. Mendoza/Finzelberg (OSU) def. Hallestrand/Haden (UI): 6-4
Order of Finish: 2, 3
LAMAR 4, NO. 47 IOWA 2
Singles
1. Lefteris Theodorou (UI) def. Michael Feucht (LAM): 6-7(1), 6-3, 6-2
2. Josh Silverstein (UI) vs. Nikita Lis (LAM): unfinished
3. Sebastian Santibanez (LAM) def. Dom Patrick (UI): 6-3, 6-2
4. Benny Schweizer (LAM) def. Jonas Larsen (UI): 6-3, 6-2
5. Robin Haden (UI) def. Jeandre Hoogenboezem (LAM): 6-4, 6-2
6. Trey Crysel (LAM) def. Jake Jacoby (UI): 6-3, 4-6, 7-6 (4)
Order of Finish: 5, 4, 3, 1, 6
Doubles
1. Feucht/Schwizer (LAM) def. #78 Theodorou/Jacoby(UI): 6-4
2. Hoogenboezem/Lis (LAM) def. Silverstein/Patrick (UI): 6-3
3. Hallestrand/Haden(UI) vs Santibanez/Laitinen (LAM): unfinished
Order of finish: 2, 1