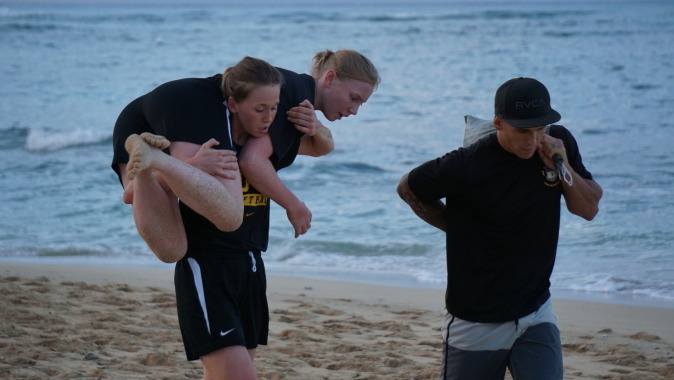 March 16, 2016
Editor's Note: The following first appeared in the University of Iowa's Hawk Talk Daily, an e-newsletter that offers a daily look at the Iowa Hawkeyes, delivered free each morning to thousands of fans of the Hawkeyes worldwide. To receive daily news from the Iowa Hawkeyes, sign up HERE.
By BRANDEE BRITT
hawkeyesports.com
HONOLULU — While the University of Iowa softball team's spring break trip to Hawaii is indeed a business trip, the Hawkeyes are taking advantage of all things the island has to offer.
"It is a business trip, but we have to take some time to enjoy where we are," said UI head coach Marla Looper. "We have to be where our feet are, and we can't lose sight of the things that are around us."
The team arrived in Honolulu on Sunday afternoon, just in time to see the 22nd annual Honolulu Festival Parade. The event lined the street right outside of Iowa's hotel and gave the Hawkeyes a chance to learn more about Hawaiian culture.
Before sunrise on Monday morning, the Hawkeyes met the First Battalion 21st Infantry Regiment "Gimlets" for an Army-style workout on the beach. Led by Jake Pharr, the cousin of senior pitcher Jillian Navarrete, the Hawkeyes were put to the test with a full beach workout. The Hawkeyes split into teams to compete in relay-style races, while carrying sandbags, water jugs, and each other up and down the beach.
"It was an honor to be able to be out there with those gentlemen," said Looper. "You look at them and you realize they are the same age as our girls. It kind of sets you back a little bit. They sacrifice the things we get to do every day to protect us and this country.
"To be side-by-side with them, work hard with them, and be challenged by them was fun to see. Our girls stepped up to the challenge. They enjoyed being alongside people who fight to protect our country. We were all very grateful for that opportunity."
Following a late morning practice, the Hawkeyes split up into different groups to explore the island. Group activities included exploring downtown Honolulu, going snorkeling, and a trip to the North Shore. A tour of President Obama's high school, a team luau, and a trip to Pearl Harbor are all planned for the rest of the week.
"We are all very fortunate to be here," said Looper. "We are grateful our administration allowed us to take this trip. It's a great experience and the opportunity of a lifetime for these young ladies. Our kids are enjoying it, but when it's time to play they will be ready to go."
The Hawkeyes are set to play five games at the Rainbow Wahine Classic from Wednesday to Saturday. The tournament kicks off today with a doubleheader against Texas and Hawaii beginning at 7:30 p.m. (CT).
"We have some great competition in Texas and Hawaii," said Looper. "Every time we step on the field it's going to be a battle. We are looking forward to it."