Box Score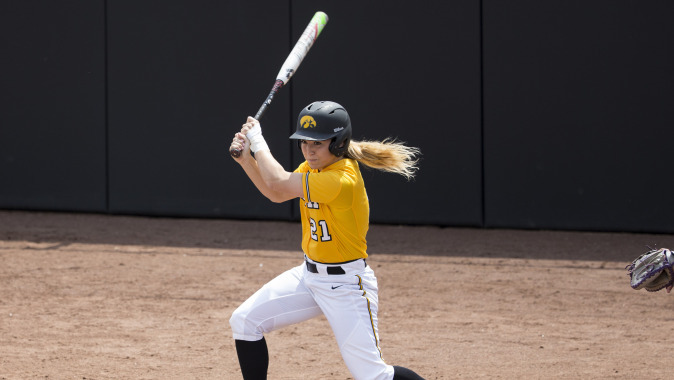 March 26, 2016
BLOOMINGTON, Ind. — A six-run sixth inning led Indiana to a 9-3 victory over the University of Iowa softball team Saturday afternoon at Andy Mohr Field. The Hawkeyes fall to 8-18 on the season and 0-2 in conference action with the loss.
"In the sixth Indiana took advantage of a couple opportunities and we struggled finding the zone," said UI head coach Marla Looper. "The wheels kind of fell off there. We just have to be tougher down the stretch. We can start ball games, but we have to figure out how to stay strong through the end."
The Hoosiers struck first, plating a run in the top of the first inning. Indiana used a pair of singles and a walk to take a 1-0 lead.
Holly Hoffman tied the game with one swing in the top of the second. The redshirt senior sent her first home run of the season over the left field wall to knot the game, 1-1.
The Hawkeyes took the lead in the top of the third. Sophomore Katy Taylor led off the inning with a walk and stole her seventh base of the season to move into scoring position. Two batters later, redshirt junior Sammi Gyerman pounced on the RBI opportunity with a single through the right side to give the Hawkeyes a 2-1 advantage.
Iowa extended its lead in the fourth. Hoffman started the inning with a single to right center — her second hit of the day — before senior Haley Hansel came in to pinch run. With two outs, an error by the Indiana shortstop off the bat of sophomore Allie Wood plated Hansel to extend the lead to 3-1.
"It was nice to see us come back after Indiana scored one in the first," said Looper. "Holly squared one up and had a pretty good mindset going up to the plate. That's what you have to do when you have that type of pitcher out there."
The Hoosiers tied the game in the bottom of the fifth on a two-run home run off the bat of CaraMia Tsirigos. Indiana continued to rally in the sixth, plating six runs on five hits and four walks to secure the 9-3 victory.
Shayla Starkenburg took the loss in the circle. The redshirt junior allowed eight earned runs on 12 hits and two walks. She struck out one in five and 1/3. Sophomore Ashley Yoways and freshman Erin Riding each threw 1/3 of the sixth inning. Yoways allowed one run on one hit and two walks, while Riding registered a walk and a strikeout.
Hoffman led the Hawkeyes at the plate with a 2-for-3 effort. The Osceola, Indiana, native registered a single and a solo home run.
The Hawkeyes and Hoosiers wrap up the three game series tomorrow. First pitch is scheduled for 11 a.m. (CT). The contest will be streamed live on BTN Plus.
Indiana 9, Iowa 3
1
2
3
4
5
6
7
R
H
E
Iowa (8-18; 0-2)
0
1
1
1
0
0
0
3
4
1
Indiana (19-10; 2-0)
1
0
0
0
2
6
X
9
13
2
Game Decision
W: Wood (IND) 10-4
L: Starkenburg (IOWA) 3-5