March 29, 2016
Match Notes

THIS WEEK FOR THE HAWKEYES
The University of Iowa women's tennis team travels to Drake University, Illinois, and Northwestern for three road contests this week. The Hawkeyes visit Des Moines, Iowa, to play Drake Wednesday at 3 p.m. at the Knapp Tennis Center. Iowa jumps back into conference action Friday at 6 p.m. at Illinois, and Sunday at 2 p.m. at Northwestern. Friday's match is in Champaign, Illinois at the Atkins Tennis Center. Sunday's match is at the Vandy Christie Tennis Center in Evanston, Illinois.
QUOTING @COACHKDOUGH
"Wednesday's match at Drake is important for a couple of reasons. We want to win the state every year, and we want to get back into the win column and back over .500. Drake will be up for the match, and we need to be ready to compete for a win. This weekend is also big for us. We can't look too far ahead, but we know there are two more Big Ten matches on the schedule, on the road, and we need to have the mindset that we can win both matches, one at a time."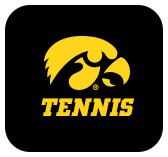 SCOUTING THE OPPOSITION
The Hawkeyes own a 31-6 series lead against Drake. The schools have met in each of the last three years, with Iowa winning two-of-three, but Drake winning the last meeting, 4-3, in Iowa City. The Hawkeyes beat No. 72 Drake, 4-3, the last time they visited Des Moines. Illinois holds a slight 26-25 edge in the all-time series. Iowa defeated the No. 42 Illini 4-3 at Champaign in 2014. Northwestern leads the all-time series, 42-2. The Hawkeyes haven't topped the Wildcats since 1992 (5-4), a span of 27 matches.
LOONEY'S LOSS IMPACTS DOUBLES POINT
Junior Natalie Looney was lost for the season during Iowa's trip to South Florida. Looney injured her knee and will have season-ending surgery. She was 2-2 playing No. 4 and 5 singles, and 10-3 team with fellow junior Aimee Tarun at No. 2 and 3 doubles. Iowa had won nine of 13 doubles points with Looney in the lineup. The Hawkeyes have not won a doubles point since her injury.
HAWKEYES LOOKING FOR SWING MATCH
Iowa has lost its last three matches by identical 4-3 scores. The Hawkeyes have split the six singles matchups in all three matches, but dropped the doubles point in each.
TWO IN A ROW EQUALS A STREAK
Sophomore Zoe Douglas has won consecutive conference matches and is 4-1 overall in the Big Ten. Douglas opened the Big Ten season with a win at No. 3 singles, and has since won three of four at the No. 2 position. She is 10-3 overall, tying Kristen Thoms and Aimee Tarun for the team lead in singles victories.
DOUGLAS AND REIMCHEN ARE HOT ON TOP
Sophomores Zoe Douglas and Anastasia Reimchen have won two straight Big Ten matches at the No. 1 doubles position. The duo is 5-0 when playing together, including 4-0 at the top spot, 1-0 at No. 3 doubles, and 2-0 in the Big Ten.
COMING UP FOR THE HAWKEYES
The Hawkeyes continue their five-match road swing with visits to Columbus, Ohio, and University Park, Pennsylvania, for matches against Ohio State and Penn State.
BECOME A FAN
Fans can follow the Iowa women's tennis team at facebook.com and via twitter @Iowa_Tennis. Live results from this weekend are available on the Iowa women's tennis schedule page at hawkeyesports.com.