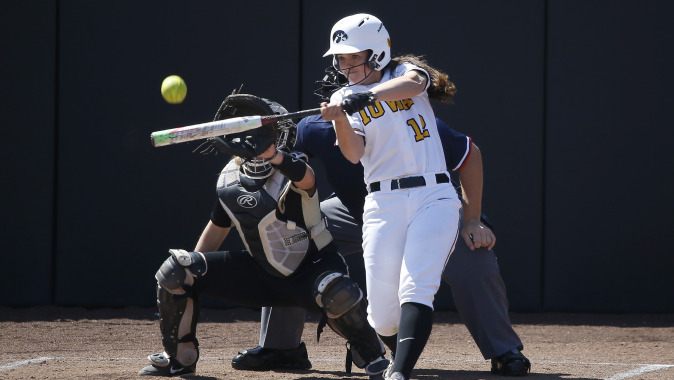 April 4, 2016
Editor's Note: The following first appeared in the University of Iowa's Hawk Talk Daily, an e-newsletter that offers a daily look at the Iowa Hawkeyes, delivered free each morning to thousands of fans of the Hawkeyes worldwide. To receive daily news from the Iowa Hawkeyes, sign up HERE.
By SAM STYCH
hawkeyesports.com
IOWA CITY, Iowa — Each year the University of Iowa softball team challenges its student-athletes to find an organization in the Iowa City community they are passionate about. On April 23, the Hawkeyes will honor those organizations at their annual Awareness Day when they host Penn State at Bob Pearl Field.
Among the seven organizations that UI softball is actively involved with is Iowa City's Hope Lodge. Opening in 2008, the Iowa City Hope Lodge houses 28 guest rooms and several shared lounge areas, and offers a free place for cancer patients and their caregiver to stay while undergoing treatment at the University of Iowa's Holden Comprehensive Cancer Treatment Center.
Sophomore catcher Angela Schmiederer is one of six Hawkeyes — redshirt junior Shayla Starkenburg and fellow sophomores Daniella Ibarra, Cheyenne Pratt, Katy Taylor, and Ashley Yoways — actively involved with Iowa City's Hope Lodge. Recently, Schmiederer opened up about her experience with the Hope Lodge.
Can you talk about the Hope Lodge and the purpose that it serves?
"Hope Lodge is the only facility in Iowa that is coupled with the hospital and it is home to cancer patients — 18 and older — who are currently in treatment. It's mainly for people who live out of town, so they don't have to drive to Iowa City for every treatment day. Guests get to stay in an awesome facility with a great staff."
Describe your experience with Hope Lodge. How often do you visit and what does your involvement include?
"I try to go once a week, two hours at a time so that I can see everyone. We do a lot of chores, but we also interact with the guests a lot. We'll sweep the floors, clean out the fridges, do some laundry, and whatever we can do to help. I enjoy my time spent at the Lodge."
What do you find to be most valuable or rewarding about being involved with the Hope Lodge?
"I love the interaction I have with the guests. There are so many different people that come from so many different walks of life at this facility, and they're only there for six weeks. Being able to be there and cheer them up through conversation or by putting together a puzzle is fun."
When was your most recent visit to the Hope Lodge and what happened?
"I went last Monday and we met Ken, who has a farm — Vermeer Farms – and he told us all about his life and what he does on the farm for a good half an hour. He even invited us to come to his farm so he could show us the sheep and cattle."
What does it mean for UI softball to get involved and give back to the Iowa City community?
"It means the world. This is where we play and the community we're a part of, so any time we can give back to it is beneficial for us and the people around us."
How important is it for you to use your platform to give back to the Iowa City community?
"It's important. As student-athletes we're held to a higher standard than normal students. Hopefully our dedication to these organizations can show what kind of an impact individuals can have and how much fun you can have doing it at the same time."
What purpose does Awareness Day serve?
"The purpose of Awareness Day is to bring awareness to the many organizations that we work with. A lot of them are not as publicized. If I wasn't involved with athletics, I don't think I would know about some of the organizations that my teammates work with. It's just a good way for our fans to see what we're involved with outside of softball."
Has volunteering at the Hope Lodge been an eye-opener for you in any way?
"I did a lot of volunteer work in high school, so that was the first time it hit me on how lucky I am. Seeing guests at the Hope Lodge coming in with different kinds of cancers puts in perspective how lucky we are to be able to do what we love."