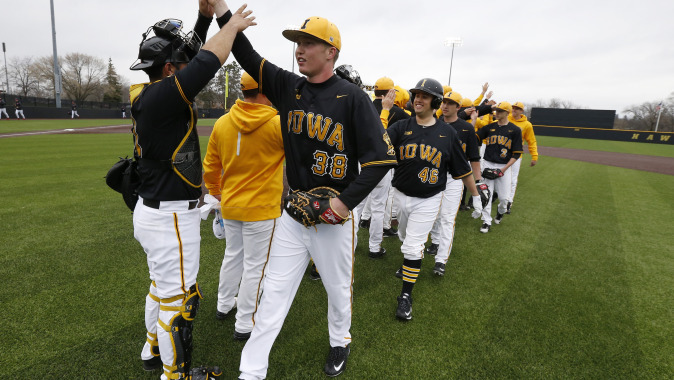 April 11, 2016
Air Force (18-8) at Iowa (14-15)
Dates
April 12-13, 2016
Location
Iowa City, Iowa | Duane Banks Field
Statistics
Air Force | IOWA
Game 1
Date | Time
Tuesday, April 12 | 6:05 p.m. (CT)
Pitching Matchup
IOWA: Sr., RHP Calvin Mathews (0-3, 7.36 ERA) vs.
AFU: Fr., RHP Matt Hargreaves (1-0, 2.70 (ERA)
Game 2
Date | Time
Wednesday, April 13 | 6:05 p.m. (CT)
Pitching Matchup
IOWA: TBA vs.
AFU: Fr., LHP Ethan Nichols (0-0, 0.00 ERA)
IOWA CITY, Iowa — The University of Iowa baseball team concludes its six-game home stand with a two-game midweek series against Air Force on April 12-13 at Duane Banks Field. Both games are slated for 6:05 p.m. (CT) starts.
During both games of the series military will receive free admission with an ID. Tuesday's game is $2 Tuesday with tickets and popcorn both being $2.
The Hawkeyes are 14-15 overall after taking two of three games from Illinois last weekend. Iowa won the series opener, 4-3, in 10 innings before securing the series victory with a 4-3 win in the finale.
Air Force brings a five-game winning streak to Iowa City after downing Northern Colorado, 14-4, on April 5 before sweeping a four-game series against San Jose State. The Falcons scored at least eight runs in all five games.
Senior Calvin Mathews will start the series opener Tuesday. The right-hander is 0-3 with a 7.36 ERA in seven starts this season — all coming on Sundays. The Bloomfield, Iowa, native was a second-team All-Big Ten selection last season. Wednesday's starter is TBA.
Air Force will send a pair of freshmen to the hill for their first career starts. RHP Matt Hargreaves will take the ball Tuesday; he is 1-0 with a 2.70 ERA in 10 relief appearances this season, allowing four runs (three earned) on five hits over 10 innings. He has nine strikeouts to two walks.
LHP Ethan Nichols will make his third appearance in game two. He is 0-0 with a 0.00 ERA this season, allowing two hits and zero runs in 2 1/3 innings. He has one strikeout and has issued two walks.
Air Force is hitting .343 as a team and is averaging 8.4 runs per game. Seven Falcon regulars are hitting above .300 and have 30 or more hits with Adam Groesbeck leading the team with a .444 average, 48 hits, 34 runs, and 13 steals. Tyler Jones is hitting .350 with 10 home runs and 37 RBIs. Six players have 20 or more RBIs this season.
The Falcons have a 4.26 team ERA, allowing 147 runs (107 earned) in 226 innings. Air Force's staff has 186 strikeouts to 104 walks and has limited opposing hitters to a .258 average.
Iowa is 8-2 at Duane Banks Field this season and 25-5 at home dating back to the start of the 2014 season. The Hawkeyes are hitting .295 in 10 home games and are averaging 8.1 runs per contest. Iowa has 34 extra base hits — 20 doubles, three triples, and 11 home runs.
Senior Joel Booker has a .357 average at home with 15 hits, 12 runs, and 10 RBIs, while senior Nick Roscetti is hitting .317 with eight RBIs. Seniors Daniel Aaron Moriel, Jimmy Frankos, and Eric Schenck-Joblinske have all collected seven hits in 19 at-bats.
This week will be the third and fourth games in the all-time series against Air Force. The teams split a pair of games in 1999.
Both games against Air Force will be audio and video streamed online on Hawkeye All-Access with Brent Balbinot on the call. Following the midweek series, Iowa travels to Bloomington for a three-game series at Indiana from April 15-17.