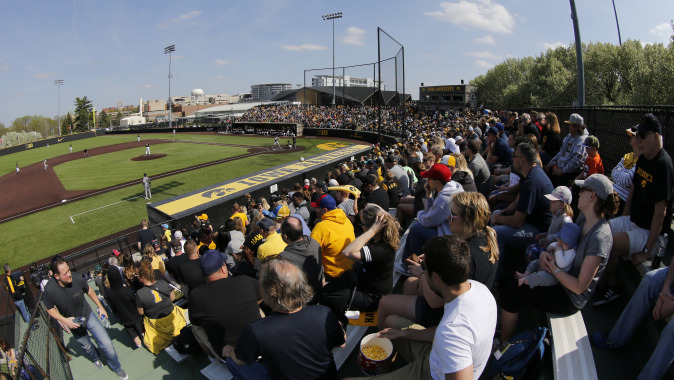 April 25, 2016
Grand View (24-14); Omaha (19-20) at Iowa (18-19)
Dates
April 26-27, 2016
Location
Iowa City, Iowa | Duane Banks Field
Statistics
Grand View | Omaha | IOWA
Game 1 vs. Grand View
Date | Time
Tuesday, April 26 | 6:05 p.m. (CT)
Pitching Matchup
IOWA:Fr., RHP Cole McDonald (3-1, 2.51 ERA) vs.
GV: TBA
Game 2 vs. Omaha
Date | Time
Wednesday, April 27 | 6:05 p.m. (CT)
Pitching Matchup
IOWA: TBA vs.
UNO: So., RHP David Flattery (0-2, 5.05 ERA)
IOWA CITY, Iowa — The University of Iowa baseball team hosts Grand View and Omaha in a pair of midweek games Tuesday and Wednesday at Duane Banks Field. Both games are slated for 6:05 p.m. (CT) starts.
The Hawkeyes bring an 18-19 overall record into the week after dropping 2-of-3 games to No. 18/21 Michigan last weekend in Iowa City. Iowa won the series finale, 8-3, behind a 16-hit performance — the season high in a Big Ten game this season.
Grand View, led by Lou Yacinich, the grandfather of former Hawkeye Jake Yacinich, brings a 24-14 overall record into Tuesday's game. The Vikings snapped a four-game losing streak April 24, sweeping a doubleheader at Culver-Stockton.
Omaha is 19-20 overall after winning two of three games against South Dakota State last weekend. The Mavericks host Air Force on Tuesday before Wednesday's tilt in Iowa City.
Iowa will send freshman right-hander Cole McDonald to the mound against Grand View. The New Hampton, Iowa, native is 3-1 with a 2.51 ERA in seven appearances (five starts). He has 16 strikeouts (against three walks) in 14 1/3 innings and is limiting hitters to a .212 average. In his last outing, McDonald threw four shutout innings and picked up a victory in a 22-2 win over Air Force on April 13.
The Hawkeyes' starter for Wednesday's game is to be determined.
Iowa is 6-0 in midweek games this season — all coming at Duane Banks Field. The Hawkeyes are hitting .344 midweek and averaging 14.5 runs. Seniors Joel Booker and Daniel Aaron Moriel are both hitting better than .400. Booker has a .440 clip, while Moriel has a .409 average with 11 RBIs and 10 runs scored.
Both games will be audio and video streamed on Hawkeye All-Access with Brent Balbinot on the call.
Following the two midweek games, Iowa hosts Kansas State for a three-game series April 29-May 1 at Banks Field.