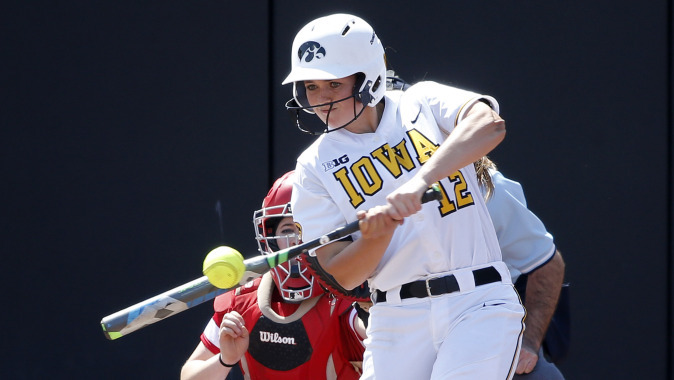 May 3, 2016
AMES, Iowa — The University of Iowa softball team fell to Iowa State, 5-0, in Iowa Corn Cy-Hawk Series action Tuesday afternoon at the Cyclone Sports Complex. With the loss, the Cy-Hawk Series ends in a, 12-12, tie.
"Unfortunately we ran into two outs at third and busted our own bubble early on," said UI head coach Marla Looper. "We got something going there at the end, but it just wasn't enough. It was a tough environment to play in, but we had our opportunities and we just didn't take advantage of them."
After a scoreless first inning, the Cyclones got on the board in the bottom of the second. Iowa State utilized two singles, a double, sacrifice bunt, and an Iowa error to take a 2-0 lead.
The Cyclones extended their lead in the fourth, plating three runs on four hits. Iowa State got to the Iowa bullpen after a one-out walk and a double. Following a pair of RBI singles, Looper made another pitching change. Redshirt junior Shayla Starkenburg limited further damage, allowing just one hit — an infield RBI single — and forcing back-to-back groundouts to get the Hawkeyes out of the inning.
Down by five in the top of the seventh, the Hawkeyes put three runners on. Sophomore Angela Schmiederer led off the inning with a single — her second hit of the day — before moving to second on a wild pitch. Senior Whitney Repole followed with her second walk of the afternoon, before sophomore Cheyenne Pratt put down a perfectly-placed bunt to load the bases. The Hawkeyes could not capitalize on the scoring opportunity; however, as a strikeout and a pop out sealed the 5-0 victory for the Cyclones.
Elizabeth Wiegand (7-12) took the loss in the circle. The junior allowed four earned runs on five hits and two walks in three and 1/3. Freshman Erin Riding surrendered a run on two hits in relief, before Starkenburg threw a scoreless two and 1/3 innings.
Schmiederer led the Hawkeyes at the dish. The sophomore went 2-for-3 with a double and a single.
The Hawkeyes (13-16) close out the regular season when they host No. 19/23 Minnesota this weekend. The three-game set will begin Friday at 6 p.m. at Bob Pearl Field.
"Minnesota is a good team," said Looper. "They are No. 2 in our conference and one of the top-ranked teams in the country. They are a going to be a tough team to face, but we don't ever back down from anyone. It's our senior weekend and our alumni weekend. We need to send our seniors out on a high note."
Iowa State 5, Iowa 0
1
2
3
4
5
6
7
R
H
E
Iowa (13-36)
0
0
0
0
0
0
0
0
4
1
Iowa State (20-29)
0
2
0
3
0
0
X
5
8
1
Game Decision
W: Sanders (ISU) 8-14
L: Wiegand (IOWA) 7-12