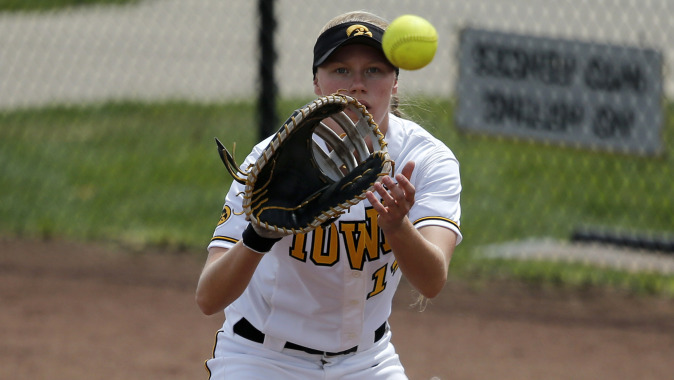 May 5, 2016
Weekly Release

THIS WEEK
The University of Iowa softball team concludes the regular reason when it hosts No. 19/23 Minnesota on May 6-8. The Hawkeyes and Golden Gophers kick off the weekend with a 6 p.m. (CT) contest on Friday. The series continues with a 2 p.m. game on Saturday and concludes with a 1 p.m. matchup on Sunday.
WATCH IT LIVE
All three games will be streamed live online via BTN Plus. To see if your cable package gives you access to BTN Plus content, sign up for BTN Plus, or learn more about it, visit btn2go.com.
LISTEN/FOLLOW ALONG
Live audio is available for all three contests on Hawkeye All-Access at hawkeyesports.com. Play-by-play announcer Rob Brooks will call the action from Bob Pearl Field. Live stats are also available on the softball schedule page on hawkeyesports.com.
PROMOTIONS
•Friday: The first 250 fans will receive a free Iowa softball cup.
•Saturday: The first 200 fans will receive free pizza. Saturday is also Kids Day and Alumni Day. An inflatable bounce house will be available for kids, and Iowa softball alumni will be honored before the game.
•Sunday: Senior Day. The Hawkeyes will honor their senior class following Sunday's game.
SCOUTING MINNESOTA
•Minnesota owns a 35-12 overall record and a 16-3 mark in Big Ten action.
•The Golden Gophers are ranked No. 19 in the ESPN.com/USA Softball Collegiate Top 25 Poll and No. 23 in the USA Today/NFCA Division I Top 25 Poll.
•Seven Golden Gophers are hitting above .300 this season. Junior infielder Sam Macken leads the team with a .391 clip in 161 at bats.
•Sara Groenewegen owns a 1.87 ERA and a 25-5 record on the season. The junior is the reigning Big Ten Pitcher of the Week. She did not allow a hit and struck out 18 batters in nine innings against Maryland last weekend. She threw a no hitter on Friday and had a perfect game going through four innings on Sunday.
•Freshman Maddie Houlihan earned B1G Freshman of the Week accolades after hitting .857 last weekend.
THE SERIES
•Iowa owns a 59-46 advantage in the all-time series.
•The Hawkeyes and Golden Gophers met four times last season. Minnesota won all three regular season meetings, before Iowa defeated the Gophers in the Big Ten Tournament.
SENIOR DAY
The Hawkeyes will honor six seniors following Sunday's contest, including Erin Erickson, Sammi Gyerman, Haley Hansel, Holly Hoffman, Jillian Navarrete, and Whitney Repole.
FOLLOW THE HAWKEYES
For an inside look at the Iowa softball program and access to exclusive coverage, follow @IowaSoftball on Twitter and "like" the official page on Facebook, facebook.com/iowahawkeyessoftball.
IN THE RANKINGS – B1G
Four Big Ten teams appear in the ESPN.com/USA Softball Division I Softball Collegiate Top 25 poll released on May 3. No. 2 Michigan and No. 19 Minnesota are ranked within the top 25, while Ohio State and Nebraska are receiving votes.
TAKING ON THE BEST
•Seven of Iowa's 2016 opponents are coming off a 2015 NCAA Tournament appearance.
•Iowa is scheduled to play 15 games against those opponents this season.
•The teams include: Louisville, Texas, Nebraska, Northwestern, Missouri, Indiana State, and Minnesota.
LOOKING BACK
The Hawkeyes and Golden Gophers last met on May 8 in the second round of the 2015 Big Ten Tournament. Iowa pulled off the upset, defeating the second-seeded Gophers, 2-0. Shayla Starkenburg registered the complete-game shutout in the circle, allowing just two hits and striking out four. Holly Hoffman plated both of Iowa's runs with a double in the top of the third inning.
MULLARKEY AT ILLINOIS
Kaitlyn Mullarkey led the team with a .429 clip in three games against Illinois last weekend. The junior registered three hits in seven at bats, including a double and two singles. Mullarkey reached base in all three contests.
IN HER HOME STATE
The Hawkeyes have played 11 games in the state of Illinois this season, including five at the Total Control Sports Invitational, three at Northwestern, and three at Illinois. Junior Kaitlyn Mullarkey is batting .406 in those games. The Park Ridge, Illinois, native has registered 13 hits, four home runs, two doubles, seven RBIs, and a .844 slugging percentage in her home state this season.
WIEGAND SILENCES NITTANY LIONS
Elizabeth Wiegand recorded a 1.56 ERA in nine innings pitched against Penn State from April 22-24. The junior earned the complete-game win in the circle on Saturday, April 23, allowing one earned run on five hits. She walked one and struck out two in seven innings of work.
FRITSCH HEATS UP
Junior Claire Fritsch hit .625 in three games against the Nittany Lions from April 22-24. Fritsch registered five hits in eight at bats over the three game series. Freshman Mallory Kilian (.500), redshirt junior Sammi Gyerman (.444), and senior Whitney Repole (.429) also hit above .400 on the weekend.
HOFFMAN IN B1G ACTION
Holly Hoffman is swinging the hot bat for the Hawkeyes in conference action. The redshirt senior is hitting .407 in Big Ten play. In 20 conference games, Hoffman is slugging .763. She has registered 12 extra-base hits (7 doubles, 1 triple, and 4 home runs) during that span.
WIEGAND DELIVERS
Junior Elizabeth Wiegand registered the complete-game win over Wisconsin on April 16. After surrendering a pair of runs on four hits in the top of the first inning, Wiegand (6-9) settled in. The Moscow Mills, Missouri, native gave up just three hits in the final six innings, and tied her season-high with six strikeouts.
ATTENDANCE RECORD
The Hawkeyes played in front of 2,192 fans at Pearl Field from April 15-17. The mark set a new three-game weekend series attendance record.
IN THE RECORD BOOKS
•Junior Kaitlyn Mullarkey is tied for 14th on Iowa's all-time list with eight home runs this season.
•Mullarkey's 14 career blasts ties her for 18th on Iowa's all-time career home runs list.
CLUTCH MULLARKEY
Down by two in the bottom of the seventh inning against Drake on April 13, junior Claire Fritsch started a two-out rally when she reached on an error by the Drake second baseman. It proved to be costly as junior Kaitlyn Mullarkey blasted the game-tying, two-run home run over the wall in left center to send the game into extras. Mullarkey came through with the bases loaded in the top of the eighth, hitting a rocket off the glove of the Drake first baseman that scored the game-winning run.
6-RUN 4TH LEADS HAWKEYES PAST UNI
The Hawkeyes put up six runs in the bottom of the fourth to defeat Northern Iowa on April 12. Sophomore Angela Schmiederer led off the inning with a single, before senior Whitney Repole and freshman Mallory Kilian were both hit by a pitch. Sophomore Sarah Kurtz came through with an RBI single to put the Hawkeyes on the board. After a wild pitch allowed Repole to score, Claire Fritsch reached on an error that plated Kilian. Junior Kaitlyn Mullarkey followed with an RBI double to left, before redshirt junior Sammi Gyerman plated two more runs on a single up the middle.
AROUND THE BIG TEN
•The Hawkeyes are sixth in the conference with 50 stolen bases.
•Iowa pitchers have struck out 83 batters looking this season — the second most in the Big Ten.
•Junior Kaitlyn Mullarkey is tied for third in the Big Ten with 12 hit by pitches, fifth in triples (3), and 11th in stolen bases (13).
•Redshirt junior Sammi Gyerman is tied for fifth in the conference with three sacrifice flies this season.
IN B1G ACTION
•Iowa is tied for seventh in the conference with 17 stolen bases in Big Ten games.
•The Hawkeyes rank eighth in the Big Ten with 17 home runs in conference games this season.
•Iowa pitchers have struck out 27 batters looking in conference action — the sixth-most in the conference.
•Iowa has turned nine double plays in Big Ten action this season — tied for the fifth-most in the conference.
•Senior Holly Hoffman ranks third in the Big Ten with seven doubles in conference action. Hoffman also ranks eighth in total bases (45), ninth in slugging (.763), 12th in hits (24), 13th in RBIs (18), and 14th in batting average (.407).
SCHMIEDERER MAKES HISTORY
Sophomore Angela Schmiederer's two-run home run against Northwestern on April 9 hit the top of the roof of McGaw Hall — the building that sits beyond the left field wall at Drysdale Field in Evanston, Illinois. Schmiederer became the first opposing player in history to hit the roof of McGaw Hall.
HOFFMAN BATS 1.000
Holly Hoffman had a career game at the plate in game one of a doubleheader against Nebraska on April 6. The redshirt senior registered career-bests in hits (4) and doubles (2). The Osceola, Indiana, native went 4-for-4 with two singles, two doubles, and two RBIs.
POWER SURGE
After registering 11 extra-base hits in all of 2015 (59 games), junior Kaitlyn Mullarkey has hit 21 in 48 games this season. The Park Ridge, Illinois, native leads the team in home runs (8), and triples (3), and is tied for first on the team in doubles (10).
INCREASED SPEED
•After stealing 18 bags in all of 2015, Iowa has swiped 51 bases in 49 games this season.
•Junior Kaitlyn Mullarkey leads the team with 13 stolen bases, while redshirt junior Sammi Gyerman has 10.
SCHMIEDERER SLAM
Angela Schmiederer registered the game-winning grand slam against Lamar on March 6. The sophomore entered the game as a pinch hitter in the top of the fifth. After singling and scoring a run, Schmiederer remained in the game as Iowa's offensive player. An RBI fielder's choice and the game-winning grand slam followed. She registered a career-high five RBIs on the afternoon.
THE DUGOUT
The Hawkeyes re-launched their blog, The Dugout, for the 2016 season. The blog will reach out to fans and provide them with the opportunity to connect with the student-athletes, coaches, and staff who work hard every day to make the Hawkeye softball program a success. The Dugout aims to deliver unique insight into the lives of the Iowa softball team. Each week, The Dugout will feature a different softball student-athlete. To see the latest post, visit hawkeyesports.com.
NEWCOMERS
•Junior transfer Elizabeth Wiegand joins the team after spending two seasons with UT Martin. Wiegand appeared in 26 games with 21 starts for the Skyhawks in 2015. She led UT Martin in ERA (2.94), wins (12), appearances (26), starts (21), complete games (16), shutouts (3), innings pitched (135.2), and strikeouts (63) as a sophomore.
•Sophomore transfer Katy Taylor joins the Hawkeyes after spending a season at Labette Community College. Taylor helped the Cardinals to a 38-16 overall record and a Region VI Championship. She led the nation in stolen bases (89) and paced the Cardinals in hits (76), doubles (10), triples (3), walks (21), batting average (.435), and on base percentage (.485).
•Freshmen Erin Riding (pitcher), Mallory Kilian (pitcher/utility), and Brooke Rozier (catcher/utility) will all make their Hawkeye debuts in 2016.
STAFF UPDATES
•Jake Schumann joined the Iowa softball staff on Aug. 5, 2015. Schumann will handle the Hawkeye offense. He joins the staff after spending last season as the associate head coach at Ole Miss. He has also served as the head coach at Florida International (2011-14), Texas A&M-Corpus Christi (2007-11), Texas A&M-Kingsville (2003-07), and Carl Albert State College (2001-03).
•Former Hawkeye Rachel West is Iowa's new volunteer assistant coach. West appeared in 202 games for the Hawkeyes from 2005-09. The Burlington, Iowa, native still stands as one of the best base stealers in program history. West swiped 86 bags during her four-year career — a mark that ranks fourth in program history.
•Sharon Palma is in her first year as the director of operations for the Iowa softball program. The Grand Rapids, Michigan, native came to Iowa after spending the 2014 season as an assistant coach at Ole Miss. A former professional pitcher for the Carolina Diamonds in the National Pro Fastpitch League, Palma has also spent time as an assistant coach at Florida International (2014) and IUPUI (2013), and a volunteer assistant coach at Michigan State (2012).
HAWKEYE TRADITION
Iowa has made four Women's College World Series appearances (1995, 1996, 1997, 2001) and played in 16 NCAA Tournaments in school history. The 16 appearances are the second most in Big Ten history, and the four WCWS appearances equal the second most in conference history. The Hawkeyes have won four Big Ten Conference regular season championships (1989, 1997, 2000, 2003) and two Big Ten Tournament titles (2001, 2003). Iowa holds a 1283-829-5 (.607) record in 38 seasons.