Hawkeye Fan Shop — A Black & Gold Store | 24 Hawkeyes to Watch 2016-17 | Hawk Talk Monthly — May 2017 | VIDEO — Corbin Woods
Editor's Note: The following first appeared in the University of Iowa's Hawk Talk Daily, an e-newsletter that offers a daily look at the Iowa Hawkeyes, delivered free each morning to thousands of fans of the Hawkeyes worldwide. To receive daily news from the Iowa Hawkeyes, sign up HERE.
By DARREN MILLER
hawkeyesports.com
 
IOWA CITY, Iowa — Somehow, some time, and some where during the course of a 50-game college baseball season, the most unlikely of tales emerge. An unsung star for the University of Iowa on Sunday was seldom-used super teammate Corbin Woods.
 
The senior captain from Cedar Rapids, Iowa, made the most of his 81st career at-bat with the Hawkeyes stuck in a 9-6 eighth-inning hole to Ohio State on Senior Day at Duane Banks Field. An inning earlier, Woods, a utility infielder who spent most of his career as a pinch-hitter, pinch-hit for starting second baseman Mitchell Boe. When Woods came to the plate with two runners on in the eighth, his season numbers were: 13 at-bats, nine runs, two hits, zero RBIs. It equaled a .153 batting average — 47 points below the Mendoza Line.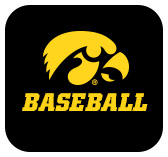 Iowa's Rick Heller said head coaches get hunches once in a while and he had one Sunday.
 
"I had a feeling that (Woods) was going to do something special," Heller said. "If there really are baseball gods, there is nobody on our team that deserves having them looked down upon more than Corbin."
 
Family, not baseball deity, gets an assist for what happened next. Woods deposited a 2-1 pitch over the left field fence for a three-run homer that knotted the score, 9-9, in a game Iowa won an inning later.
 
During a pregame senior day ceremony, Woods' mother, Karen, slipped a baseball card into a back pocket of his uniform pants. The card was of the late Ken Charipar, a former Iowa assistant baseball coach and Woods' maternal grandfather.
 
A more divine energy than grandpa's bubble gum card seemed to be with Woods in the eighth inning.
 
"The situation is tough, you just try to get your best hack off," Woods said. "You try to swing big and that's what happened."
 
As Woods rounded the bases during his second collegiate home run trot, he glanced toward the stands and made eye contact with his parents, Curt and Karen. Like the other 1,000-plus Hawkeye fans in attendance, they were going bonkers. If you believe in miracles, it isn't far-fetched to think back to Ken Charipar in this situation.
 
"My grandpa passed away six years ago," Woods said. "You have to think he's upstairs looking out for me. This is unbelievable, one of the greatest moments of my life."
 
Iowa scored nine runs over the final three innings to take two of three games from the Buckeyes. Chris Whelan had three hits from the leadoff spot, Jake Adams homered for a third game in a row, and Robert Neustrom made a multi-run-saving catch in the top of the ninth before hammering a walk-off two-run homer a half  inning later. Neustrom was happy to talk about his heroics, but even happier to celebrate Woods.
 
"One thing a lot of people don't know is even though (Woods) doesn't play a lot, he plays one of the biggest roles on our team," Neustrom said. "Every day he comes with the most energy, he brings the most every day.
 
"I knew it was going to happen for him, everything lined up: His last at-bat at Duane Banks (Field) and he was right on time with (Ohio State's Adam Niemeyer) throwing 96 (miles per hour)."
 
Woods raised his season batting average 60 points with one memorable swing. His three RBIs give him three for the season. The magic happened on Mother's Day and Senior Day.
 
But for Woods, it was grandfather's day.