Hawkeye Fan Shop — A Black & Gold Store | 24 Hawkeyes to Watch 2016-17 | Fight For Iowa | Hawk Talk Monthly — June 2017
IOWA CITY, Iowa — University of Iowa head softball coach Marla Looper announced Friday the appointment of Rachel West as assistant coach. West will work with Iowa's slap hitters and outfielders.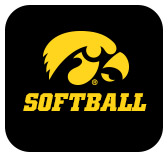 "I couldn't be happier to add Rachel to our staff," said Looper. "Rachel is a great person and a great match with our program's values and direction. She has a lot of pride in being an Iowan and a Hawkeye. Her excitement in returning to Iowa will add to the pride we have of this great university and great state.
 
"She played under Gayle Blevins and then worked in our program as a volunteer, and the knowledge she brings from those experiences will be a great benefit to our student-athletes."
 
"I couldn't be more excited to be back in Black and Gold and in a program so near and dear to my heart," said West. "I am more than grateful for the opportunity and I am eager and ready to get to work with the Hawkeyes. I hope everyone comes out this season to Fight For Iowa."
 
West, an Iowa native, has spent the past eight years coaching in the Iowa City area. The former Hawkeye most recently returned to her alma mater as a volunteer coach for the 2015-16 season. In her time at Iowa, she worked primarily with the outfielders and slappers.
 
"Rachel has great energy," said Looper. "She has a good approach to teaching, which we saw two years ago in our program. Our student-athletes responded really well to her. She also brings a different dynamic to the staff.  She wants to represent Iowa well and with great pride, and that will benefit the program from top to bottom."
 
West has coached for seven high school seasons in the area, including spending one year as the head softball coach at Clear Creek Amana and two years as the assistant varsity coach at Solon. Additionally, West coached the Iowa City West girl's track and field teams for four seasons, developing the team's strength and speed.
 
West stamped her name in the Hawkeye record books, playing for Iowa in 202 games from 2005-09. In career records, she ranks fourth in stolen bases (86), 18th in runs (95), and eighth in batting average (.341). In single-season records, she ranks No. 7 in stolen bases (29) and No. 16 with four triples, both in 2007. West was an outfielder for the Hawkeyes, starting her career as a right-handed hitter and finishing as a slap hitter.
 
West earned a bachelor's in interdepartmental studies-health coach from Iowa in 2009 and a master's degree in sports management in 2011.