Hawkeye Fan Shop — A Black & Gold Store | 24 Hawkeyes to Watch – 2017-18 | Fight For Iowa | USA Team World University Games Central | Photo Gallery | Box Score (PDF)
 
 
By JAMES ALLAN
hawkeyesports.com
TAIPEI, Taiwan — USA Team erupted for five runs in the seventh inning to rally for an 8-4 victory over the Czech Republic in the super round semifinals to advance to Tuesday's gold medal game of the World University Games.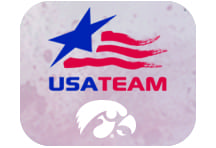 The University of Iowa is the first American representative to advance to the gold medal baseball game and the Hawkeyes will be the first United States team to win a medal in Universiade history.
 
USA will play the winner of Japan and Korea for a gold medal Tuesday at 5:30 a.m. (CT).  The game will be available online at https://livestream.com/fisu.
 
Trailing 4-3 through 6 1/2 innings, USA put together a one-out rally to take control. Base hits from sophomores Grant Judkins and Kyle Crowl and a hit by pitch by pinch-hitter Tanner Wetrich loaded the bases.
 
Junior Chris Whelan gave USA a 5-4 lead with a two-run single to left field before pinch-hitter Justin Jenkins drew a walk to load the bases a second time. Junior Robert Neustrom provided the knockout blow with a bases-clearing double into the right center field gap to extend the USA lead to 8-4. It was Neustrom's fourth hit of the game.
 
Junior Zach Daniels earned his second victory of the Games in relief, tossing three shutout innings. He scattered three hits and fanned one.
  
QUOTING USA TEAM HEAD COACH RICK HELLER
"The bullpen did a great job; Nick Allgeyer and Zach Daniels were outstanding.  Robert Neustrom had a big day and Chris Whelan broke out with a big hit late.  Brett McCleary also had a nice day. Overall, it was a sloppy game for us, we were fortunate to be in it and win it No. 2. The first three innings we didn't pitch well, made a couple of mistakes defensively and stranded a ton of runners, but we lived through it."
 
On playing in gold medal game
"We know we'll have to play better against the Japanese team. They are a team we've watched every game and they don't beat themselves. We have to match that.  That is something we haven't been doing a great job of.  We've been scoring enough runs to win, but we've been a little sloppy on the mound and on defense. We have to shore that up tomorrow."
 
On tomorrow's pitching
"Hopefully we'll get a quality start out of Jack Dreyer again. We have ourselves set up well with Sammy Lizarraga, Ben Probst, Kole Kampen, and Shane Ritter… we have a decent bullpen left for tomorrow. We're ready to go."
 
QUOTING USA TEAM
 
Junior Robert Neustrom
"The first inning was kind of ugly, but I knew we were going to fight back. I knew the team knew we were going to fight back and win this one. That's what we did and it was a good game."
 
Junior Chris Whelan
"We didn't come out strong in the early innings, but we never gave up. We didn't give up at-bats, Allgeyer came out and shut the door on them and Daniels did the same thing.  We knew we had it in us, knew we were putting good swings on the ball, and it was bound to happen if we stuck with our approach."
 
On advancing to gold medal game
"It indescribable, none of us have ever experienced something like this. We're all trying to soak in the moment a little bit.  I think we'll be ready to play tomorrow to win that gold."
 
On Japan
"We know they'll come out ready to play, they're a disciplined team. They don't give up free bases, they pound the strike zone, and never strike out. It seems like when they need to execute, they execute. We have to stick to our plans, pound the zone, get good swings off, and make their pitchers throw strikes.  If we get runners on early, I think we can do anything."
 
USA TEAM NOTABLES
USA out-hit the Czech Republic, 13-8.  Three players had multi-hit games with Neustrom finishing 4-for-5 with two doubles and three RBIs, freshman Brett McCleary was 3-for-4 with two doubles and an RBI, and Crowl was 3-for-3 with a run scored.
USA stranded 11 base runners the first six innings before breaking through with five runs in the seventh.  The team stranded 13 in the game.
USA's bullpen was flawless, tossing six shutout innings with four strikeouts to zero walks. Junior Nick Allgeyer threw three perfect frames, while Daniels earned the win, scattering three hits over the final three innings.
Junior Brady Schanuel allowed four runs (two earned) on five hits over three innings. Three of the Czech's four runs came in the first inning when USA committed a pair of errors.
UP NEXT
Tuesday's gold medal game will begin at 5:30 a.m. (CT) in the United States — 6:30 p.m. Taiwan time.  The contest will be held at Tianmu Baseball Stadium.
 
FOLLOW ON SOCIAL MEDIA
Stay up-to-date on all the happenings with the Iowa baseball program on social media via Twitter (@UIBaseball), Instagram/UIBaseball, and Facebook/IowaBaseball.