Hawkeye Fan Shop — A Black & Gold Store | 24 Hawkeyes to Watch – 2017-18 | Hawk Talk Monthly — September
By JACK ROSSI
hawkeyesports.com
IOWA CITY, Iowa — The University of Iowa softball team's fall season opener gave fans and coaches a lot to look forward to as the team looks to get better during the fall months.
 
The Hawkeyes downed Des Moines Area Community College, 6-1, on Sept. 15 in a nine-inning game that gave fans a sneak peek at the 2018 squad.
 
"(Sophomore pitcher Allison) Doocy attacked early," UI head coach Marla Looper said. "Our focus this fall has been to attack early and often. She had a 13-pitch inning and a 12-pitch inning; that doesn't typically happen on our pitching staff.
 
"We've been working on things with her this summer and I think the biggest growth for her has been her mind. The fact that she didn't let things bother her shows growth and maturity."
 
Doocy gave up her only run in the first inning, but settled in to shut down the Bears' offense for the rest of the game.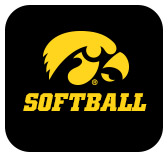 Allison Doocy led the Hawkeyes in the circle, throwing 11 strikeouts and allowing just one run on three hits in six innings.

While Iowa's pitching gives the coaching staff something to be excited about, Iowa's speed on the bases allowed it to take over as the game went on.
 
"Our 9-1-2 hitters have a little more speed, so as we got into the game and got them on base, we got to have a little more fun with them," Looper said.
 
Iowa's first game of fall means new faces and more talent to assess. Looper and her staff were impressed by what they saw out of the newcomers, including freshman Aralee Bogar.
 
"She is going to be fun to watch," Looper said. "She has great speed and we were able to see that (against DMACC). She is sure handed in the infield and doesn't let balls get to the outfield. She is going to fill that space well, whether it is at second base or shortstop."
 
Along with gauging Iowa's newest players, the team also test players in different positions. Iowa graduated four seniors last season and brought in five new players, which changes the dynamic of the team, a factor they are focusing on this fall.
 
"I was pleased with everywhere we moved people," said Looper. "We tried to keep people in new positions for a few innings to get them settled in. We have little things to work on, but we are only three weeks into practice."
 
While playing against unfamiliar competition is good, the main goal for the fall is to find out where the team is and what they need to work on to be ready in the spring.
 
"Most of our fall is about learning where we are so we know how to build over the next four months before nonconference games," Looper said. "Some of the fall is to knock the rust off, but we should have done that over the summer so the next step is learning to play with the people next to you."
 
Iowa's next game is set for Friday, when the Hawkeyes host Kirkwood Community College at Pearl Field at 5 p.m. (CT). Admission is free.