Hawk Talk Monthly — March 2018 | 24 Hawkeyes to Watch 2017-18 – /sports/2017/7/19/24-hawkeyes-to-watch-2016-17.aspx | Hawkeye Fan Shop — A Black & Gold Shop
Editor's Note: The following first appeared in the University of Iowa's Hawk Talk Daily, an e-newsletter that offers a daily look at the Iowa Hawkeyes, delivered free each morning to thousands of fans of the Hawkeyes worldwide. To receive daily news from the Iowa Hawkeyes, sign up HERE.
By SYDNEY OCKER
hawkeyesports.com
IOWA CITY, Iowa — Most people travel to southern California to relax in the warm weather and constant sunshine, but the University of Iowa softball team battled a weekend of rain and broken lights en route to a victory over eighth-ranked Baylor.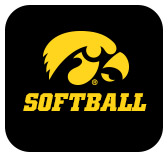 "I'm proud of this team," said Iowa head coach Marla Looper. "They didn't give up even though it seemed like every time we got on a roll, the rain would hit or a light would go out. It's frustrating, but they continued to fight no matter what."
 
The team was scheduled to play five games at the Judi Garman Classic from March 2-4 in Fullerton, California, but were only able to play three. Rain caused a cancelation on Friday and on Saturday, an issue with the forced another cancelation.  
 
Iowa held a 2-0 lead against No. 17 Louisiana-Lafayette — a team it had lost to, 9-0, just three weeks prior — but a light went out behind home plate, the game was called after four innings.
 
Through it all, the Hawkeyes stayed strong. 
 
"When we left the park after the Louisiana-Lafayette game was called, the team was upset," said Looper. "A lot of things could have happened, but we believed as a team that we were going to win that game. This team has so much fire and energy. Every time they took the field in California, they proved they can compete with the top teams in the country." 
 
The following day, the Hawkeyes had a chance to finish what they started. Though Baylor grabbed an early lead, Iowa wasn't about to let another game slip away. Freshman Aralee Bogar scored off an Allie Wood RBI double to tie the game in the fourth.  
 
With the game still knotted at 1-1 in the seventh, sophomore McKenzie Schneider lifted her second career home run deep over the right field fence — a two-run shot — to give Iowa the 3-1 win.
 
Wood, who led the team with a .367 average with a double, home run, and three RBIs in the three games, was elated to play a role in helping her team defeat a top-10 opponent. 
 
"I pride myself on leading through actions," said Wood. "To see the team get that win and know that I did my job as a senior leader to help us get there was incredible." 
 
The win was Iowa's first over a top 10 team since downing No. 4 Michigan in Ann Arbor on March 29, 2015. Wood was a freshman at the time. Starting pitcher Allison Doocy was still in high school.
 
Doocy threw eight strikeouts against Baylor — her fourth game this season with eight or more strikeouts.
 
"Anytime Doocy steps on the field, she gives us a chance to win," said Looper. "I feel she's one of the Big Ten's best pitchers and she should rank up there nationally." 
 
Doocy will have her chance against the nation's best again this week. After a weekend of games against Grand Canyon and Georgetown at the Grand Canyon Invitational, the Hawkeyes will face No. 14 Arizona State on Wednesday in their first doubleheader of the season.