24 Hawkeyes to Watch 2018-19 | Hawkeye Fan Shop — A Black & Gold Store | Hawk Talk Monthly — September
By JACK ROSSI
hawkeyesports.com
IOWA CITY, Iowa — When sophomore Sarah Lehman saw the University of Iowa softball program hit the reset button over the summer, she decided to do the same.
 
A volleyball player at Coe College in 2017, Lehman committed to play volleyball at the Cedar Rapids college following a successful high school athletic career in softball and volleyball at Regina High School in Iowa City.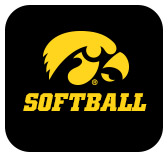 "I didn't get the offers I wanted in softball and I wanted the school to want me," Lehman said. "I went to Coe and I liked the coach and the girls there, but it was hard for me to choose because I like both sports."
 
And after her freshman season, she couldn't get softball off her mind.
 
"I missed softball," Lehman said. "I have been playing since I was little in T-ball. It was weird to stop and not have it at all. Even after the (volleyball) season I wanted to play."
 
Lehman knew after a year away from softball that she may not have what it takes, so she decided to do her own scouting.
 
"We came and watched a game in the spring and I thought that I could still play at this level," Lehman said. "I emailed coach and my high school coach, who always wanted me to play, helped me out."
 
The new Hawkeye coaching staff soon followed up.
 
"We heard about Sarah at Coe and she wanted me to come out and watch her (play in a summer league game)," Iowa head coach Renee Gillispie said. "She wanted me to see if there was a possibility that she could transfer to Iowa."
 
The coaches saw something in Lehman and realized she was exactly what the program needs.
 
"She had not thrown in over a year, but she was competing," said Gillispie. "You could tell she wasn't 100 percent confident in her pitches, but I loved the way she competed. We need players who want to compete to get this program going again."
 
Not only did Lehman's competitiveness grab Gillispie's attention, her ability to play multiple sports at a high level drew even more attention.
"I love multi-sport athletes," Gillispie said. "To me, they are using all of their muscles and all of their skills throughout the year, whereas one-sport athletes are more specialized. Knowing that she played college volleyball, you know she is an athlete."
 
Lehman joined the Hawkeyes over the summer and flashed talent at almost every position.
 
"It is hard to get back into it, but playing over the summer helped a lot," Lehman said. "I've been doing pretty well, but I still have work to do to get back to where I was."
 
"We were joking about moving her to shortstop to see what she can do, but 90 percent of what she does is on the mound pitching," Gillispie said.
 
The Iowa softball resurgence has a special meaning for Lehman, who has watched the program and dreamed of donning the black and gold since she was a kid.
 
"It has always been a dream of mine to be a Hawkeye, especially living here my whole life," Lehman said. "It's surreal to play softball as a Hawkeye."