Hawkeye Fan Shop — A Black & Gold Store | Hawk Talk Monthly — January | 24 Hawkeyes to Watch 2018-19 | I-Club Events Page | 3 Hawkeyes Win Titles at Loras Open
EVANSTON, Illinois — The fourth-ranked University of Iowa wrestling team rode past Northwestern, 32-7, on Sunday afternoon at Welsh-Ryan Arena.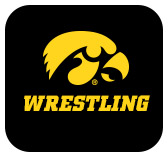 Iowa dominated the top position in each win, totaling more than 18 minutes of riding time. The Hawkeyes also enjoyed a 19-4 advantage in takedowns.
 
Austin DeSanto used seven takedowns and more than four minutes of riding time to win 18-8 at 133. Max Murin rode the final three minutes, 13 seconds on top in a 4-0 win at 141, and Pat Lugo's ride-out in the first tiebreak was the difference in a 2-1 decision at 149.
 
Northwestern got wins from top five opponents at 125 and 157 before the intermission, before Iowa rattled off five straight wins to close the dual.
 
Alex Marinelli combined four minutes of riding time and five takedowns to win by 12-4 major decision at 165. Keegan Shaw improved to 2-0 at 174, using four takedowns and one minute, 13 seconds of riding time.
 
Cash Wilcke recorded a fall in one minute, 20 seconds at 184. Jacob Warner used a third-period rideout to win 4-2 at 197, and Sam Stoll had three minutes, 27 second of riding time and an 8-0 lead before his opponent forfeited with an injury in the third period.
 
UP NEXT
Iowa wrestles at Nebraska on Sunday, Feb. 3 at 12 p.m. (CT) at Bob Devaney Sports Center.  The Hawkeyes return home to host Maryland at Carver-Hawkeye Arena on Feb. 8 at 7 p.m. (CT). For tickets, click HERE.
 
NOTABLES
Austin DeSanto extended his winning streak to nine. He improved to 13-1.
Lugo won his first overtime match of the season (1-3).
Jeren Glosser made his first dual appearances of the season, and second of his career.
Marinelli improved to 15-0 and has won a career-best 15 straight. He is 13-0 all-time in Big Ten duals and has scored 22 team points in his last four duals.
Keegan Shaw won for the second time out at 174. He is 2-0 all-time in dual competition.  
Cash Wilcke's fall in 1:20 is a career-best.
Jacob Warner improved to 4-0 in the Big Ten.
Sam Stoll made his fifth appearance of the season and improved to 5-0.
Iowa has won 13 straight in the series.
 
#4 IOWA 32, Northwestern 7
125 — #1 Sebastian Rivera (N) major dec. Perez Perez (IA), 11-1; 0-4
133 — #4 Austin DeSanto (IA) major dec. Colin Valdiviez (N), 18-8; 4-4
141 — #15 Max Murin (IA) dec. Alec McKenna (N), 4-0; 7-4
149 — #13 Pat Lugo (IA) dec. Yahya Thomas (N), 2-1 SV1; 10-4
157 — #3 Ryan Deakin (N) dec. Jeren Glosser (IA), 6-1; 10-7
165 — #2 Alex Marinelli (IA) major dec. Tyler Morland (N), 12-4; 14-7
174 — Keegan Shaw (IA) dec. Johnny Sebastian (N), 11-6; 17-7
184 — #14 Cash Wilcke (IA) pinned Brendan Devine (N), 1:20; 23-7.
197 — #6 Jacob Warner (IA) dec. Zach Chakonis (N), 4-2; 26-7
285 — #3 Sam Stoll (IA) won by injury default #15 Conan Jennings (N), 32-7
Records: Iowa (10-0, 5-0), Northwestern (3-7, 1-4)
Attendance: 1,607