Hawkeye Fan Shop — A Black & Gold Store | 24 Hawkeyes to Watch 2018-19 | Hawk Talk Monthly — February
By DARREN MILLER
hawkeyesports.com
IOWA CITY, Iowa — Speed kills in softball. So does scoring runs.
 
University of Iowa sophomore Aralee Bogar wants to use the first part of that equation to assist with the second once the Hawkeyes open their season Feb. 8 at the Tiger Classic in Baton Rouge, Louisiana.
 
"My speed is probably my biggest strength," Bogar said. "Being able to steal bases helps the team score — that's the ultimate goal. Wreaking havoc on the bases and causing the defense trouble is one of my strong suits. On the offensive side, hitting, putting pressure on that defense — speed kills is what they say."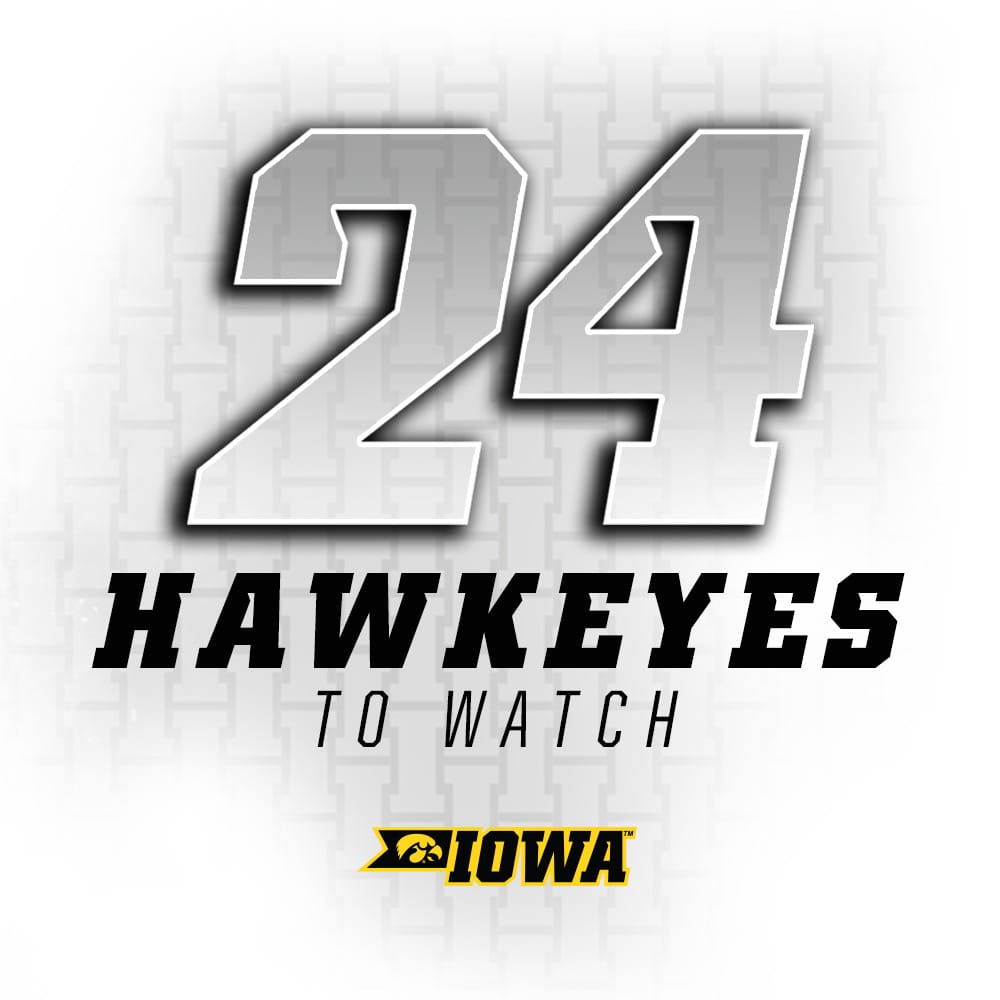 Bogar, a 5-foot-6 utility player from Trophy Club, Texas, spent most of her rookie season at shortstop, starting all 53 games. She batted .277 with team-highs in runs (26), hits (46), triples (four), sacrifice hits (six), and stolen bases, where she was a perfect 23-for-23.
 
The Hawkeyes finished 21-32 and upset a 34-win Ohio State team, 5-1, in the first round of the Big Ten Tournament. Bogar was 1-for-2 with a walk against the Buckeyes.
 
"That was crazy and being out there in that environment was awesome," Bogar said. "(Allison) Doocy pitched an amazing game (five hits, 15 strikeouts) and being behind her and having that whole team feeling of that win was incredible."
 
Bogar hit safely in the final four games of the 2018 season.
 
On June 8, Renee Gillispie was named Iowa's head coach. When the Hawkeyes gathered for practice, she noticed a common theme: Bogar was among the first to arrive and she consistently brought energy to workouts.
 
"She was excited about being at practice every day," Gillispie said. "She was the one as coaches we absolutely loved to have at practice because she had that energy and enthusiasm that we're always looking for in players. She is a blessing to have and we're fortunate to have her as part of this team when we came on board."
 
Bogar will unveil her versatility this season with a position move to center field and second base. The reason? Speed kills.
 
"With her speed and agility, we moved her to second base and she did a great job, then we had her in the outfield," Gillispie said. "She is a versatile player that we have been all over the field with. I think we are locking her down in center field and second base and having her at those two spots will help us tremendously. Her speed and ability to play anywhere is key for us."
 
Moving around is nothing new to Bogar, who jokingly says she has "lived everywhere," including stops in Illinois, Massachusetts, and Texas. Her father, Tim, played nine seasons of Major League Baseball with the New York Mets, Houston Astros, and Los Angeles Dodgers. He is currently first base coach for the Washington Nationals after stops with the Angels, Red Sox, Rays, Mariners, and Rangers (where he was 14-8 as interim manager).
 
"It is special, not a lot of people get to experience that and the behind-the-scenes of baseball life," Aralee said. "It is not exactly easy, either. My dad was traveling all the time and it's not a normal 9-to-5, come home job — we didn't get to see him that much, but getting to be on a baseball field growing up, getting to play catch with him in Fenway Park, was super cool.
 
"He was my hero growing up and I knew he was this big ball player and I wanted to be just like him. I watched him closely and how he interacted with his players and I knew listening to him I was going to try to be a great ball player like that."
 
Bogar started playing travel softball in Massachusetts when she was 12-years-old. She continued in Texas, where she was also a member of the Byron Nelson High School team. Bogar set Bobcat season records with 47 runs, 45 hits, and 33 stolen bases. She was named all-state by the Texas Girls' Coaches Association.
 
A speech and hearing science major, a main reason Bogar selected the University of Iowa is because of its strength in speech pathology. She called Iowa's academics and athletics a "Win-win situation for me."
 
"I want to get a good education while being able to play softball," Bogar said. "Coming on my visit, I saw the environment, the cool camaraderie between the softball team, and how fired up everyone is about Iowa sports and the university. I knew I wanted to play somewhere like this where I could represent the university and feel proud to play for them."
 
When Bogar talks about the 2019 season, she begins with team goals: Big Ten champions, World Series participant.
 
"I feel we can do that," she said.
 
Only then will Bogar talk about herself: Objectives like stealing more bases that will lead to scoring more runs. On defense, contributing with her glove.
 
"The goal is to get on base," she said. "I want to be solid defensively behind my pitchers so they know I am going to make a play. I want them to be able to count on me. It's about doing the best I can to help my team."
 
When Iowa's season begins, Bogar will rely on advice from her father.
 
"The thing he tells me is softball is what you do, it's not who you are," she said. "That was always important to me because as a daughter of a Major League Baseball player, sometimes you can feel pressured to be this incredible player. He was great at reminding me that he is going to love me no matter what. I'm a softball player, yeah, but I am also Aralee Bogar. I have way more to me than just the game."
 
Bogar, who is named after her maternal grandmother she never met, has an older brother, T.J., a younger brother, Ty, and younger sister, Jesse Lynn.
The Iowa softball team opens the season at the Tiger Classic on Friday at 10:30 a.m. (CT) against Bucknell. Live stats will be available on the team's schedule page at hawkeyesports.com. Fans may purchase tickets for Iowa's 13 home games at hawkeyesports.com/tickets or over the phone at 800-IA-HAWKS.