Hawkeye Fan Shop — A Black & Gold Store | 24 Hawkeyes to Watch 2018-19 | Hawk Talk Monthly – May | Tournament Central | Photo Gallery
By DARREN MILLER
hawkeyesports.com
IOWA CITY, Iowa — Want a recipe on how to advance to NCAA Regional softball competition? For the University of Iowa, the answer can be found in a sequence of 3-4-5.  
 
It will take three wins for the Hawkeyes to reach the Big Ten Tournament final and four to win the championship. It may appear to be a longshot until you look at Iowa's five-game winning streak at the Diamond 9 Citrus Classic from Feb. 22-24 in Orlando.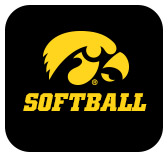 "We know we can have a five-game winning streak," Iowa head coach Renee Gillispie said. "We're focusing on knowing we have already been there, knowing it is a clean slate, it is an opportunity for us to go on to regionals. Our focus is one game at a time and do everything we can at the end of the season."
 
In order for Iowa to advance to regionals, it needs to win the Big Ten Tournament.
 
The Hawkeyes earned the final spot in the 12-team Big Ten tournament with a record of 19-31 overall, 5-18 in the Big Ten. Their first-round opponent will be fifth-seeded Wisconsin (38-11) with first pitch from Andy Mohr Field on May 9 in Bloomington, Indiana, beginning at 10 a.m. (CT). The Badgers swept a three-game series from Iowa from April 5-7 in Madison, Wisconsin. In the finale, the Hawkeyes outhit the Badgers, 8-5, before falling 4-2.
 
"We had a very good last game against Wisconsin, so we are going to use that as motivation," Iowa junior pitcher Allison Doocy said. "We were hitting well and playing good defense, so we are excited to get another shot at them."
 
The Hawkeyes won eight straight games from Feb. 17-March 1, including five in a row at the Diamond 9 Citrus Classic. Iowa defeated Alabama-Birmingham, 3-1, Fordham, 5-3, Morgan State, 3-0, Fordham, 5-0, and Notre Dame, 2-1.
 
"We had a weekend early on in Florida where we won five games on a weekend," Gillispie said. "We know we can have a five-game winning streak."
 
For this week, they only need four consecutive wins.
 
The Iowa-Wisconsin winner takes on fourth-seeded Ohio State on May 10 at 10 a.m. (CT). The Hawkeyes defeated Ohio State, 1-0, on May 3 at Pearl Field that allowed them to advance to postseason play.
 
"For us to be able to have this step into the Big Ten Tournament is huge for our program," said Gillispie, who added that Iowa's goal is to reside in the top five of the league standings. "It struggles to know we're fighting to get into (the tournament), where this program is about being the top five in the conference and working our way into that position."
 
Junior DoniRae Mayhew calls the Hawkeyes an improved team since their regular-season meeting with Wisconsin. Mayhew leads Iowa with a .264 batting average, 34 hits, eight doubles, and five home runs. She wants her teammates to join her in relaxing in the postseason moment.
 
"There is nothing to lose and that's a big weight not to have on your shoulder," Mayhew said. "It's us playing our game and the pressure is on the other team. We expect to beat these teams but there isn't the pressure to feel forced to get that hit every single time. You also have to keep playing loosely and good things will happen."
 
The Hawkeyes made a run in the 2018 Big Ten Tournament, upsetting Ohio State, 5-1, before losing 2-1 to Northwestern in a quarterfinal.