Hawkeye Fan Shop — A Black & Gold Store | I-Club Events Page | HOF Spotlight: Eric Juergens
By JAMES ALLAN
hawkeyesports.com
IOWA CITY, Iowa — There was no way Diane Pohl was going to attend the University of Iowa. That was her original thought, anyway.
 
The Cypress, California, native was sought after by softball powers on the West Coast, but a first-year Hawkeye head coach, Gayle Blevins, convinced Pohl to use one of her official visits to the Hawkeye State.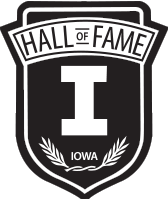 The week after Pohl visited the University of Hawaii, she was on a plane to the Midwest. 
 
"I only agreed to take the trip because Gayle was persistent in recruiting me," said Pohl. "I was on her radar as soon as I was eligible; she recruited me from the day she got to Iowa. I would get a birthday card or a letter saying I had a great game last week.  I felt like I at least owed her a trip to Iowa."
 
Pohl fell in love with Iowa City and the small-town feel of a Big Ten Conference campus.  She loved the energy and fans.  She likened the atmosphere of the men's basketball game she attended in Carver-Hawkeye Arena to that of a Los Angeles Lakers game.
 
"When I got home and got off the plane, my dad said, 'So?'" said Pohl. "I said I actually might go to Iowa. Gayle was the driving reason I became a Hawkeye. She asked if I wanted to be a big fish in a small pond. I wanted to make a difference in the program."
 
Pohl competed for the Hawkeyes from 1989-92.  She was a two-time All-American, a three-time all-region, and a three-time first-team All-Big Ten selection.  She is one of seven inductees into the 31st National Iowa Varsity Club Hall of Fame class Aug. 30 at the Coralville Marriott Hotel and Convention Center.  Tickets to the event, which is open to the public, can be purchased HERE (use promo code VCHOF).
 
"I am so grateful they would consider me for this honor," said Pohl. "It wasn't until they told me how many individuals were (in the Hall of Fame) that it hits you. Of all the people and athletes that have gone through Iowa in administration and coaching, there are only 197 inducted.  You realize the magnitude of how special it is."
 
Pohl wasn't your prototypical catcher.  When she arrived on campus, Blevins slotted her in the No. 3 hole in the lineup, but that was short-lived.
 
"Midway through the first season, (Blevins) went, 'OK, this isn't working,'" said Pohl. "She moved me to the leadoff spot and that's where I was the rest of my career."
 
Pohl was a right-handed hitter with exceptional speed.  She hit .354 during her first season as a Hawkeye, setting program records for hits (83), runs (41), and stolen bases (26). 
 
"I was fast," said Pohl. "I did a lot of sneaky bunts and was a base-hit hitter. I never jacked one over the fence, which makes me sad. I didn't have that kind of power. My on-base percentage was great and I always wanted to be the one at the plate if there were runners in scoring position at clutch times, because that's where I thrived."
 
Pohl became Iowa's first National Softball Coaches Association All-America selection during a season where she was voted the team's co-Most Valuable Player.  She followed it up with a second All-America nod in 1991 after hitting .346 with 38 steals and led the Big Ten in seven categories.
 
The Hawkeyes won 170 games, two Big Ten championships, and made two NCAA Regionals during Pohl's career and she left the program holding eight school records and the Big Ten Conference stolen base record. 
 
"The stolen base and hitting records are gone, but you can't take away the fact that I was the first-ever NFCA first-team All-American," said Pohl. "That's cool, and to watch the program grow in the years following us was amazing, it made it all worth it. "
 
Pohl played through a shoulder injury during her senior season.  The injury didn't affect Pohl at the plate, as she hit .331 and became the program's all-time leader in runs (110) and steals (98).  She still ranks third in steals, 11th in hits, and 12th in runs in school history. 
 
During her career, Pohl was twice tabbed as Iowa's Athlete of the Year and she was a member of the 1990 Big Ten All-Decade team.  Reminiscing on her Hawkeye career, Pohl fondly remembers the bus rides and team camaraderie, but one of her lasting memories came when her career came to a close.
 
"We were sitting in the dugout during the last game (at Pearl Field) and the girl crossed the plate and we knew it was over," said Pohl. "It was me, Gayle in the middle, and Terry McFarland on the other side.  We weren't talking, but just staring at the field, because there was nothing else for us to do.
 
"Jenny Stotmeister, a girl from Iowa, comes up to us and she had two Dixie cups.  One was filled with dirt she had gathered from the pitcher's mound and one was filled with dirt from home plate.  She came up and said you California girls have made a difference and we want you to take some dirt from Iowa back home.  To this day, I still have that dirt."
 
Pohl was a trailblazer for Iowa softball.  She was the first of a California-to-Iowa pipeline that produced five All-Americans and eight All-America honors.
 
"I am proud that I made the decision to go to Iowa and am proud to be a Hawkeye," said Pohl. "I am honored they chose me to be inducted to represent Iowa softball."
 
Following her Iowa career, Pohl coached three seasons at her alma mater, Cypress High School.  She also coached her son, Aiden, in PeeWee baseball for six seasons in West Linn, Oregon, where she has been a fleet manager at a Ford dealership for the past 15 years.