Hawkeye Fan Shop — A Black & Gold Store | Hawk Talk Monthly — November | 24 Hawkeyes to Watch 2019-20 | Photo Gallery | Notes (PDF) | NCAA Bracket
THIS WEEK
The sixth-ranked University of Iowa field hockey team begins NCAA Tournament play Friday against eighth-ranked Duke at 1:30 p.m. (CT). Hosted by top-ranked North Carolina, the Hawkeyes will play at Karen Shelton Stadium in Chapel Hill, North Carolina.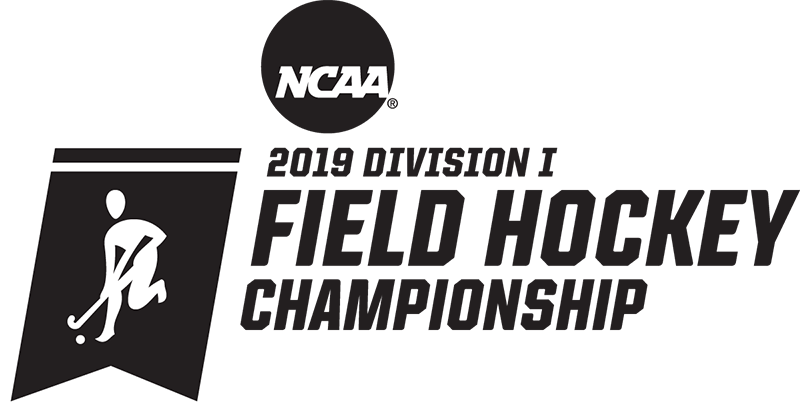 FOLLOW ON THE WEB
• Iowa field hockey fans can follow along via live stats on hawkeyesports.com. Click on the "Live Stats" link found on the field hockey schedule page.  
• Fans can also follow @IowaFieldHockey on Twitter for in-game updates.
• The game will be streamed live on YouTube via UNC Athletics. 
B1G CHAMPS X2
The Hawkeyes completed their sweep of the Big Ten regular season title and Big Ten Tournament Championship on Sunday with a 1-0 overtime win over Penn State, becoming the first ever team in Iowa history to do so. Iowa is only the fifth team in Big Ten history to complete the feat.
NCAA TOURNAMENT DRAW
• With an automatic bid into the NCAA Tournament, the Hawkeyes punched their ticket to top-seeded North Carolina's bracket, along with Duke and the winner of the Stanford versus Miami-Ohio play-in game. 
• It marks Iowa's second straight trip to the NCAA Tournament, and its 24th NCAA appearance in program history. Iowa's 24 appearances are the third most in the Big Ten behind Penn State (33) and Maryland (32). 
NCAA TOURNAMENT HISTORY
• In last season's NCAA Tournament, the Hawkeyes dropped their first-round game, 2-1, to Wake Forest, who advanced to the Final Four. 
• The Hawkeyes are 26-24 all-time in NCAA Tournament history. Iowa's 26 wins are the third most in the Big Ten. 
• Iowa has advanced to the second round 17 times in program history, posting an 11-6 record. Iowa has made it to the NCAA Finals four times, including a 1986 National Championship. 
B1G TOURNAMENT RECAP
• Coming off a Big Ten regular season title, the Hawkeyes were crowned Big Ten Tournament Champions, downing Penn State, 1-0, in overtime on Sunday. 
• It is Iowa's sixth Big Ten Tournament title and the first time in school history the Hawkeyes have swept the regular season and conference championship. 
• Iowa powered past No. 22 Ohio State, 4-1 in the quarterfinals behind two goals from Lokke Stribos. Senior Katie Birch scored the game's first goal, while freshman Esme Gibson scored her first career goal.
• In the semifinals, the Hawkeyes overcame a 1-0 first-quarter deficit to take down No. 14 Northwestern, 2-1. Both of Iowa's goals came in the second quarter from sophomores Makenna Magurie and Ciara Smith. 
• The Big Ten Championship game was a defensive battle through four periods. Goalkeeper Leslie Speight shined in goal for the Hawkeyes, saving all five shots she faced in the first half. After a scoreless tie in regulation, the game headed to overtime. It took only 23 seconds for the Hawkeyes to score the game-winning, sudden-victory goal from junior Maddy Murphy.
•  Three Hawkeyes — Katie Birch, Sophie Sunderland, and Lokke Stribos — were named to the All-Big Ten Tournament Team. Birch was the Big Ten Tournament MVP.
IOWA IS…
• on its second five-game winning streak of the season.
• 14-1 when scoring at least two goals. 
• 9-0 when scoring more than two goals.
• 8-1 at home, 4-2 on the road, and 4-1 in neutral site games.
• 8-4 against top-25 opponents. 
BY THE NUMBERS
• The Hawkeyes have outscored opponents 61-23 with an average scoring margin of 1.85, which ranks sixth in the nation. Iowa's 2.17 scoring average is the seventh-best in the country. 
• Iowa's 2.6 assists per game ranks sixth in the nation and 3.05 goals per game is ninth-best across the NCAA. 
• Seven Hawkeyes have at least four goals and 11 Hawkeyes have at least two goals. 
• Junior Maddy Murphy leads the Hawkeyes in goals (12), assists (12), points (36), shots (54), and shots on goals (35).
• Sophomore Lokke Stribos scored two goals in the Big Ten Tournament to bring her season total to 10. Stribos and Murphy are the only Hawkeyes to reach double digit goals this season.
• Senior Katie Birch leads the team in shots on goal percentage (.660), is second in assists (10), and is tied for second in points (24) with Stribos. 
• Senior goalkeeper Leslie Speight has a 15-3 record along with a .705 save percentage and 43 saves. 
SCOUTING NO. 3 DUKE (13-7, 1-5)
• Duke is coming off a 2-1 loss to Virginia in the quarterfinals of the ACC Tournament.
• The Blue Devils were 1-5 in conference play with their only win over Wake Forest, who was 0-6 in conference play. Duke was 9-7 against top-25 opponents and 5-2 against common opponents with Iowa: (No. 9 Penn State – W, 4-1; at No. 15 Northwestern – W, 2-1 (2OT); vs. No. 2 Maryland – W, 1-0; vs. California – W, 4-1; at No. 1 North Carolina – L, 0-2; No. 20 Wake Forest – W, 4-0; No. 5 Louisville – L, 0-1).
• Duke ranked second in the ACC in average scoring margin (1.20), tied for third in goals scored (46), and fourth in penalty corners (104). 
• The Blue Devils are led by seniors Sammi Steele, Margaux Paolino, Haley Schleicher, and Jilian Wolgemuth, who were all named to the All-ACC first team. 
• Steele, Duke's goalkeeper, finished the regular season with a 1.01 goals against average, the fifth-best in the nation. 
• Freshman Hannah Miller and sophomore Leah Crouse, who was a second-team All-ACC selection, tied for the Duke lead with 11 goals. 
SCOUTING DUKE — THE SERIES
• Iowa last faced Duke on Sept. 15 in Iowa City, dropping the contest 2-1 in double overtime. The Hawkeyes tied the game in the fourth quarter on an Anthe Nijziel goal. Both teams had chances in overtime, but it was Duke who scored in 74th minute to take the game.
• Duke leads the all-time series, 6-2. 
• The two schools have never faced each other in the NCAA Tournament. 
ALL-BIG TEN HONORS
Head coach Lisa Cellucci and four Hawkeyes received All-Big Ten postseason honors. 
• Cellucci was named Big Ten Coach of the Year, becoming Iowa's first since 2004. She led the Hawkeyes to a 13-4 (7-1) regular season record along with Iowa's 13th Big Ten Regular season title. 
• Senior Katie Birch was a unanimous first team All-Big Ten selection, becoming Iowa's first unanimous selection since Natalie Cafone in 2016. It's Birch's second career first-team selection and fourth overall after notching six goals and 10 assists in the regular season. The York, England, native collected 22 points and started all 17 games for the Hawkeyes as a team captain. 
• Junior Maddy Murphy earned her second first-team All-Big Ten honor, leading the team in goals (11) and ranking second in assists (9) in the regular season. The Riana, Tasmania, native recorded her second career hat trick against Indiana on Oct. 18. Murphy's 31 points were the fourth-most in the Big Ten.
• Sophomore Anthe Nijziel earned her second career postseason All-Big Ten selection after being named to the Big Ten All-Tournament Team last season. She was named to the All-Big Ten second team this season after recording six goals and one assist for 13 points in the regular season. The Eindhoven, Netherlands, native started all 17 games, played every minute of action, and was an integral part in Iowa's defense. 
• Senior Ryley Miller was honored as Iowa's recipient for the Big Ten Sportsmanship Award. 
B1G COMPETITION
The Big Ten Conference boasts seven ranked programs in the final 2019 Penn Monto/NFHCA Division I National Coaches Poll: No. 3 Maryland, No. 6 Iowa, No. 11 Michigan, No. 11 Northwestern, No. 18 Rutgers, No. 22 Penn State, and No. 24 Ohio State. 
LOOKING AHEAD
Next weekend, Nov. 22-24, is the NCAA Tournament Final Four in Winston Salem, North Carolina.