By DARREN MILLER
hawkeyesports.com
IOWA CITY, Iowa — His uncle recalls a commotion in the back yard between cousins. A young Nelson Brands absorbed a solid hit to the nose and blood began to flow.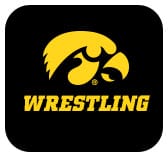 "He got thumped pretty good," said Nelson's uncle, who happens to be Tom Brands, head coach of the top-ranked University of Iowa wrestling team. "He was hanging his nose away from his chest so it wouldn't bleed on his leg or chest. He was kind of laughing and giggling."
Tom knew then that his nephew was able to deal with pain and discomfort. Nelson became a pretty accomplished wrestler, too.
After winning Class 3A state championships at 138, 152 and 160 pounds for Iowa City (Iowa) West High School, Brands joined his uncle and father, Terry, as a Hawkeye student-athlete. Terry is associate head coach.
"I truly believe there is no better place I could be than Carver-Hawkeye Arena with Tom and Terry," Nelson said. "I say Tom and Terry instead of my dad and uncle because when I'm in Carver-Hawkeye Arena I refer to them as Tom and Terry. As soon as I leave there, I am back to dad and Tom."
Nelson has progressively worked his way into a starting lineup that last season featured Alex Marinelli at 165 pounds, Michael Kemerer at 174 and Abe Assad at 184. He went 18-0 during his redshirt season of 2018-19 and followed that with a 9-4 record as a freshman in 2019-20. One of the losses was to senior teammate Cash Wilcke at the Midlands Championships, 4-2, in sudden victory. Assad eventually earned the 184-pound spot and placed fourth at the Big Ten Championships.
"I'm very, very, very competitive. I want to be first in pretty much everything I do."

Nelson Brands, Iowa 184-pound wrestler
At the Hawkeye Wrestling Club Showdown Open undercard on Nov. 1, Brands defeated Assad, 9-0, in a freestyle match. Assad, an All-American in 2020, is working his way back from a minor injury and has not seen the mat in 2021.
"Abe Assad is definitely crucial and critical to our program," Brands said. "There are things going on there that we don't talk about and when it's time for him to be on the mat he will be on the mat, absolutely, 100 percent. Our team is best with Abe Assad in the mix. Make no mistake about that."
Meanwhile, Brands is more than holding his own. It was well documented after his 13-5 major decision over No. 7 Taylor Venz of Nebraska that Brands enjoys wrestling. He spent his entire 90-second postmatch interview saying exactly that. Brands followed the opening victory against a top 10 opponent with a 10-6 win over Isaiah Salazar of Minnesota.
"I'm very, very, very competitive," Nelson said. "I want to be first in pretty much everything I do."
That works well on a wrestling mat, but not so well when it came to pushing to the front of the line in third grade.
"I got in trouble for that," Nelson said.
Brands has been nothing but trouble for opponents this season. His head coach (and uncle) says he will be as good as he wants to be. Tom continued by saying Nelson is digging deep to make tough matches go his way.
"When those things happen and they start to become a habit, then the gap is going to widen on the score," Tom said. "That's what you're seeing. When the gap widens on the score, you start to become more dominant with a dominant mentality. A dominant wrestler wins the tough matches and the tight matches."
Not only is Nelson explosive with strong attacks on his feet, but his head coach says he comes from "pretty doggone good stock with Michelle and Terry Brands." On the mat, Terry was a two-time NCAA champion, two-time world freestyle champion and 2000 Olympic bronze medalist.
"He is a good kid. He is popular with his teammates, a funny guy and getting better," Tom said of Nelson. "That's the main thing, we have to keep getting better."
Brands (ranked No. 6 by InterMat) is expected to see No. 13 Zach Braunagel of Illinois on Sunday in Carver-Hawkeye Arena. He has history against both Zach and his twin brother Danny (Illinois 165-pounder), so Nelson knows what to expect.
"They are bashy guys, they are going to come at you and head butt you and swing arms and I like that feeling," Nelson said. "I like getting hit a few times."
After all, a bloody nose never hurt anyone.