WEST LAFAYETTE, Indiana — A quick start and strong finish keyed the top-ranked University of Iowa wrestling team's 33-14 win over No. 11 Ohio State on Sunday at Holloway Gymnasium.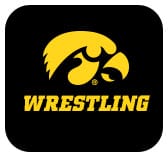 The Hawkeyes ran out to a 17-0 lead behind two pins and a technical from Spencer Lee, Jaydin Eierman and Austin DeSanto, and after the Buckeyes closed to within three points, 17-14, Iowa finished the dual winning four straight to record its largest margin of victory in the series in 10 years.
The Hawkeyes won seven of 10 matches overall, scoring bonus points in five bouts and winning two top-10 matchups.
"You go out, you wrestle, and you do your job. That's what they did," said Iowa head coach Tom Brands. "There are different things thrown at you as you're going down the path to get ready to compete. Our guys responded well."
Top-ranked Lee opened the scoring with his fourth consecutive first-period fall at 125. He led 14-0 before securing the pin in one minute, 32 seconds, and has outscored his four opponents, 38-0, in seven minutes, 12 seconds of mat time this season.
DeSanto, ranked No. 4 at 133, extended the lead to 11-0, scoring three takedowns with two turns in the first period, and adding three more takedowns in the second before terminating his match leading 19-4 in the second.
Eierman, ranked No. 1 at 141, kept it rolling with a second-period pin. He wrestled a scoreless first period before locking a cradle and ending the match in five minutes, 23 seconds. It was his third straight pin.
"Eierman, big bonus points. Spencer Lee bonus points. DeSanto, averaging 20 points a match. That is a high pace. We have to keep it going," Brands said.
Ohio State put together consecutive wins at 149, 157 and 165, totaling 14 team points with a fall, technical fall and decision. No. 5 Max Murin battled No. 2 Sammy Sasso to a 2-2 score heading into the third period, but Sasso turn a Murin shot in a cradle and won by fall in six minutes, 53 seconds.
At 157, Bretli Reyna made his varsity debut, dropping a 4-3 decision, and at 165, No. 6 Ethan Smith topped Zach Axmear, 18-3.
Top-ranked Michael Kemerer put Iowa back on the board with a 3-1 win over No. 4 Kaleb Romero at 174. Eighth-ranked Nelson Brands turned a first-period takedown into a 3-0 win against No. 17 Rocky Jordan at 184, and No. 3 Jacob Warner clinched the dual, rolling to a 11-1 major victory at 197.
Tony Cassioppi finished Iowa's day with his third straight fall, this one in 4:52.
No. 1 Iowa returns to action Feb. 12 at No. 4 Penn State. The dual begins at 8 p.m. (CT) on BTN.
NOTABLES
• Iowa has won 18 straight overall and 23 consecutive Big Ten duals.
• Iowa recorded its largest win in the series since Jan. 22, 2011 (33-3).
• Spencer Lee extended his winning streak to 27 matches.
• Spencer Lee's pin was the 25th of his career, 20 have come in the first period, including all four in 2021.
• Spencer Lee is 26-0 all-time in Big Ten duals.
• Austin DeSanto won by technical fall (19-4) and has outscored his five opponents this season, 102-26.
• Jaydin Eierman registered his third straight pin, his third as a Hawkeye and the 41st of his career.
• Bretli Reyna made his Big Ten dual debut.
• Kemerer improved to 37-7 all-time in his career against ranked opponents, including a 10-4 mark against opponents in the top five.
• Jacob Warner improved to 18-9 in his career against ranked opponents.
• Tony Cassioppi earned his third pin of the season and his third in as many appearances.
• Iowa wrestled without starters Kaleb Young (157) and Alex Marinelli (165).
#1 IOWA 33, #11 Ohio State 14
125 #1 Spencer Lee (IA) pinned Brady Koontz (OSU), 1:32; 6-0
133 #4 Austin DeSanto (IA) tech. fall Dylan Koontz (OSU), 19-4; 11-0
141 #1 Jaydin Eierman (IA) pinned Anthony Echemendia, 5:23; 17-0
149 #2 Sammy Sasso (OSU) pinned #5 Max Murin (IA), 6:53; 17-6
157 #26 Elijah Cleary (OSU) dec. Bretli Reyna (IA), 4-3; 17-9
165 #6 Ethan Smith (OSU) tech. fall, Zach Axmear (IA), 18-3; 17-14
174 #1 Michael Kemerer (IA) dec. #4 Kaleb Romero (OSU), 3-1; 20-14
184 #8 Nelson Brands (IA) dec. #17 Rocky Jordan (OSU), 3-0; 23-14
197 #3 Jacob Warner (IA) major dec. #24 Chase Singletary (OSU), 11-1; 27-14
285 #3 Tony Cassioppi (IA) pinned #10 Tate Orndorff (OSU), 4:52; 33-14
Records: Iowa (5-0, 5-0), Ohio State (4-2, 4-2)
Date: Feb. 7, 2021
EXTRA MATCHES
Ohio State vs. Iowa
141: Dylan D'Emilio (OSU) dec. Carter Happel (IOWA), 3-1
149: Cobe Siebrecht (IOWA) dec. JD Stickey (OSU), 8-6
174: Myles Wilson (IOWA) major dec. Fritz Schierl (OSU), 15-6
197: Gavin Hoffman (OSU) dec. Zach Glazier (IOWA), 4-1
285: Aaron Costello (IOWA) dec. Gary Traub (OSU), Inj. Def, 2:51