By DARREN MILLER
hawkeyesports.com
IOWA CITY, Iowa — Winning a Big Ten individual title is tough to do. Winning three in a row? That's Alex Marinelli tough.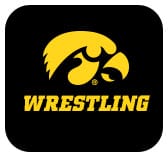 The University of Iowa senior won his third straight Big Ten 165-pound championship March 7 with a 3-2 decision over Ohio State's Ethan Smith inside the Bryce Jordan Center in University Park, Pennsylvania. The gold medal goes nicely with ones he earned in 2019 (a 9-3 win over Penn State's Vincenzo Joseph in the final) and 2020 (3-2 win over Joseph).
Marinelli is Iowa's 19th three-time Big Ten champion and the first to accomplish the feat in two decades. Doug Schwab (141 pounds) and T.J. Williams (157) won their third in a row in Evanston, Illinois, in 2001. Seven more Hawkeyes have won four conference titles.
"I'm sure when I get back into Carver-Hawkeye Arena and I look at the (record board on the wall in the Dan Gable Wrestling Complex) and see how many three-time Big Ten champs we have, it will put things in perspective," Marinelli said. "I'm honored, but I give credit to my coaches and teammates. I wouldn't be here without them. I did the work, but they got me here."
At the most recent Big Ten Championships, the top-seeded Marinelli went 3-0, outscoring opponents, 13-4. That extended his winning streak in postseason Big Ten action to nine. It also marked the first time Marinelli entered the Big Ten Championships as a No. 1 seed. But winning by scores of 8-2, 2-0 and 3-2 is not the norm for the high-scoring Marinelli. Last season he won eight matches by fall, two by major decision and one by technical fall.
"We got the team title, but I know six other guys didn't get what they wanted. I feel for them; I love those guys and all my team. They are hurting, but they are still happy we won that team title."

Alex Marinell, Iowa 165-pound wrestler
"People will agree with me when I say I didn't wrestle like I should have," Marinelli said. "I'm a bonus point guy and I score big points and I didn't get any bonus points (in the 2021 Big Ten Championships). But a win is a win. (Iowa head coach) Tom (Brands) saw good things and he saw areas I need to improve."
It has been three years of nothing but success for Marinelli after a somewhat uneventful first postseason in 2018. He entered that championships as the No. 2 seed behind Isaiah Martinez of Illinois, but Marinelli never made it to the final. After receiving a first-round bye, he lost 8-6 in sudden victory to Michigan's Logan Massa. He strung together convincing decisions against Te'Shan Campbell of Ohio State and Nick Wanzek of Minnesota, but then dropped back-to-back matches to Richie Lewis of Rutgers (7-5) and again to Massa (6-3) to finish sixth.
"It prepared me to be ready for what is thrown at me," Marinelli said.
Since the 2018 tournament, Marinelli has gone undefeated at the Big Ten tournament. He said the first title in 2019 was special. Equally special is winning back-to-back team titles. Powered by Marinelli and champions Spencer Lee (125), Jaydin Eierman (141) and Michael Kemerer (174), the Hawkeyes scored 159.5 points; Penn State was runner-up with 124 points.
"This year, proving we are still No. 1 and getting another team title," Marinelli said. "We got the team title, but I know six other guys didn't get what they wanted. I feel for them; I love those guys and all my team. They are hurting, but they are still happy we won that team title."
Marinelli's next quest for a gold medal will be at the NCAA Championships from March 18-20 at the Enterprise Center in St. Louis. The Miamisburg, Ohio, native is 5-0 this season (71-9 for his career) and riding an 11-match winning streak. He earned the top seed in the 165-pound bracket.
The NCAA Championships was canceled last season because of the coronavirus pandemic. Marinelli, a three-time All-American, was seventh at nationals in 2019 when the Hawkeyes finished fourth as a team.
A more seasoned Marinelli and the top-ranked Iowa team won't be satisfied with seventh and fourth this time. He is one of four Hawkeyes seeded No. 1 at their respective weight classes, and as a group, the expectation is to win the 24th NCAA team title in program history.