By DARREN MILLER
hawkeyesports.com
ST. LOUIS — It was three years and 17 pounds ago when University of Iowa super senior Michael Kemerer last set foot on a wrestling mat at the NCAA Championships.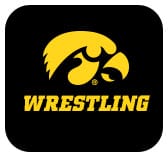 When the Hawkeyes — and 320 others — invade the Enterprise Center in St. Louis this weekend, there will be few competitors as thankful and ready as Kemerer.
"It is more excitement than anything," said Kemerer, who is 7-0 and top-seeded at 174 pounds. "The national tournament is the pinnacle, it's what everyone talks about in March. To be able to finally be out there and wrestling in that arena and that atmosphere that you dream about when you're a kid is huge. I want to savor every moment and live in the moment because it is such a unique experience."
Kemerer was on a roll the last time he competed at the national tournament in Cleveland in 2018. He was a redshirt sophomore and placed fourth at 157 pounds, winning five of six matches before bowing out by medical forfeit in the third-place match. Kemerer won his first 22 matches that season and led off both the Big Ten and NCAA tournaments with bonus-point victories (a combined three falls and a major decision).
Kemerer sat out the entire 2018-19 season, rehabilitating a surgically repaired shoulder. He successfully bumped up two weight classes to 174 in 2019-20, winning his first 14 matches before falling to Mark Hall of Penn State, 8-5, in the Big Ten final.
"Everyone is going into this tournament 0-0. There is nothing guaranteed; because I'm a No. 1 seed doesn't mean they are going to give me a free ride to the finals."

Michael Kemerer, Iowa 174-pound wrestler
That's as far as the college postseason would go. Less than a week before the Hawkeyes were to load their bus for the NCAA Championships in Minneapolis, the sports world shut down because of the coronavirus pandemic.
"We're thankful we're able to wrestle," Kemerer said. "We don't care what the circumstances are, we're ready to go."
For Kemerer, his sixth season in the program has been one of staying healthy, staying sharp and adapting.
"Things that seemed weird at first have become more normal," Kemerer said. "If you would have said a year ago that we would be wearing masks and having less fans, you would think it's crazy. The whole experience has been a lot different. It has been adapting; it has been a unique year for sure."
One thing that hasn't changed is Kemerer's winning ways. After a three-match run through the 2021 Big Ten Championships, he is 82-7 for his career. The three-time All-American knows that means diddly in St. Louis.
"Everyone is going into this tournament 0-0," Kemerer said. "There is nothing guaranteed; because I'm a No. 1 seed doesn't mean they are going to give me a free ride to the finals. I have to go out and earn it. I know a lot of guys are going to be gunning for me as that No. 1 seed. In that Iowa singlet, you're going to have a target on your back. I need to stay aware of that when I go out and wrestle these guys and ultimately stick to what I do and have fun out there."
While Kemerer pursues his fourth All-America honor, the top-ranked Hawkeyes are searching for their 24th NCAA team title. Iowa's last wrestling championship was in 2010. The Hawkeyes won back-to-back titles in 2008 and 2009 when the tournament was held in St. Louis.
First-round action begins Thursday at 10 a.m. (CT). Finals are scheduled for Saturday at 6 p.m.