ON THE MAT
The University of Iowa wrestling team travels to St. Louis to compete at the 2021 NCAA Championships on March 18-20 at the Enterprise Center. The three-day tournament begins Thursday with Session I starting at 10 a.m. (CT) and Session II at 5 p.m. The quarterfinals and consolation round begin Friday at 10 a.m. The semifinals begin Friday at 7 p.m. The medal round starts Saturday at 10 a.m. and the championship finals begin Saturday at 6 p.m.
ESPN COVERAGE OF THE CHAMPIONSHIPS
ESPN will provide primetime coverage of the three-day tournament. ESPN will televise the semifinals (March 19), and finals (March 20) on prime time. ESPNU will televise the first round (March 18) and quarterfinals (March 19). ESPN 2 will cover the second round (March 18) and medal round (March 20). Every mat will be available for individual viewing on ESPN3 via the ESPN App.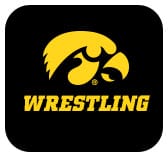 HAWKEYE WRESTLING HISTORY
The Hawkeyes have won 23 national titles and 37 Big Ten titles. Iowa's 55 NCAA Champions have won a total of 84 NCAA individual titles, crowning six three-time and 17 two-time champions. The Hawkeyes' 117 Big Ten champions have combined for 207 conference titles. There have been seven four-time, 19 three-time, and 31 two-time Big Ten champions from Iowa.
Iowa's 160 All-Americans have earned All-America status 345 times, including 20 four-time, 39 three-time and 43 two-time honorees.
CHASING THE HAWKEYES
Gary Kurdelmeier led Iowa to its first NCAA Championship in 1975, and in the 46 years since, the Hawkeyes have accumulated 23 team titles, more than any other school — Penn State (9), Oklahoma State (7), Minnesota (3), Iowa State (2), Ohio State (1) and Arizona State (1).
NCAA CHAMPIONSHIPS OUTSTANDING WRESTLERS
Ten different Hawkeyes have been named NCAA Championships Outstanding Wrestler. They include Chuck Yagla (1976), Bruce Kinseth (1979), Jim Zalesky (1984), Barry Davis (1985), Mary Kistler (1986), Tom Brands (1992), Terry Steiner (1993), Lincoln McIlravy (1997), Joe Williams (1998) and Brent Metcalf (2008).
ALL-AMERICAN STREAK
Iowa has nine All-Americans in its NCAA lineup. The Hawkeyes have crowned at least one All-American in 49 consecutive tournaments, a stretch dating back to 1972. Iowa has totaled 299 All-America honors during that stretch. Despite no 2020 NCAA Championship tournament, all 10 of Iowa's wrestlers were bestowed All-America honors based on their seed and body of work. Iowa's lineup includes three-time All-Americans Spencer Lee, Jaydin Eierman, Alex Marinelli and Michael Kemerer. Austin DeSanto, Kaleb Young and Jacob Warner earned All-America honors in 2019 and 2020. Max Murin and Tony Cassioppi were first time All-Americans in 2020.
FOUR-TIME ALL-AMERICANS
Spencer Lee, Jaydin Eierman, Alex Marinelli and Michael Kemerer have an opportunity to become four-time All-Americans in St. Louis. Lee and Marinelli have earned All-America honors in each of the last three years. Kemerer missed 2019 with an injury but earned honors in 2017, 2018 and 2020. Eierman reached the medal stand for Missouri from 2017-19. There have been 20 four-time All-Americans in the history of Iowa Wrestling. Joe Scarpello was Iowa's first four-timer. He won the NCAA title in 1950 to earn his fourth All-America honor. Tom Brands has coached four four-timers since his first national tournament as Iowa's head coach in 2007. Mark Perry won NCAA titles in 2007 and 2008, the third and fourth All-America honors of his career. Derek St. John, Cory Clark and Brandon Sorensen were four-timers under Brands. St. John won a national title in 2013 and was an All-American from 2011-14. Clark capped his fourth straight All-America honor with a national championship in 2017. Sorensen earned All-America honors from 2015-18.
10 QUALIFIERS
The Hawkeyes are sending a 10-man lineup to the NCAA Championships for the fifth time since 2007, Tom Brands first year as head coach (2010, 2014, 2015, 2020, 2021). Nine of Iowa's 10 qualifiers earned automatic bids to the NCAA tournament at the 2020 Big Ten Championships. Junior Max Murin received an at-large bid from the NCAA selection committee. The Hawkeyes won a national title with a 10-man lineup in 2010. The Hawkeyes crowned three champions and had eight All-Americans in 2010. The Hawkeyes placed fourth in 2014 and second in 2015. The 2020 NCAA Championships were cancelled due to the COVID-19 Pandemic.
Iowa has sent at least eight athletes to the NCAA Championships in each of head coach Tom Brands' 15 seasons.
NCAA EXPERIENCE
The Hawkeyes have eight wrestlers with previous NCAA experience, and two wrestlers making their national tournament debuts. Sophomore Nelson Brands is making his first postseason appearance in 2021. Tony Cassioppi was seeded No. 3 in 2020 prior to the tournament's cancellation. Spencer Lee, Austin DeSanto, Max Murin, Kaleb Young, Alex Marinelli, Michael Kemerer and Jacob Warner were also in the 2020 tournament field. Jaydin Eierman took an Olympic redshirt in 2020. He is competing in his fourth tournament, his first for Iowa. Eierman was an All-American at Missouri from 2017-19.
   • FIRST TIMERS: Nelson Brands (So. 184), Tony Cassioppi (So. 285).
   • BACK FOR SECONDS: 2020 All-American Max Murin (Jr. 149), 2019-2020 All-American Kaleb Young (Sr. 157), 2019-2020 All-American Jacob Warner (So. 197).
   • THIRD APPEARANCE: 2018-2019 NCAA champion Spencer Lee (Sr. 125), 2019-2020 All-American Austin DeSanto (Sr. 133), 2018-2019-2020 All-American Alex Marinelli (Sr. 165), 2017-2018-2020 All-       American Michael Kemerer (Sr. 174).
   • FOURTH APPEARANCE: 2017-2018-2019 All-American Jaydin Eierman (Sr. 141).
HAWKEYES IN THE FINALS
Spencer Lee advanced to the finals and won the NCAA title at 125 pounds in 2019 to extend Iowa's streak of NCAA finals appearances to 30 consecutive tournaments.
Iowa has had at least one wrestler in the NCAA finals every year since 1990, and in 44 of the last 45 tournaments dating back to 1975.
ALL-AMERICAN DOMINANCE
The Hawkeyes have nine All-Americans in their postseason lineup that have a combined record of 59-9. Spencer Lee, Jaydin Eierman, Alex Marinelli and Michael Kemerer are all three-time All-Americans. Austin DeSanto, Kaleb Young and Jacob Warner are two-time All-Americans, and Max Murin and Tony Cassioppi were 2020 All-Americans. The group has scored bonus points in 34 of its 59 wins.
HEAVY LIFTING LIGHTWEIGHTS
Since 2010, Iowa's starting 125-pounders have combined for four NCAA titles, 10 All-America honors, and six NCAA finals appearances.
The total includes two NCAA titles from Spencer Lee (2018, 2019) and two from Matt McDonough (2010, 2012). McDonough earned All-America honors from 2010-12, and was an NCAA finalist in 2011.
Thomas Gilman earned All-America honors from 2015-17, reaching the NCAA finals in 2016. Cory Clark placed fifth at the 2014 NCAA Championships.
Since 2007, Tom Brands first as Iowa's head coach, the Hawkeyes' starting 125-pounder (NCAA qualifier) has a 379-49 overall record (.886) and a 212-12 (.946) mark in duals.
125 POUNDS — #1 SPENCER LEE, SENIOR
Two-time defending NCAA champion Spencer Lee enters the tournament 7-0 and winner of 30 straight. He has outscored his seven opponents this season, 82-7, registering five first-period falls and two technical falls.
Lee has won 30 in a row dating back to the opening round of the 2019 NCAA Championships. He has outscored his opponents 373-34 during the streak, scoring bonus points in 27 matches, including 10 falls. Lee is making his third appearance at the NCAA tournament. He earned an automatic berth by winning the 2021 Big Ten Championships. He is 10-0 all-time at the NCAA Championships, winning the 125-pound brackets in 2018 and 2019. Lee is one of 17 two-time NCAA champions in program history. A third title would make him the seventh three-time NCAA champion in program history, joining the ranks of Ed Banach (1981, 81, 83), Barry Davis (1982, 83, 85), Jim Zalesky (1982-84), Tom Brands (1990-92), Lincoln McIlravy (1993, 94, 97) and Joe Williams (1996-98). Since 1999, when the NCAA implemented the weight classes used today, Iowa has won four NCAA titles at 125 pounds (Matt McDonough 2010, 2012; Spencer Lee 2018, 2019).
Spencer Lee:
NCAA Tournament Appearance: 3rd
2018: #3 seed, NCAA Champion (5-0)
2019: #3 seed, NCAA Champion (5-0)
2020: #1 seed, Hodge Trophy Winner,
NCAA Most Dominant Wrestler
133 — #4 AUSTIN DESANTO, SENIOR
Two-time All-American Austin DeSanto enters the tournament 7-1 with five bonus point wins. Iowa as a team has eight technical falls and DeSanto owns four of them. DeSanto is making his third appearance at the NCAA Championships. He earned an automatic berth with a runner-up finish at the 2021 Big Ten Championships. DeSanto has a career record of 7-4 at the national tournament. He won a pair of matches as a freshman in 2018 while competing for Drexel, falling in the quarterfinals and again in the Round of 12 on the backside. DeSanto defeated Penn State's Roman Bravo-Young 7-2 in the second round in 2019 to advance to the quarterfinals. He fell in the quarters, 3-2, to Stevan Micic and went on to win three matches on the backside of the bracket to earn his first career All-America honor. His only two losses in the tournament were one-point decisions (7-6 vs. Luke Pletcher). Since 1999, when the NCAA implemented the weight classes used today, Iowa has won four NCAA titles at 133 pounds (Eric Jeurgens 2000, 2001; Tony Ramos 2014; Cory Clark 2017).
Austin DeSanto:
NCAA Tournament Appearance: 3rd
2018: #7 seed, lost in Round of 12 (2-2)
2019: #3 seed, 5th place, All-American (5-2)
2020: #5 seed, All-American
141 — #1 JAYDIN EIERMAN, SENIOR
Three-time All-American Jaydin Eierman is making his fourth appearance at the NCAA Championships, his first as a Hawkeye.
Eierman had a 14-4 all-time record at the national tournament in three seasons at Missouri. He placed fifth at the NCAA Championships as a freshman, fourth as a sophomore and third as a junior. He transferred to Iowa in 2019 and used an Olympic redshirt in 2019-20. Eierman is 8-0 with four falls and one major decision in 2021. Eierman qualified for the NCAA Championships by winning the 2021 Big Ten tournament and enters the NCAA Championships as the top seed for the first time. Since 1999, when the NCAA implemented the weight classes used today, Iowa has won two NCAA titles at 141 pounds (Doug Schwab 1999; Cliff Moore 2004).
Jaydin Eierman:
NCAA Championships Appearance: 4th
2017: #8 seed, 5th place, All-American (5-2)
2018: #2 seed, 4th place, All-American (4-1)
2019: #5 seed, 3rd place, All-American (5-1)
149 — #12 MAX MURIN, JUNIOR
Max Murin was named an All-American in 2020 after putting together a 16-3 record and entering the 2020 NCAA Championships as the No. 7 seed at 141 pounds. Murin earned an at-large berth to the 2021 NCAA Championships with a 4-3 record at 149 pounds. He has three wins over ranked opponents and enters the NCAA Championships as the No. 12 seed. Murin was 2-2 at the national tournament in 2019. He won a pair of one-point decisions as the No. 22 seed on the top side of the bracket before falling in the quarterfinals and in the Round of 12 on the backside of the bracket. Since 1999, when the NCAA implemented the weight classes used today, Iowa has won three NCAA titles at 149 pounds (T.J. Williams 1999; Brent Metcalf 2008, 2010).
Max Murin:
NCAA Tournament Appearance: 2nd
2019: #22 Seed (141), lost in Round of 12 (2-2)
2020: #7 Seed (141), All-American
157 — #5 KALEB YOUNG, SENIOR
Two-time All-American Kaleb Young enters the tournament with a 5-1 record. He earned an automatic berth to the national tournament with a runner-up performance at the 2021 Big Ten Championships. Young wrestled to a fifth-place finish and his first All-America honor as a sophomore in 2019. He won his first two bouts by technical fall and major decision, and advanced to the semifinals with a 7-5 win in sudden victory against Ryan Deakin. Young fell in the semifinals and went 1-1 on the backside of the bracket, defeating Deakin again, 7-5 in overtime, in the fifth-place match. Young was 15-5 last season and the No. 8 seed heading into the 2020 NCAA Championships. Since 1999, when the NCAA implemented the weight classes used today, Iowa has won two NCAA titles at 157 pounds (T.J. Williams 2001; Derek St. John 2013).
Kaleb Young:
NCAA Tournament Appearance: 2nd
2019: #6 seed, 5th place, All-American (4-2)
2020: #8 seed, All-American
165 — #1 ALEX MARINELLI, SENIOR
Three-time All-American Alex Marinelli is the top seed at 165 pounds for the third straight year. He earned the top spot following his third consecutive Big Ten title. Marinelli enters the tournament 5-0. He is 7-5 in two previous tournament appearances, earning All-America honors at the 2018 and 2019 NCAA Championships. Marinelli lost in the quarterfinals to eventual champion Mekhi Lewis, 3-1, in 2019, and fell in the semifinals as a freshman five-seed to Isaiah Martinez in 2018. Marinelli enters the 2021 tournament with 11 straight wins. He has won 52 of his last 55 matches, scoring bonus points in 26 bouts, including 17 falls. Since 1999, when the NCAA implemented the weight classes used today, Iowa has won two NCAA titles at 165 pounds (Mark Perry 2006, 2007).
Alex Marinelli:
NCAA Tournament Appearance: 3rd
2018: #5 seed, 6th place, All-American (3-3)
2019: #1 seed, 7th place, All-American (4-2)
2020: #1 seed, All-American
174 — #1 MICHAEL KEMERER, SENIOR
Three-time All-American and 2021 Big Ten champion Michael Kemerer is making his first appearance at the national tournament since 2018. Kemerer missed the 2018-19 season with an injury and was the No. 2 seed at 174 pounds before the 2020 NCAA Championships were cancelled. He enters the 2021 NCAA Championships as the No. 1 seed for the first time. He placed third in 2017 and fourth in 2018, competing both years at 157 pounds. He has a career record of 11-3 at the national tournament. Among his 11 NCAA tournament wins, Kemerer has four major decisions, two pins and one technical fall. Kemerer is 7-0 in 2021 and has a career record of 82-7, including a 40-7 mark against ranked opponents. Since 1999, when the NCAA implemented the weight classes used today, Iowa has won one NCAA title at 174 pounds (Jay Borschel 2010).
Michael Kemerer:
NCAA Tournament Appearance: 3rd
2017: #2 seed, 3rd place, All-American at 157 (6-1)
2018: #6 seed, 4th place, All-American at 157 (5-2)
2020: #2 seed, All-American at 174
184 — #12 NELSON BRANDS, SOPHOMORE
Nelson Bands placed fourth at the 2021 Big Ten Championships to earn an automatic berth to his first NCAA Championships. Brands entered the conference tournament as the No. 9 seed and put together a 4-2 record, including three straight wins on the back side of the bracket to reach the consolation finals. Brands has six wins over ranked opponents this season. Since 1999, when the NCAA implemented the weight classes used today, no Hawkeye has won the 184-pound NCAA title.
Nelson Brands:
NCAA Tournament Appearance: 1st
197 — #5 JACOB WARNER, JUNIOR
Two-time All-American Jacob Warner enters the national tournament as the No. 5 seed following a third-place finish at the 2021 Big Ten Championships. Warner is 8-2 this season with three bonus-point wins and seven wins over ranked opponents. His only two losses of the season are to the top two seeds in the tournament. He lost 3-2 to Nebraska's No. 2 Eric Shultz in the season opener, and 3-1 in sudden victory to top-seeded Myles Amine of Michigan. Warner was 4-2 at the 2019 NCAA Championships, with his only two losses coming in overtime in the second round and 5-4 in the consolation quarterfinals. He was the No. 5 seed in 2020, putting together a 20-4 record before the tournament was cancelled. Warner has been seeded fifth at 197 pounds at each of the last three NCAA Championships. Since 1999, when the NCAA implemented the weight classes used today, no Hawkeye has won the 197-pound NCAA title.
Jacob Warner:
NCAA Tournament Appearance: 2nd
2019: #5 seed, 7th place, All-American (4-2)
2020: #5 seed, All-American
285 — #5 TONY CASSIOPPI, SOPHOMORE
Tony Cassioppi enters the national tournament with an 8-2 record and the No. 5 seed at 285. Cassioppi has six wins over ranked opponents this season and has five pins, tying Spencer Lee for the team lead. Cassioppi's only two losses this season have been to No. 1 Gable Steveson of Minnesota and No. 2 Mason Paris of Michigan. Cassioppi is 28-5 in his career, with all five losses to Steveson (3) and Parris (2). He is 16-5 all-time against ranked opponents. Cassioppi earned an automatic berth to the national tournament by placing third at the Big Ten Championships. He recorded two pins and two major decisions at the conference tournament. Cassioppi was 20-3 as a redshirt freshman and earned the No. 3 seed at the 2020 NCAA Championships. He has 12 falls and five major decisions among his 28 career wins. Since 1999, when the NCAA implemented the weight classes used today, Iowa has won one NCAA title at 285 pounds (Steve Mocco 2003).
Tony Cassioppi:
NCAA Tournament Appearance: 1st
2020: #3 seed, All-American