IOWA CITY, Iowa – University of Central Florida transfer Breanna Vasquez will join the University of Iowa softball team, head coach Renee Gillispie announced Monday.
Vasquez, a Norwalk, California native, is a right-handed pitcher who appeared in 51 games over three seasons for the Knights. Vasquez has a career 2.16 ERA and 19-11 record. She has thrown six complete game shutouts and struck out 175 batters.
"We are thrilled to have Breanna join our Iowa family," said Gillispie. "She brings a wealth of experience to our young squad."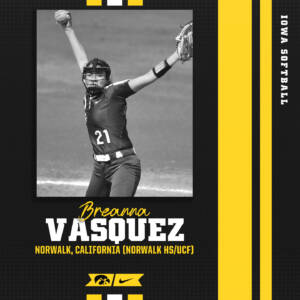 As a freshman Vasquez was named a NFCA third-team all-region selection and named to the American Athletic Conference All-Rookie Team after posting a 1.72 ERA over 142.2 innings.
Vasquez started eight games for the Knights as a sophomore during the COVID-19 shortened season. She amassed a 4-1 record and a team-leading 1.79 ERA. She struck out 25 batters while allowing only 20 hits.
As a junior, Vasquez had an 4-3 record in 17 appearances. She struck out 35 batters in 36.1 innings of work.