Jayden Montgomery #2 LB
Twitter: @JaydenMontgo02
Instagram: @jayden._.montgomery
Hawk Item
Missed majority of senior season due to injury.
High School Honors
Earned unanimous first-team all-conference and all-region honors as a junior . . . first-team all-conference as a sophomore . . . honorable mention all-conference as a freshman
High School Career
Four-year football letterman as linebacker and running back . . . helped prep team reach playoffs four straight seasons, reaching state championship game as a sophomore . . . recorded five tackles and one tackle for loss as a senior . . . 72 tackles as a junior, with 10 tackles for loss and two sacks, while scoring two touchdowns . . . 127 tackles as a sophomore, with 11 tackles for loss and three sacks, while also scoring six touchdowns . . . 77 tackles as a freshman, with three tackles for loss and one sack . . . team captain as a junior and senior . . . also competed in track and basketball as a prep.
Personal
Born 2/26/04

Open major

Member of High Honor Roll four straight years

National Honor Society

Parents are Natalie and Jerry Montgomery

Mother Natalie played volleyball at Iowa

Father Jerry played football at Iowa and currently is a member of the Green Bay Packers coaching staff

High school coach was Gary Westerman
Recruiting Coach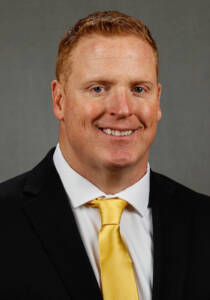 George Barnett
Offensive Line Coach