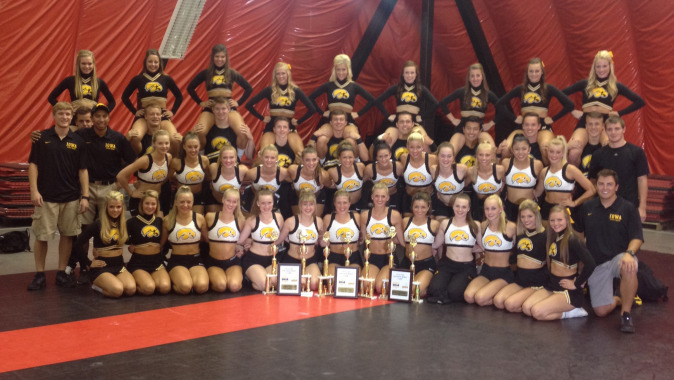 Aug. 6, 2014





WISCONSIN DELLS, Wis. — The University of Iowa spirit squads attended Universal Cheerleaders Association/Universal Dance Association's (UCA/UDA) college camp at Chula Vista Resort in Wisconsin Dells, Wisconsin.
The Hawkeye dance team placed third in home routine. Iowa also brought home trophies for collegiate recognition, program improvement, and fight song superior rating. The team achieved blue ribbons for their evaluations.
The Iowa cheerleaders place fourth in sideline, cheer and game day championships, against some of the strongest competition in the country, including eight of the Big Ten teams. The team also received recognition in game planning for their traditions on game days in Iowa City. Each of the cheerleaders learned a lot in stunt, pyramid, basket toss and game planning classes.
The Herky mascots received a fifth place trophy. The competition is the first time the new Herky suit was used, allowing for greater movement and flexibility.
"The squad did a great job representing the university and athletics department this past week," said UI spirit coordinator Gregg Niemiec. "All of the team members learned a lot from the staff, and it will be material that we use throughout the year."
The spirit squads will return to action at "ON IOWA!" — the freshmen orientation week events. The ISS can be seen at the first home football game Aug. 30 when the Hawkeyes host Northern Iowa inside Kinnick Stadium.