Coaching Staff
Gregg Niemiec – Spirit Squad Coordinator and Head Cheerleading Coach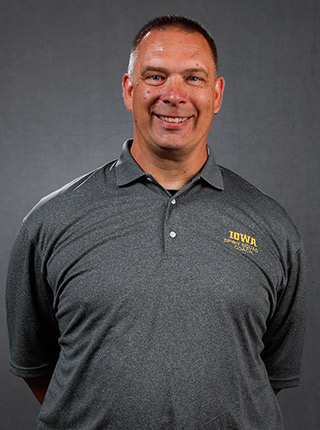 Gregg Niemiec is entering his 25th year as the Head Cheerleading Coach and Spirit Coordinator for the University of Iowa Spirit Squads. Niemiec is the head coach for the Iowa Cheerleaders, while coordinating the Spirit Squads for all events, travel, public relations, fundraising, alumni relations, and daily needs.
As a model for other spirit squads around the country, the Iowa Spirit Squads run together as a group, as opposed to three different entities (cheer, dance, and mascot) being run separately. They work together at home and away events, travel together, and perform at games and various campus events throughout the year, sometimes alongside the Hawkeye Marching Band. Niemiec was originally hired as Iowa's head cheerleading coach. Shortly after he arrived at Iowa, the Iowa Cheerleaders and Iowa Dance Team (known at the time as the Iowa Pom Pom squad) merged to create the Iowa Spirit Squads. The final piece of the Iowa Spirit Squads came into place when the daily duties of Herky the Hawk were officially assumed by the Iowa Athletics Department.
A 1993 graduate of Northern Illinois University with a degree in Sports Business and a Russian minor, Niemiec was a three-year captain and competed at Nationals in the Team and Partner stunt divisions.
Niemiec was assistant coach at Northwestern University for three years while also coaching at the high school and junior high level in the suburbs of Chicago. During this time he helped out various colleges in the Midwest with skills training and choreography.
Niemiec worked for Universal Cheerleaders Association for 14 years as a territory manager in the Midwest Region. UCA is the world leader in the spirit industry, including national competitions being covered by ESPN, worldwide camps, competitions, uniform sales, and numerous sister companies covering all areas of the spirit industry. As a Midwest territory manager Niemiec setup and administered events and camps, hired and trained staff, and worked with coaches.
He has judged competitions at all levels, including numerous state and national competitions. As an advocate for safety in the cheerleading industry, Niemiec has been an AACCA safety certifier for the organization since its inception. AACCA guidelines have now officially been adopted by the NCAA and all of its member institutions.
Gregg is married to Jenny Niemiec, a graduate of Western Michigan, with a teaching degree received from the University of Iowa. They have two daughters, Emily and Ashley, and a son, Garrett. They reside in Iowa City.
From 2007-2011, Niemiec and his wife, Jenny, started a youth cheerleading program in Iowa City, HAWK All-Stars, to help the youth in the area further their cheerleading skills. The first in the Iowa City area, HAWK All-Stars helped to improve not only cheerleading skills, but also fitness, body awareness, and self-esteem.
Jenny Eustice – Dance Team Coach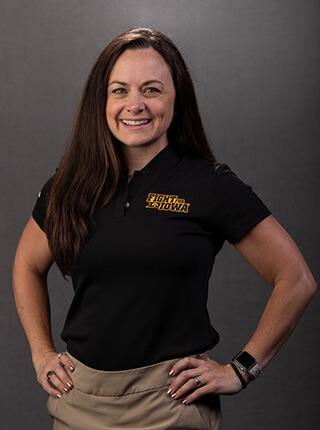 Jenny Eustice is entering her 12th year as the Dance Team Coach for the University of Iowa.
In both 2017 and 2020 the Iowa Dance Team placed 3rd at UDA College Nationals in the division 1A Pom category. The Iowa Dance Team has been a perennial finalist, placing in the Top 10 in the past eleven years. The Iowa Dance Team competes in the Pom, Jazz, and Game Day divisions.
Eustice is a former Minnesota Vikings cheerleader and a Minnesota Swarm Performance Team member. She is a former dancer (captain) and assistant coach of the four-time UDA National Champion University of Minnesota dance team in Minneapolis.
While at Minnesota, she earned a Bachelor's of Science degree in Nutrition, a 9-12 teaching license in Life Science Education, and a Master's of Life Science Education. Her coaching background also includes the multi-time Minnesota State Champion Wayzata High School dance team.
As a former V!ROC dance choreographer, she has choreographed for nationally-ranked college dance teams. Eustice has 15 years of studio training in ballet, jazz, tap, hip-hop, and modern from the Dance Shoppe in Plymouth, Minn.
Currently, Eustice is the Dean of Students at Iowa City West High School in Iowa City, Iowa. Eustice has been the Universal Dance Association(UDA) ESPN dance analyst for the National High School Dance Team Championship for nine years. She is a former member/choreographer for UDA summer camps.
Eustice is married to Luke Eustice, a former Iowa Wrestler who works at the Iowa City/Coralville Convention and Visitors Bureau, and they have a daughter, Peyton, and son, Charlie.
Avery Stahr – Assistant Cheerleading Coach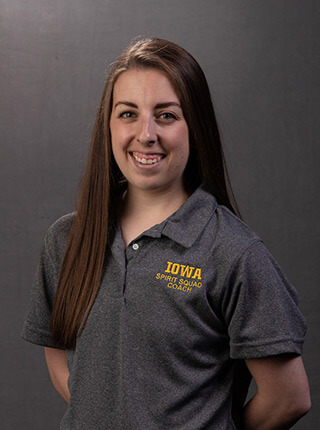 Avery Stahr is entering her 2nd year as the Assistant Cheerleading Coach at the University of Iowa.
Avery graduated from the University of Iowa in 2015, earning a Bachelor of Arts degree in both American Studies and Journalism and Mass Communications. During her four years at Iowa she was a member of the Iowa Cheerleaders. Avery competed with the cheer team in 2014 in Division IA Large Coed at UCA Nationals in Orlando Florida where the team made it to the final round of competition and ultimately finished 11th – the highest placing in school history.
As a member of the Iowa Spirit Squad Avery attended the Outback Bowl and the Taxslayer Bowl. She traveled around the country to various away football games and post-season basketball tournaments.
During her time in Iowa City, Avery worked as a coach with the all-star cheer team Cheer Iowa Athletics. Her passion for coaching was ignited as she helped coach her Junior Level 2 team to multiple first place finishes in their first year.
After graduating, Avery moved to Chicago, Illinois and worked in customer service and sales for four years. In August 2019, Avery moved back to Iowa and joined the Iowa Spirit Squad Staff. She currently works full-time for ImPACT Applications and resides in Coralville, Iowa.
Alex Kern – Herky Mascot Coach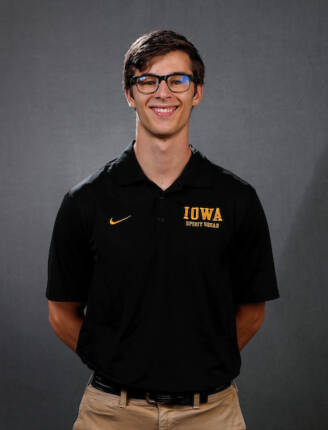 Alex Kern is entering his 2nd year as the Herky Mascot Coach at the University of Iowa.
Alex graduated from the University of Iowa in 2019 with a Bachelor of Science degree in Plant Biology and a minor in Business Administration. During his four years at Iowa, he was a member of the Mascot team for two years, earning the Rookie of Year and Herky of the Year awards. He also helped take the Team to a 10th place finish in the UCA/UDA Mascot Nationals competition.
During his time on the team he attended the Pinstripe Bowl and the Outback bowl, additionally traveling with the Women's basketball team for their run in the 2019 NCAA tournament.
Alex now works full-time at Integrated DNA Technologies and resides in Iowa City, Iowa.