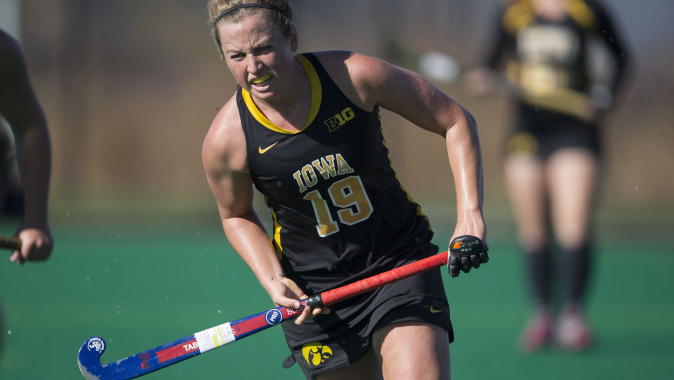 October 29, 2014
IOWA CITY, Iowa — University of Iowa senior midfielder Dani Hemeon has been selected to compete in the 2014 National Field Hockey Coaches Association Division I Senior Game, the NFHCA announced Wednesday. Karli Johansen played in the even last year, while, Jessica Barnett and Kathleen McGraw were selected in 2012.
The Senior Game will be played Saturday, Nov. 22, at the University of Maryland in College Park, Maryland, beginning at 3 p.m. (CT). The group of 38 seniors will be divided into two teams, and play two 30-minute halves. Hemeon is one of seven seniors selected from the Big Ten conference.
Hemeon has appeared in all 78 games of her career with 59 starts. In 16 games this season, Hemeon leads the Hawkeyes in shots (66), defensive saves (4), and ranks third in goals (7) and points (18).
As a junior in 2013, Hemeon was named NFHCA Division I All-American third team, NFHCA West Region All-American first team, All-Big Ten first team, All-Big Ten tournament team, and was named Big Ten Offensive Player of the Week on Oct. 15.
In 2012 as a sophomore, Hemeon started all 21 contests, tallying team-highs in points (24) and goals (11). The midfielder scored once in each of Iowa's three postseason games and tallied two goals in the Big Ten Tournament — the second-most by any student-athlete at the event.
As a freshmen in 2011, Hemeon saw action in 17 contests, including two starts. She recorded 12 shots and tallied her first-career goal. Hemeon was one of four true freshmen to see action.
Hemeon and the 14th-ranked Hawkeyes (11-5, 4-3) close the regular season at No. 2 Maryland on Saturday at noon (CT).