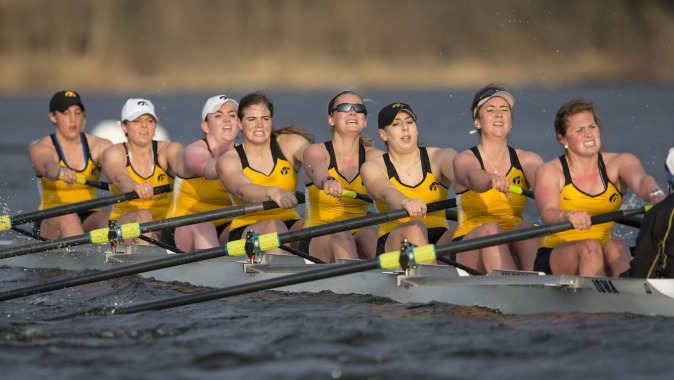 Nov. 1, 2014
Editor's Note: The following first appeared in the University of Iowa's Hawk Talk Daily, an e-newsletter that offers a daily look at the Iowa Hawkeyes, delivered free each morning to thousands of fans of the Hawkeyes worldwide.
By JIL PRICE
hawkeyesports.com
IOWA CITY, Iowa — The University of Iowa rowing program is winding down following its fall competition slate. The team showed well in its three events and second-year head coach Andrew Carter is excited about the progress the Hawkeyes have made in his training system.
Iowa started out at a larger regatta at the Head of the Des Moines, before moving on to a scrimmage at Big Ten foe Indiana and closing the fall against multiple collegiate programs at the Jayhawk Jamboree hosted by Kansas.
"The racing calendar we put together was useful in seeing where we are, which is another step forward from where we were in 2013-14," Carter said. "It provided an opportunity to race against some good names, and we notched some good results."
One team Iowa was especially excited to see before the spring was Indiana. The Hoosiers elevated their program to new heights in one year, clinching a berth to the 2014 NCAA Championships with a fourth-place finish at the Big Ten Championships at Eagle Creek Park in Indianapolis.
"It helped the team a lot," Carter said. "We were not at the NCAA Championships last year and Indiana was. Not only were they there, they did a phenomenal job. They finished 11th, which was unbelievable considering where they were 12 months prior."
Carter and the coaching staff use the success of the Hoosiers as a motivator to show the team a quick turnaround is possible with hard work and dedication.
The staff was encouraged and impressed with the focus and fire the Hawkeyes took into the scrimmage. Iowa hung with the Hoosiers, which is a big accomplishment for the group to take into its spring slate.
"The beauty of that event is the coaches ran it and we were able to be right there with them throughout the events," Carter said. "We could see their eyes and see how they were competing. They competed with more fire than I had seen since I arrived. I think our girls had an idea of how it was going to go, but they weren't accepting of it like they had the first year I was here."
Carter has also been impressed with the team's effort and focus in fall training sessions. In this week's off-water ergometer testing, he saw personal bests across the board — an unexpected accomplishment at this point in the year.
"It doesn't reflect over the top training and intensity, it reflects them being smarter about what they're doing and understanding more when it comes time for those measures and training on a day-to-day basis," Carter said. "We're definitely further ahead than last year."
The Hawkeyes open their regular season in DeLand, Florida, with regattas against Old Dominion on Feb. 18 and Central Florida and Old Dominion on Feb. 21. Iowa will have six events on the road before competing at the Big Ten Championships, May 16-17, in Indianapolis.