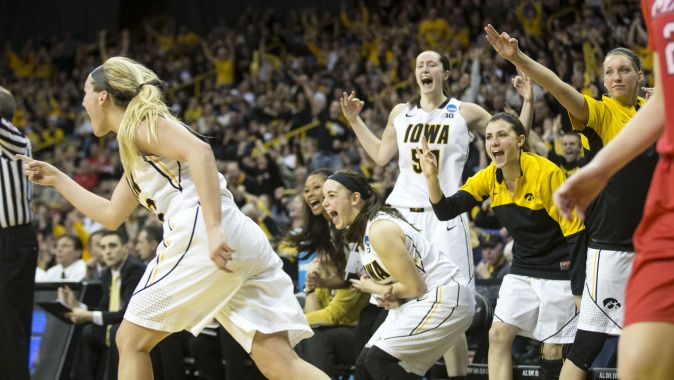 Nov. 6, 2014
IOWA CITY, Iowa — Optimism and excitement surrounding the start of the 2014-15 University of Iowa women's basketball season is high in Iowa City and around basketball circles, and for good reason.
The Hawkeyes have been picked to finish third in the 14-team Big Ten behind Maryland and Michigan State in the 2014-15 Coaches Big Ten preseason poll. College Sports Madness tabbed the Hawkeyes at No. 13 overall and No. 1 in the Big Ten in its preseason Top Teams Countdown, while Iowa ranks 19th in both the Preseason USA TODAY Coaches Poll and Associated Press Polls.
"Someone asked me if I was afraid of expectations and I said, 'Are you kidding?," said UI head coach Lisa Bluder, who is entering her 15th year at the helm of the program. "This is what you work for. This is what you try to accomplish and try to get the recognition for your program, and we're celebrating it.'
"At the same time, let's go to work to live up to those expectations. That's our attitude here. We want to embrace that."
The preseason expectations do not scare the Hawkeyes.
Last season, Iowa set the school record for scoring offense (78.2), leading the league in scoring while notching the second-most points in a season in Big Ten history (2,814). Iowa returns 84 percent of its scoring from last season, including 10 letterwinners and four starters that all averaged double-figures: All-Big Ten honoree Bethany Doolittle (14.2 points per game), All-American Samantha Logic (13.3), All-Big Ten honoree Ally Disterhoft (13.2), and Melissa Dixon (13.1).
Having five players average more than 12 points per game — Theairra Taylor averaged 12.4 last season — is rare; returning four of them may be even rarer.
"This is one of the most solid returning groups we have had," said Bluder, the all-time winningest coach in program history. "Anytime you return four starters, along with the quality of these women and how well we have done the last several years, compounds that. Everybody's expectations should be high for our basketball team, and I certainly want our players to have those same types of expectations."
In addition to the four starters, Iowa returns senior Kathryn Reynolds, juniors Kali Peschel, Nicole Smith, and Claire Till, and sophomores Alexa Kastanek and Hailey Schneden. The Hawkeyes add a promising freshmen class that includes 6-foot forward Christina Buttenham (Canadian Junior Women's National Team member), 6-foot-3 forward Chase Coley (Gatorade Minnesota Girls Basketball Player of the Year), 5-foot-5 guard Whitney Jennings (Indiana Miss Basketball), and 6-foot-1 forward Carly Mohns (first-team all-state).
"All four have the potential to contribute right off the bat," said Bluder. "Whitney for sure; she is going to be backing up our point guard, there's no doubt about that. There is no reason why she cannot be part of that starting five.
"Christina will be battling to win that wing position. Chase will be a part of the action because we have to prepare her for next year when she will be in that starting position at the five. We have to prepare her by getting her reps and game experience. Carly provides something for us that was a weakness last year, and that's rebounding. She's an unbelievable rebounder."
With a talented roster of 14, Hawkeye fans can expect to see a similar attack as the one that led the league in scoring and assists last season, while finishing 27-9. "That is us, that is what we want to do, and that is what Iowa women's basketball is supposed to look like," said Bluder. "Last year, we put the pieces together to make that happen. Our team bought into that and it's easy to sell it this year to our team because they know the success and they enjoy playing it. We have recruited players that fit well with that system."
For the last seven years, Iowa has done what no other Big Ten team and only 13 others programs around the country have: advance to the NCAA Tournament each season.
The goal and expectations are no different heading into 2014-15.
"Like every year, we need to stay healthy because that's something that's out of your control, but is something that has so much impact on your team," said Bluder. "We need to stick to our identity and what we do. Understanding that teamwork, running the ball, shooting 3s, and having that floor balance is great for us, and not getting ourselves overwhelmed with what lies ahead of us.
"If we take care of business with our home games, and if we do as well as we think we can do in the Big Ten, even though there are tough teams, I do see an eighth-straight NCAA appearance for us."
The Hawkeyes host St. Ambrose on Sunday in an exhibition (3 p.m. CT) before opening the regular season Nov. 14, hosting USC Upstate (6 p.m.) at Carver-Hawkeye Arena. Tickets are available by visiting the ticket office at Carver-Hawkeye Arena, calling 1-800-IA-HAWKS, or online at hawkeyesports.com.