Jan. 18, 2015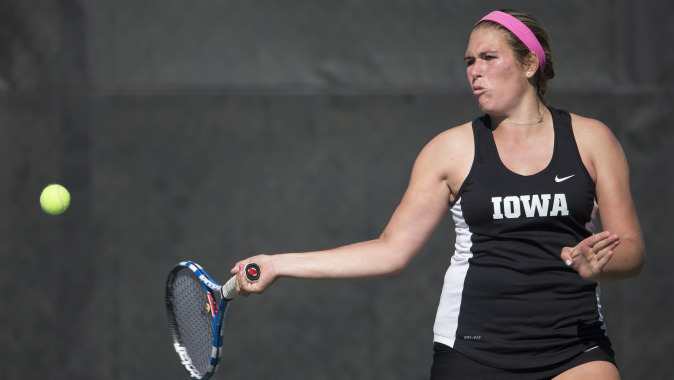 Jan. 18, 2015
ORLANDO, Fla. — The University of Iowa women's tennis team completed its second day of competition at the UCF Quad Tournament on Sunday. The Hawkeyes struggled to find a rhythm, but ended on a high note with a doubles victory.
"It was a tough day for us in singles, losing 7 three set matches is tough to swallow. Illinois did a better job converting on big points and shifting momentum," UI head coach Katie Dougherty said. "It's always a great battle when we compete against them and this was no different."
Hawkeye newcomer Zoe Douglas faltered in singles play, falling to Illinois' Grace Tapak, 2-6, 6-4, 6-4. Douglas found success with doubles partner Katie Zordani on day two. The duo defeated Valentina Briceno and Kaitlin Brozovich (FIU), 6-3.
"Our overall level was better today, but results wise disappointing," Dougherty noted. "We have 2 more great opportunities tomorrow and will look to play our best tennis and finish strong."
Iowa will close out the UCF Quad Tournament on Monday taking on UCF in doubles competition and FIU in singles play.
Singles: Iowa vs. Illinois
Annika Hepp (UCF) def. Aimee Tarun (Iowa) 2-6, 6-1, 6-0
Alexis Casati (Illinois) def. (Iowa) 6-3, 6-4
Melissa Kopinski (Illinois) def. (Iowa) 6-3, 6-1
Louise Kwong (Illinois) def. (Iowa) 5-7, 7-5, 6-1
Maddie Baillon (Illinois) def. Katie Zordani (Iowa) 5-7, 6-3, 6-2
Jade HIlton (Illinois) def. Ellen Silver (Iowa) 6-4, 4-6, 6-4
Grace Tapak (Illinois) def. (Iowa) 2-6, 6-4, 6-4
Jerricka Boone (Illinois) def. Aimee Tarun (Iowa) 4-6, 6-4, 10-7
Emily Barretta (Illinois) def. Montana Crawford (Iowa) 6-4, 6-2
Julia Jamieson (Illinois) def. Montana Crawford (Iowa) 6-0, 4-6, 6-0
Doubles: Iowa vs. FIU
Nerma Caluk/Yana Koroleva (FIU) def. Annette Dohanics/Shelby Talcott (Iowa) 7-5
Nina Nagode/Carlotta Orlando (FIU) def. Morven McCulloch/Anastasia Reimchen (Iowa) 6-0
Zoe Douglas/Katie Zordani (Iowa) def. Valentina Briceno/Kaitlin Brozovich (FIU) 6-3