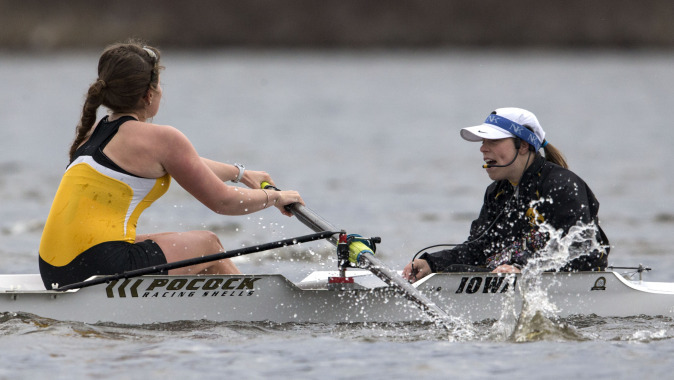 April 4, 2015
ITHACA, New York — The University of Iowa rowing team concluded action at the Cayuga Inlet with a 1V8+ race against No. 6-ranked Yale and Cornell in Ithaca, New York, Saturday morning.
The Hawkeyes' top V8+ crew battled through inclement weather and debris on the 2,000-meter course to finish third overall with a time of 6:11.40, behind historically strong Ivy League crews. Yale crossed the finish line first with a time of 5:55.60, followed by runner-up Cornell which clocked a time of 6:03.20.
The remainder of the regatta schedule was cancelled following the event due to unsafe rowing conditions.
"Our crew experienced some significant difficulties with debris and other obstacles on the course and found themselves third of the three crews," head coach Andrew Carter said. "If circumstances were different, I think our crew would have been able to row the race they had planned.
"In all, I think the challenges faced on this trip were handled really well by our team. They kept focused and on task while keeping the flexibility necessary to adapt to the ever-changing scenarios."
The Hawkeyes continue the regular season against tough Indiana, Michigan, and Michigan State crews in Big Ten Double Dual action on April 11 in Ann Arbor, Michigan. Two of the three teams qualified for the NCAA Championships in 2014, with Michigan and Indiana earning eighth and 11th national finishes, respectively.
Line Up
1V8+
1. Nina Hendriks
2. Zoe Ribar
3. Morgan Grastorf
4. Lauren Subler
5. Jessica Streur
6. Cristy Hartman
7. Hannah Hawks
8. Beth Baustian
C. Katie Brown