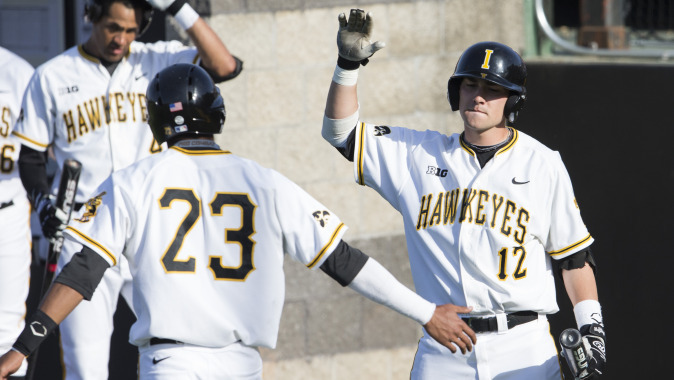 April 30, 2015
#15 Iowa (31-11, 13-2) at Michigan (27-17, 11-7)
Dates
May 1-3, 2015
Location
Ann Arbor, Mich. | Wilpon Complex
Game Notes
Iowa | Michigan
Statistics
Michigan | IOWA
Media Coverage
Radio
1360-AM KMJM (Friday/Saturday) | AM-800 KXIC (Joined in Progress) | Hawkeye All-Access (All)
Live Stats
GameTracker
Television
BTN (Live on Saturday)
Game 1
Date | Time
Friday, May 1 | 3 p.m. (CT)
Pitching Matchup
IOWA:Jr., RHP Blake Hickman (7-1, 2.62 ERA) vs.
UM: Jr., RHP, Jacob Cronenworth (2-4, 3.55 ERA)
Game 2
Date | Time
Saturday, May 2 | 3:30 p.m. (CT)
Pitching Matchup
IOWA:Jr., RHP Tyler Peyton (5-3, 2.60 ERA) vs.
UM: Fr., RHP Ryan Nutoff (4-3, 3.03 ERA)
Game 3
Date | Time
Sunday, May 3 | 12 p.m. (CT)
Pitching Matchup
IOWA: Jr., RHP Calvin Mathews (3-1, 1.98 ERA) vs.
UM: So., LHP Brett Adcock (6-3, 3.81 ERA)
THIS WEEK
The 15th-ranked University of Iowa baseball team hits the road for a three-game weekend series at Michigan from May 1-3 at the Wilpon Complex in Ann Arbor. Friday's opener begins at 3 p.m. (CT), Saturday's contest is at 3:30 p.m. and will be televised on BTN, and the finale is set for noon.
GAME COVERAGE
? Saturday's game will be televised live on BTN with Matt Shepard and former Hawkeye Danan Hughes on the call.
? The series will be broadcast on KMJM on Friday and Saturday and joined in progress on AM-800 KXIC throughout the weekend with Brent Balbinot on the call. All three games will also be available via the subscription-based service Hawkeye All-Access on hawkeyesports.com.
? Fans can also follow every game with live stats (GameTracker) on hawkeyesports.com and live updates are also available on Twitter: @UIBaseball.
LEADING OFF
? The Hawkeyes are ranked for the fifth straight week, coming in at No. 15 by Collegiate Baseball, 16th by Baseball America, 18th by D1Baseball, 19th in the USA Today Coaches' Poll, 20th by Perfect Game, and 24th by the NCBWA. Iowa's RPI is 25 on D1Baseball through the April 29 games.
? Iowa has won six-straight Big Ten series dating back to the 2014 season — the longest stretch for the program in school history. The Hawkeyes haven't had a losing weekend in 2015; they went 2-2 at Houston Baptist.
? The Hawkeyes registered their 30th victory of the season in game two of an April 26 doubleheader against Nebraska, giving Iowa back-to-back 30 win seasons for the first time since 1989 and 1990.
? UI head coach Rick Heller won the 750th game of his coaching career on April 26 against Nebraska. Heller is the winningest coach in Iowa history in his first two seasons, winning 61 games and counting. Former skipper Duane Banks went 53-34 in his first two complete seasons.
? Iowa is 13-2 in Big Ten Conference play, 1/2 game behind Illinois for first in the league standings. Michigan is fifth with an 11-7 record. The Hawkeyes' 13 Big Ten wins are the most since 2010. Iowa won 17 games in 2007.
? Junior Blake Hickman is tied for the Big Ten lead with five wins, going 5-0 with a 2.10 ERA in five starts. The right-hander has seven victories this season — tying the highest win total by a Hawkeye since 2010.
? The Hawkeyes rank eighth nationally, surrendering 7.27 hits per nine innings. Iowa also is ninth in fielding percentage (.979) and 11th in ERA (2.70).
? Iowa ranks in the top six in batting (sixth, .274), pitching (third, 2.70 ERA), and defense (2nd, .979) in the Big Ten in all games. In league contests, is in the top three in all three categories — third in hitting (.296), third in pitching (2.60), and second in fielding (.977).
QUICK HITTERS
? Iowa is off to its best start since 1990 when the Hawkeyes had an identical record of 31-11 through 42 games. Iowa finished 38-19.
? The Hawkeyes have won nine-straight series this season, including four three-game sweeps. Iowa hasn't had a losing weekend in 2015. It went 2-2 during a four-game series at Houston Baptist.
? Iowa is 12-3 in its first 15 games at Banks Field this season. The Hawkeyes were .500 (10-10) at home in 2014.
? Iowa has at least 10 hits in three straight and seven of the last nine games. The Hawkeyes hit a season-best .347 during the three-game series against Northwestern before finishing with a .320 average in the series sweep over Nebraska.
? Seniors Eric Toole and Jake Mangler are the ninth and 10th players in Iowa history to join the 200-hit club. Toole joined the club April 3 at Purdue, while Mangler followed suit April 28 against Sacramento State. Toole ranks fifth (222) and Mangler 10th (202) in school history.
? Eighteen games have been decided two runs or less. Iowa is 13-5 in such contests.
? Iowa is 15-4 when playing error-free baseball and 25-7 when committing one or fewer errors. Iowa is 6-4 when committing two or more errors.
? The Hawkeyes are 25-1 when out-hitting their opponents and 22-3 when scoring first. Conversely, Iowa is 9-8 when the opponent scores first.
? Iowa has outscored opponents 29-10 in the first inning, and 60-32 over the first three innings.
SCOUTING MICHIGAN
? The Wolverines are 27-17 overall and 11-7 in Big Ten play. Michigan has won five straight league series since being swept at Nebraska to start Big Ten play. Last weekend, the Wolverines took 2-of-3 games at Minnesota.
? Michigan leads the Big Ten in hitting with a .301 team batting average, .386 on-base percentage, 454 hits,94 doubles, and 14 triples while having six regulars hitting over .300. Jackson Glines has a team and Big Ten-best .380 average with 60 hits, 35 runs and 20 RBIs. Carmen Benedetti is hitting .364 with 17 doubles and a Big Ten-leading 45 RBIs, and Jacob Cronenworth has a .339 average with a league-high 62 hits and 46 runs scored.
? The Wolverines have a 3.48 team ERA over 378 innings and they average 7.95 strikeouts per game. Michigan has 350 strikeouts to 181 walks in 44 games.
? Junior RHP Jacob Cronenworth (2-4, 3.55 ERA) will start Friday, freshman RHP Ryan Nutoff (4-3, 3.03 ERA) will take the hill Saturday, and sophomore LHP Brett Adcock (6-3, 3.81 ERA) will start the series finale.
THE SERIES
? This is Iowa's third straight year playing a road series in Ann Arbor.
? The Wolverines own a 109-48 advantage against Iowa in the all-time series. The Hawkeyes haven't won a series over Michigan since the 2010 season when it took 2-of-3 games in Ann Arbor.
? Michigan took 3-of-4 games last season over Iowa, winning 2-of-3 games from March 28-30 before eliminating the Hawkeyes from the Big Ten Tournament with a 7-1 win.
LAST SEASON VS. MICHIGAN
? Calvin Mathews threw a complete game, allowing two runs on six hits and striking out nine to zero walks in a 3-2 Iowa win March 28.
? Tyler Peyton allowed five runs on five hits in 4 1/3 innings in the series finale in a no-decision. Blake Hickman took the loss, allowing one run despite not allowing a hit in 1 1/3 innings.
? Peyton also gave up three runs on six hits over four innings in a loss at the Big Ten Tournament.
? Dan Potempa led Iowa in four games, hitting .333 (5-for-15) against Michigan, while Peyton drove in three runs. Iowa scored just 11 runs in four games last season.
WALK-OFF WINNERS
The Hawkeyes have posted five walk-off wins (four in last eight games) this season — with contributions from its entire roster. Iowa has overcome deficits in 11 games, going 9-2 in such contests.
? Tyler Peyton delivered a walk-off RBI single in the bottom of the ninth inning to send Iowa to a 6-5 victory over Missouri State.
? Senior Jake Mangler delivered a bases loaded RBI single in the bottom of the ninth inning to send Iowa to a 4-3 come-from-behind victory over Northwestern.
? Junior Eric Schenck-Joblinske drew a bases-loaded walk in the bottom of the 11th inning to give the Hawkeyes a 4-3 win.
? Junior Jimmy Frankos hit a full count, two-out, bases loaded RBI single to left field, sending Iowa to a 3-2 come-from-behind win over No. 25 Nebraska.
? Junior John Barrett hit a bases-loaded sacrifice fly to center field, plating Eric Toole to down Sacramento State, 4-3, in 18 innings.
WINNING A MARATHON
The Hawkeyes played what is believed to be the longest game in school history, downing Sacramento State, 4-3, in 18 innings on April 28. The game lasted five hours and 40 minutes, used 14 pitchers and 33 positional players.
IOWA REACHES 30-WIN PLATEAU
With its three game sweep over No. 25 Nebraska, the Hawkeyes improved to 30-11 this season, reaching the 30-win milestone for the second consecutive year. It is the first time since the 1989 and 1990 seasons for the program to accomplish the feat.
HELLER REACHES 750
UI head coach Rick Heller tallied the 750th victory in his coaching career in the Hawkeyes' 5-1 victory over 25th-ranked Nebraska in game two of the April 26 doubleheader. Heller is the winningest coach during his first two seasons in school history, racking up 61 victories.
PEYTON NAMED TO OLERUD WATCH LIST
Junior Tyler Peyton has been named to the 2015 John Olerud Two-Way Player of the Year Award Watch List. The award is presented to the nation's top player both on the mound and at the plate. The Grimes, Iowa, native is 5-3 with a 2.60 ERA in 11 starts as Iowa's Friday starter and is leading the team with a .357 batting average — fifth best in the Big Ten — while also ranking in the top three on the team in runs (19) and RBIs (19).
TOP-10 TOOLE
Senior outfielder Eric Toole laid out to make a diving catch in the left center field gap to rob Northwestern's Kyle Ruchim of a leadoff double in the April 17 series opener at Banks Field. Toole's catch was tabbed as the No. 3 play of the day on SportsCenter's Top-10 plays that evening.
IF YOU WIN, THEY WILL COME
The Hawkeyes have drawn more than 7,200 fans in the last two weekend the series against Northwestern and Nebraska, including a soldout crowd of 2,506 April 26 against the Huskers. Iowa had surpassed 1,000 fans at Banks Field just twice dating back to the 2011 season and eight times since 2007.
EARNING HIS KEEP ON FRIDAYS
Since Big Ten play commenced, junior Tyler Peyton has been hitting and pitching for himself on Friday nights… and quite well. Peyton is 2-1 with a 2.51 ERA in four conference starts playing both ways, allowing nine runs (eight earned) on 21 hits over 28 2/3 innings. He opened Big Ten play with 14 1/3 innings of shutout ball. Offensively, Peyton is hitting .357 (5-of-14) with one run and one RBI when playing both ways. He drove in the go-head run against No. 17 Indiana and went 3-for-5 in the opener at Purdue.
ROSCETTI BLOSSOMS IN APRIL
After hitting .210 and driving in six runs over the first 1 1/2 months (21 games) of the season, junior Nick Roscetti's game has blossomed in April. The shortstop is hitting .371 with 26 hits, 11 runs, and 11 RBIs. He had 10 multi-hit games during the month, including a career-best 3-for-4, three-run, three-RBI performance at Purdue on April 3.
GOODMAN FILLS IN AT THIRD
Senior Kris Goodman has been more than adequate in filling in for All-Big Ten third baseman Nick Day over the last 10 games. Goodman has been nearly flawless at the hot corner, making just one error in 25 chances. At the plate, the Minnesota native is hitting a team-best .390 (16-of-41) with seven RBIs and five extra base hits (four doubles, one home run) during the stretch.
OFFENSIVE TIDBITS
? Six Hawkeyes are hitting over .340 over the last 10 games. Senior Kris Goodman has a team-best .390 average (16-of-41) with seven RBIs, while senior Jake Mangler has a .383 (18-of-47) average with nine RBIs.
? Senior Jake Mangler had a career-high five RBIs on April 18 against Northwestern for his team-leading sixth multi-RBI game this season. Mangler is hitting .347 (26-of-75) with runners in scoring position with 18 two-out RBIs.
? Eric Toole is second in the Big Ten with 22 steals, converting 22-of-28 attempts. Toole leads the Hawkeyes in hits (60) and runs (31). He has reached safely in 40-of-42 games this season. Toole drew four walks in game two against Northwestern, the most by a Hawkeye since 2009 (T.J. Cataldo).
? Four Hawkeyes rank in the top-15 in the Big Ten in batting average in league games — Nick Roscetti (.411, fourth), Eric Toole (.390, seventh, Tyler Peyton (.370, 10th), and Jake Mangler (.344, 15th).
MOVING UP THE RECORD BOOKS
? Junior Eric Toole has 65 career steals, which are tied for the fifth-most in program history.
? Toole is second in UI history with 192 career singles and is tied for fifth all-time with 222 hits. Toole also sixth in career at-bats (699).
? Junior Nick Hibbing has made 73 career appearances as a Hawkeye — the third-most in school history. He is also fifth all-time with 13 career saves.
#HELLERBALL
? The Hawkeyes debuted in the national rankings on March 30, coming in at No. 24 by Collegiate Baseball. It was Iowa's first ranking since 1990. Iowa has been ranked five straight weeks.
? Iowa climbed to as high as No. 14 on April 13 by Collegiate Baseball and was ranked in six polls. The Hawkeyes were ranked by all major polls after taking 2-of-3 games at No. 16 Maryland.
? Iowa posted its first victory over a ranked opponent since 2012 and swept a ranked opponent (No. 19 Indiana) for the first time since 1990. The Hawkeyes also swept No. 25 Nebraska, winning its second straight series over the Huskers.
? The Hawkeyes opened Big Ten play with consecutive sweeps, starting 6-0 for the first time in school history. Iowa is 8-1 in Big Ten play for first time since 1990.
? Iowa won 30 games in UI head coach Rick Heller's first season in 2014 — the most wins by a first-year head coach in program history and the third 30-win campaign since 1993.
? The Hawkeyes advanced to and won a game in the Big Ten Tournament in 2014 — the program's first tournament victory since 2010.
? Iowa has posted winning streaks of nine games (in 2015) and seven games (in 2014) — the longest streaks for the program since 2012.
? Under Heller, Duane Banks Field has been undergoing a transformation with AstroTurf installed in the infield and outfield, new outfield fences and the addition of a new video scoreboard.
? Iowa had five All-Big Ten selections, including the first first-team honoree since 2009. The Hawkeyes also had two first-team all-region selections.
FOLLOW THE HAWKEYES
Iowa baseball fans can follow the Hawkeyes on Facebook by going to facebook.com/iowabaseball. Fans can also follow on Twitter @UIBaseball.
UP NEXT
The Hawkeyes will host Western Illinois at 6:35 p.m. (CT) on Tuesday night in their final midweek contest before welcoming Minnesota to Banks Field for the final home series of the regular season.