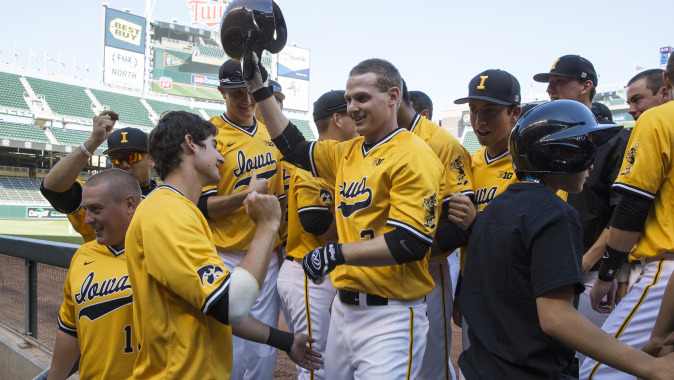 May 21, 2015
Game 1
Date | Time
Friday, May 22 | 3:30 p.m. (CT)
Pitching Matchup
IOWA: Jr., RHP Calvin Mathews (5-2, 2.08 ERA) vs.
IU: Jr., RHP Christian Morris (3-1, 5.44 ERA)
NEXT UP
The 15th-ranked and second-seeded University of Iowa baseball team faces sixth-seeded Indiana in an elimination game Friday at 3:30 p.m. (CT) at the Big Ten Tournament in Minneapolis.
GAME COVERAGE
? Friday's game will be televised live on BTN with Kevin Kugler and former Hawkeye Danan Hughes on the call.
? The game will also be broadcast on AM-800 KXIC and AM-1360 KMJM with Brent Balbinot and Steve Duncan on the call. The game will also be available via the subscription-based service Hawkeye All-Access on hawkeyesports.com.
? Fans can also follow every game with live stats (GameTracker) on hawkeyesports.com and live updates are also available on Twitter: @UIBaseball.
LAST GAME
? Iowa dropped into the loser's bracket with an 8-5 loss to third-seeded Michigan on Thursday night. The Wolverines scored in six innings, pounded out 13 hits, and took advantage of three Hawkeye errors — the most by Iowa since April 18.
? The Hawkeyes' pitchers struggled, issuing seven walks, while striking out a pair. Junior Blake Hickman suffered the loss, allowing three runs (two earned) on four hits over two innings. It was his first Big Ten loss this season.
? Senior Eric Toole hit a leadoff solo home run in the bottom of the first inning for his first career blast. The home run came in his 752nd at-bat of his career. ? Senior Kris Goodman went 2-for-4 with two runs and two RBIs. It was the outfielder's 18th multi-hit and sixth multi-RBI game of the season.
? Junior catcher Jimmy Frankos left Thursday's game against Michigan with concussion-like symptoms after a collision with Cody Bruder at home plate. Frankos' status is day-to-day.
? The Hawkeyes won their opening round game, 3-2 over seventh-seeded Ohio State, with a walk-off, two-run home run from senior Nick Day. Day finished 2-for-3 with two RBIs and a run scored in the game.
? Junior Tyler Peyton threw 6 1/3 innings, allowing one run on eight hits with seven strikeouts against zero walks. Senior Nick Hibbing (3-1) picked up the victory, allowing one run in 2 2/3 innings.
QUICK HITTERS
? Senior Kris Goodman has reached safely in a career-best 15 straight games, while junior Tyler Peyton has reached safely in 12 consecutive contests. Peyton also has a seven-game hitting streak.
? The Hawkeyes have allowed two earned runs or fewer in 31 games this season, including 15 in Big Ten play.
? The Hawkeyes currently have a 2.92 team ERA over 54 games. Iowa's school record is 3.63, set in 1971.
? Twenty-one games have been decided by two runs or less. Iowa is 16-7 in such contests.
? Iowa is 19-5 when playing error-free baseball and 32-9 when committing one or fewer errors. Iowa is 7-6 when committing two or more errors.
? The Hawkeyes are 29-2 when out-hitting their opponents and 29-6 when scoring first. Conversely, Iowa is 10-9 when the opponent scores first.
? Iowa has out scored opponents 36-12 in the first inning, and 95-50 over the first three innings.
THE SERIES
? The Hawkeyes lead the all-time series over the Hoosiers, 77-70. Iowa swept the 19th-ranked Hoosier from March 27-29 in Iowa City — its first series win over IU since 2008.
? Indiana is 2-0 all-time against Iowa in the Big Ten Tournament, winning 7-4 in 2002 and 5-2 last season. The Hoosiers were the No. 1 seed and Iowa was the eighth-seed in 2014.
REGULAR SEASON SERIES
? Iowa swept the three-game series over the Hoosiers from March 27-29 in Iowa City in the first Big Ten series of the season. The Hawkeyes won the opener, 2-0, took game two, 5-1, and completed the sweep with a 10-6 victory in the finale.
? The sweep over the 19th-ranked Hoosiers was Iowa's first over a ranked opponent since 1990, and it catapulted the Hawkeyes into the top-25 for the first time in 25 years.
? The Hawkeyes hit .300 as a team, scoring 17 runs in three games. Nick Day hit .571 (4-of-7) in the series, while Eric Toole (5-for-11, .455), Tyler Peyton (5-for-12, .417, 3 RBIs), and Kris Goodman (3-for-8, .375) all hit above .375.
? Iowa's pitching was dominant, holding Indiana to seven runs on 21 hits and posting a 2.33 ERA. Sunday's starter Calvin Mathews allowed three runs on five hits over four innings and wasn't involved in the decision.
? Nick Hibbing earned the Sunday win, allowing two runs on four hits over three innings. Peyton threw a complete game shutout, allowing five hits in game one, while Blake Hickman threw eight innings of three-hit, one run ball in game two.
A DAY TO REMEMBER
Senior Nick Day belted a two-out, two-run walk-off home run into the left field bleachers at Target Field to send the Hawkeyes to a 3-2 come-from behind victory over Ohio State on Wednesday.
Day finished 2-for-3 with two RBIs and a run scored. It was his first multi-hit game since April 3 at Purdue, and his first home run since April 1 at Western Illinois.
The blast was Day's first career home run against a Big Ten opponent and fourth overall. It was Iowa's first walk-off home run since Jason White in 2008 (10-9 win over Illinois).
WIN TOTAL CLIMBING
? Iowa has won 39 games in 2015, reaching the 30-win plateau in two straight seasons for the first time since 1989 and 1990.
? The 39 victories are the most for the program since 1985.
? Iowa hasn't won 40 games since 1985 (40-20), and the program has only three 40-win seasons in its history.
WALK-OFF WINNERS
The Hawkeyes have posted six walk-off wins this season with contributions from six different players. Iowa has overcome deficits in 14 games, going 11-3 in such contests.