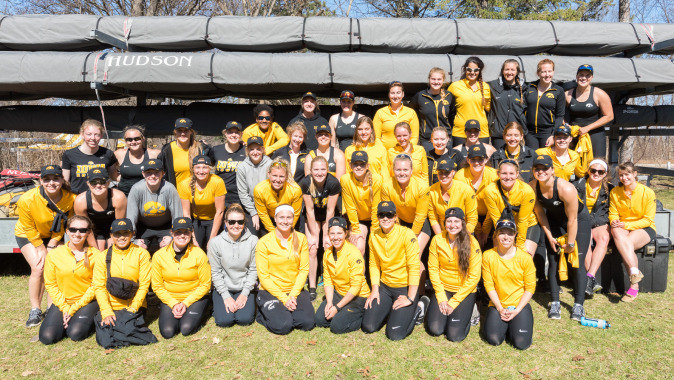 Sept. 10, 2015
IOWA CITY, Iowa — The University of Iowa women's rowing program announced its 2015-16 schedule Thursday afternoon. The schedule includes three home appearances, twice in the fall and once in the spring season.
The Hawkeyes will compete in five events in the fall, beginning with the Head of the Des Moines Regatta on Sept. 26. Iowa returns home for a pair of scrimmages with Big Ten foe Indiana on Oct. 2 and Oct. 3. The squad will split for its final week of the fall, sending some crews to the Head of the Charles Regatta in Boston, Massachusetts, Oct. 17-18, and others to compete at Kansas on Oct. 17.
Following two neutral site scrimmages against Old Dominion and Texas on Feb. 18 and Feb. 21, respectively, the Hawkeyes open their regular season at the B1G/ACC Double Dual on April 2. Iowa will face Louisville and Notre Dame in the regatta.
The team returns to Iowa City to compete against Big Ten opponents Wisconsin and Minnesota on April 9, before continuing its schedule at the Lake Natoma Invitational in Gold River, California
Iowa continues its road stint at the B1G/Big12 Double Dual hosted by Wisconsin on April 23. The Hawkeyes will face Kansas and Oklahoma in the dual, before closing their regular season against Tennessee, Clemson, UCF, and Penn in Knoxville, Tennessee, on April 30.
The Big Ten Championships are set for May 14-15, at Eagle Creek Park in Indianapolis, Indiana. The Hawkeyes will compete for a spot in the NCAA Championships throughout the season. The event will be held from May 27-29 in Gold River, California.