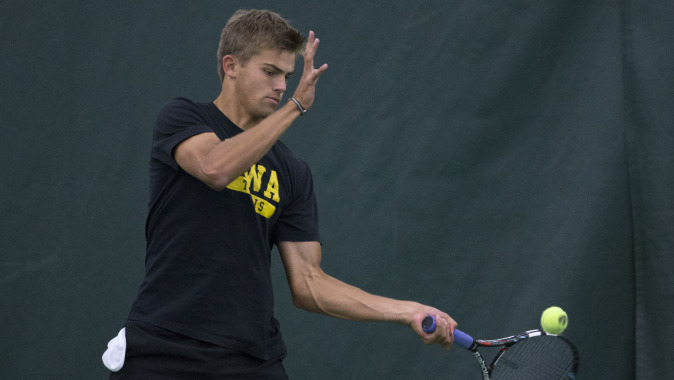 Sept. 23, 2015
Complete Release in PDF Format

THIS WEEK:
The University of Iowa men's tennis team opens the fall season, Sept. 25-26, at the Western Michigan Invitational. The tournament will host 70 participants from eight schools. Jonas Larsen, Nils Hallestrand, and Tony Leto will be making the trip to Kalamazoo, Michigan. Play will begin at 8 am on Friday morning with 8 eight players per flight.
HAWKEYE RETURNEES:
The Hawkeyes lost two seniors to graduation last spring, but return five student-athletes in 2015-16. Dominic Patrick will begin his senior campaign in two weeks at the All-American Pre-Qualifying tournament and Nils Hallestrand enters his junior campaign in Michigan this weekend. Jake Jacoby, Josh Silverstein, and Lefteris Theodorou are all sophomores this season. Patrick posted a 15-16 singles and 18-10 doubles record in 2014-15. Hallestrand was 2-8 in singles and 8-4 in doubles action a year ago. Last season, Jacoby and Silverstein both achieved singles records of 20-13 while Theodorou went 20-11 in singles last season. The three had doubles records of 14-12, 16-10, and 7-14, respectively.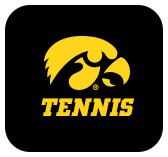 HAWKEYE NEWCOMERS:
Iowa welcomes three freshmen to the squad: Kareem Allaf (Dubai, UAE), Jonas Larsen (Koege, Denmark), Tony Leto (Downers Grove, Illinois). Allaf achieved an International Tennis Federation (ITF) junior ranking of 182 and captured one ITF Junior title in singles competition. Larsen is a Danish national champion and reached a national ranking as high as 24th in the world. Leto was a singles finalist at the 2014 Midwest Open and a finalist in doubles at a National Open.
GAINING EXPERIENCE:
Of the three Hawkeyes traveling to Kalamazoo this weekend, two will be freshmen competeing in their first collegiate tournament. The tournament will be their first up-close look at players from the Big Ten and players from other Midwest conferences as well.
Tony Leto is one of the freshmen competing this weekend, "We've been working really hard this first month and I feel like I've already had a jump and I'm excited to play in my first meet as a Hawkeye and to represent my team."
Senior Dominick Patrick looks for big things from the freshmen as they grow as athletes, "They're gritty players. They like to come out and compete hard. They're still trying to find there game but once they do they're going be excellent players. Just a little more developing and then they'll be at everyone's level."
ON THE HORIZON:
Next weekend, four Hawkeyes will travel to Tulsa, Oklahoma to compete in the ITA All-American tournament. The All-American is the first big national tournament of the year in college tennis and hosts some of the best collegiate tennis players from around the country. Lone senior, Dominick Patrick is one of the four slated to compete in Tulsa,
"We want to put at least two guys through to [qualifiers]. It'd be a big jump for the program. We haven't had anyone there in a long time so it would be a good jump start get us ready to go to regionals."
WILSON ON THE WESTERN MICHIGAN INVITE:
"This weekend will be a good opportunity for two of our freshmen, Tony and Jonas, to get some match experience against college players. It'll be a good opportunity for [Nils] to play some of the top players from teams in the Big Ten and a couple of the major conferences in the Midwest. We're looking forward to some good tennis this weekend."