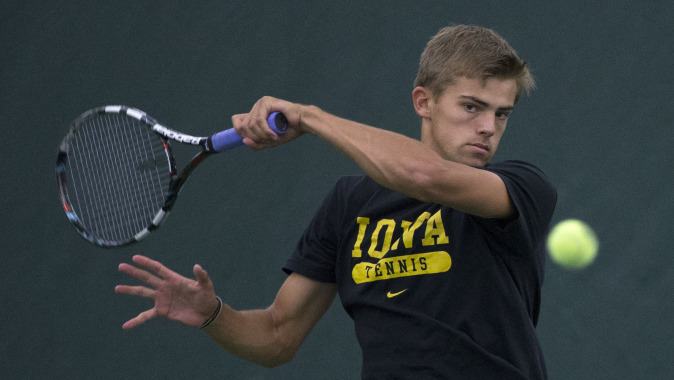 Sept. 26, 2015
Day 2 Results

KALAMAZOO, Mich. — The University of Iowa men's tennis team finished day two of competition at the Western Michigan Invite on Saturday morning. Three Hawkeyes saw action, including junior Nils Hallestrand who was the top finisher for the Hawkeyes.
Hallestrand, playing in Flight D Singles, took on Western Michigan's Joey Leto in the championship match. He placed second, losing in two sets, 6-4, 6-4.
Freshman Tony Leto also saw action for the Hawkeyes today. Leto competed in the Flight E Singles bracket where he placed fourth. Leto took the court against Valparaiso's Michael Savaglio. He fell to Savaglio in a three-set tiebreaker, 5-7, 7-5, 10-7.
Jonas Larsen, another Hawkeye freshman, saw action in the Flight C Singles where he faced Ridout of UWGB in the consolation final. Larsen lost in two sets, 6-2, 6-1.
Hallestrand and Larsen also competed in doubles action Friday morning in the Flight B bracket. They took on Xavier's team of Stefani/Araujo in their first match of the day and fell, 6-2. The duo battled back later in the morning to earn a third place finish against Valparaiso's Kissell/ Dunn, 6-3.
The Hawkeyes will travel to Tulsa, Oklahoma, next weekend for the ITA All American Pre-Qualifying tournament. Senior Dominic Patrick, junior Robin Haden, and sophomores Jake Jacoby, and Lefteris Theodorou will be making the trip.
Flight C Singles
Ridout (UWGB) def. Jonas Larsen (UI): 6-2, 6-1
Flight D Singles
Joey Leto (UWGB) def. Nils Hallestrand (UI): 6-4, 6-4
Flight E Singles
Michael Savaglio (Valparaiso) def. Tony Leto (UI): 5-7, 7-5, 10-7
Flight B Doubles
Stefani/ Araujo (Xavier) def. Hallestrand/Larsen (UI): 6-2 Hallestrand/Larsen (UI) def. Kissell/Dunn (Valparaiso): 6-3